XXX-Mas 2019 Roving Photos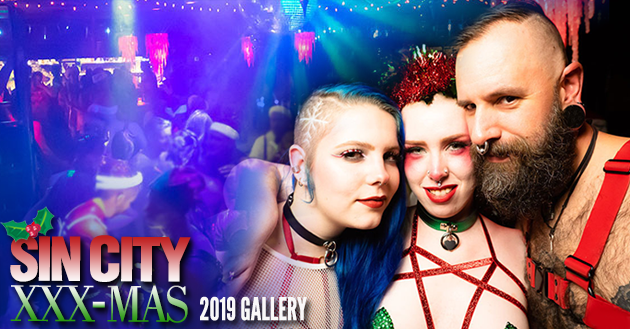 Just in time for the 2020 ONLINE XXX-Mas party tonight, here is the roving gallery from our party last year! We can honestly say this is EASILY one of our favourite galleries from any event of 2019. Warning, if you weren't nostalgic and missing your fetish friends and Sin City, you absolutely will be after viewing this gallery! This one has SO MANY BEAUTIFUL MOMENTS showing the heart and love that goes into all our gatherings!
There's tons of photos showcasing the melting pot of amazing humans who make up our extended fetish family of attendees, our staff and volunteers all looking amazing, our decorations setting the mood, the famous Spin Of Sin, SO MUCH AMAZING RUBBER, XXX-Mas themed outfits, naughtiness galore, the dancing cages, packed dancefloors and our DJs across two seperate floors of our now-lost venue, Central Studios.
This gallery also showcases just how much labour and passion went into building the community venue which we opened in the year before CoVid. While it was shut down and everything put into it lost due to the CoVid shutdown, and the building then being subsequently sold, we have nothing but glowing memories of the events we held there, giving us a reminder of the gatherings we will once again have in the future when we all come through this together!
Our annual XXX-Mas party is always one of our favourites! Many thanks to Frankie Panky for being our roving photographer for the evening!
Note that you can use the left and right arrow keys on your keyboard for fast scrolling through the gallery once you are in the image pop-up display browser window!
---