Event Details :
Saturday December 12
The Hindenburg AKA Club 23 West / 23 West Cordova / 9pm-3am
$10 before 10 / $13 advance / $16 at door
Want to meet up with other Sinners coming to the party?
Head over to either of our mirror event listings on our favourite social media sites! You can find those listings here :
From the moment the doors open, party going folk invade the club en masse and on big nights like this, Sin is well known for being already crazy by 9:45 PM less than an hour after the doors open! COME EARLY so as not to miss any of the action!
Just some of the many kinky offerings at the party!
• 3 Levels Of Kinky Partying
• 2 Floors of DJs & Dancing / 2 Vibes To Choose From
• DJs Pandemonium, Evilyn13, R-Lex & Kasey Riot
• Electric, High-Energy Sexy House Party Atmosphere
• Full Size Suspension & Kink Play Dungeon
• Bondage Furniture By Black & Blue Dungeon Furniture
• Play Areas For Every Comfort Level, Beginner To Advanced
• Social, Cuddle & Hangout Areas Galore
• Strict Fetish Dress Code In Effect, No Exceptions!
• Custom Kink Visuals
• 50/50 fetish flogger fundraiser draw
• STILL The Lowest Cover Of Any Kink Event In Town!
---
Check out photo galleries from past events here:

2013 / 2012 / 2011 / 2010 / 2009
---
✔ XXX-MAS COSTUME THEMES HIGHLY SUGGESTED!
Kinky Mr. & Mrs. Claus
Naughty elves & Santa's helpers
Santa hats
red, green and white themed outfits (lingerie!)
reindeer
XXX-mas ornaments
wrapping paper / ribbons
sparkley snow and ice angels
use your imagination!!!
LOVE TO DANCE? WE HAVE TWO DANCEFLOORS FOR YOU TO CHOOSE FROM!
Sin City is well known for having an incredibly high standard of party rocking DJs, where the dancefloor is always pulsating with a crazy sexual energy with all sorts of notorious naughtiness erupting spontaneously. Not to mention our famous custom built dance cages, where some of the dirtiest dancing of the night goes down! Take your pick from the wide open hands-in-the-air anything-goes vibe of the main room, or the underground bump & grind, sex & sweat vibe of the all-electronic De:Basement lower level. Two rooms, two dancefloors, two vibes … too much!!!
Main floor : DJs Evilyn13 & Pandemonium
De:Basement : DJs Kasey Riot & R-Lex
---
LOVE KINK PLAY? WE HAVE A PLAYROOM JUST FOR YOU!
Sin City has a full Dungeon play room, with plenty of space for playing and watching as well. Chill in the highly social viewing area, or find a partner, step into the Dungeon proper, and take your kink play to the next level. Bondage, flogging, foot worship, shibari, rope play & suspension, violet wand & electrical play, we love it all and invite you to bring your kink into our play space! In addition to the main Dungeon play room, watched over by the helpful & friendly Vancouver Dungeon Monitor Team to answer questions and facilitate safe, sane and consensual play, there are also other satellite play stations sprinkled around the club where you will find stand-alone pieces of bondage gear for more spontaneous and intimate play.
Many of our BDSM furniture pieces were commissioned and designed by Black & Blue Dungeon Furniture, local makers of fine fetish furniture! Look for the following and more at Sin :
– St. Andrew's flogging cross
– kneeling prayer bench
– flogging bench
– medical table
– 4+ ceiling hard points for suspensions & rope play
---
CHECK OUT OUR NEW EXPANDED ON STAGE & MAIN ROOM PLAY AREAS!
In addition to all the play options and areas in the full size Dungeon at Sin City, where you can enjoy a more laid back, less noisy and more private area to get your kink on, we have introduced yet more play options and areas at Sin City party!
*Center Stage Suspension Point & Spanking Bench :
If you're into some play that's RIGHT out in people's faces, and want to seriously show off your sexiness or your kinky craft, surrounded by the energy of people on the dancefloor, try out the center stage suspension play area on our heavy duty 12 foot high ceiling hard point! Or, spend some time with a partner on the onstage flogging & bondage horse. It doesn't get any more front & center than this!
Main Level Rope Play Area :
If you're into some semi-private suspension or bondage play that's not quite so 'on stage' but it is a little more public than in the Dungeon room, check into our new play area located literally RIGHT in the middle of the action of the entire main level of the room, located right on the edge of the upper social area, and overlooking the DJ & dancefloor from a more controlled area. This has been one of the hottest spots of every party since we introduced it!
---
NAUGHTY FLIXXX, CULT VIDEOS & FETISH VISUALS + GLAMOUR PHOTO BOOTH
Make sure and drag some kinky friends into the ever popular naughty playground that is the Sin photo booth and camp it up!
---
STRICT FETISH DRESS CODE!
Absolutely no streetwear or regular daywear! As always, we're always on the lookout for people to showcase their awesome outfits and ideas, and any fetish outfit as per the dress code will do and will be absolutely appreciated.
✚ NOT PERMITTED :
Plain jeans, cargo pants, briefs or boxers, t-shirts, suits or plain work wear. Absolutely no street or casual wear! Lower genital nudity is not permitted.
✚ HIGHLY ENCOURAGED ATTIRE:
Suggested attire includes but is certainly not limited to – vinyl, pvc, leather, rubber, bondage, straps, chaps, full-on goth, punk, cyber, tuxedo, tailcoats / fancy dress, military / full uniform, fantasy or period costume, armour, drag / cross-dress, body paint, fancy lingerie, kilt, or any other risque costume your perverted little mind can dream up …
Use your imagination to concoct a crazy outfit that highlights the naughty sexpot in you!
IDEAS FOR INSPIRATION :
Here's a gallery of Christmas themed fetish photos to help get those creative juices flowing! Photos are for ideas & inspiration only and are copyright by the original photographers, designers and models. Click any of the image thumbnails to view them full size!
---
50/50 FETISH FLOGGER FUNDRAISER DRAW BENEFITING P.A.C.E!
For as little as $5 you can enter the 50/50 draw, where winners typically win $100-250 in cold card cash plus awesome bonus prizes, with another $100-250 being donated to a Vancouver charity. This is one of the many ways Sin City gives back to our local community with each and every party! Added bonus : for every entry or donation to the 50/50 draw $10 or more, you receive a free spanking from our flogger fundraiser boys and girls. That's right, donate enough, and WE spank YOU, from as light as a feather to a full on beating, just the way you like it 😉
---
MAP :
---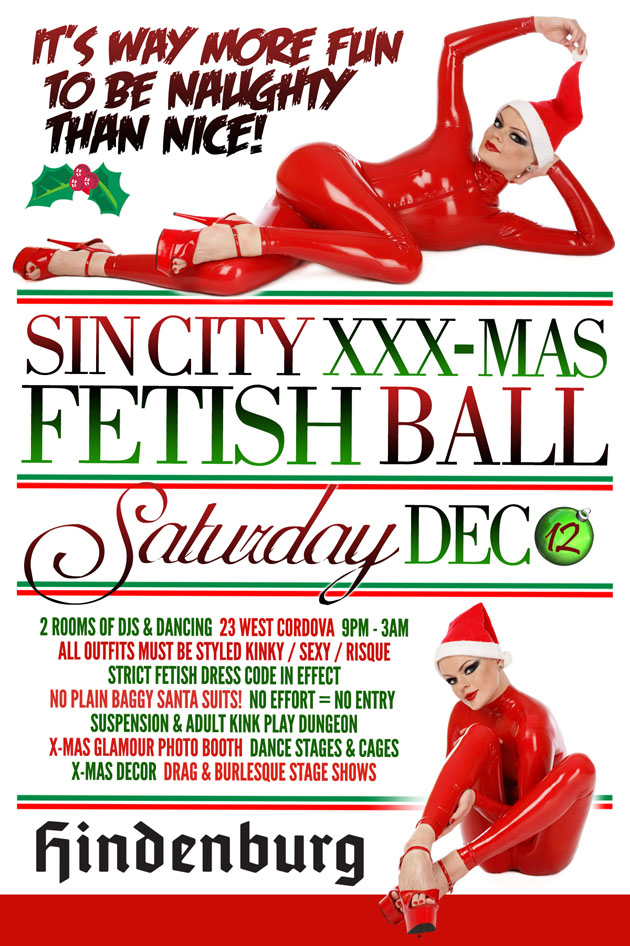 Read More →