MAKE A DONATION TO SIN CITY / WATCH THE CIRQUE DE BOUDOIR MUSIC LIVESTREAM / WATCH THE SIN CITY MUSIC LIVESTREAM / RSVP on FACEBOOK / RSVP on FETLIFE
JOIN THE PRIVATE GROUP VIDEO PARTY
LOOKING FOR THE LINK & PASSWORD FOR THE VIDEO PARTY? The link to join will appear here anywhere from 15-45 minutes before the start of the party. The password and link to join the private video party will be mailed out at 8:45 PM, day of the party! Make sure you are signed up to the Newsletter before that! If you weren't signed up by then, no problem, if you join, you will automatically be sent a welcome email with the password. STILL can't find it? Check your junk/trash folders – sometimes Newsletter emails get caught in spam settings and sent there!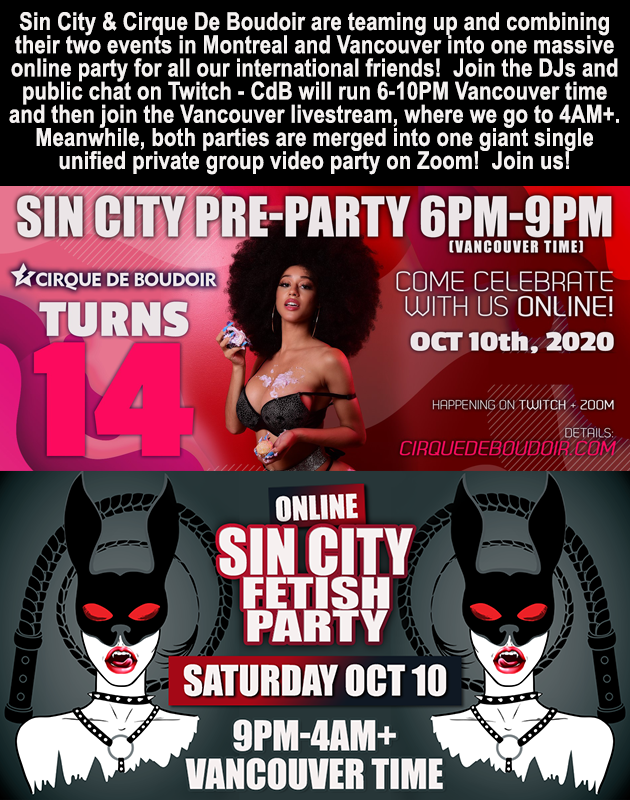 This is a FREE ten-hour-plus event, but it would be HUGELY appreciated if you could support the organizers and artists working to give us somewhere to come together by buying a virtual 'ticket' and thereby making a donation, at one of the links above!
---
With actual in the flesh gatherings not permitted for the forseeable future, Sin City Fetish Night has you covered with our ONLINE fetish parties, open to all our local and international friends from the kink community all over the world! Join us! Private group video party, live DJ mix and more – read on for details!
Read More →