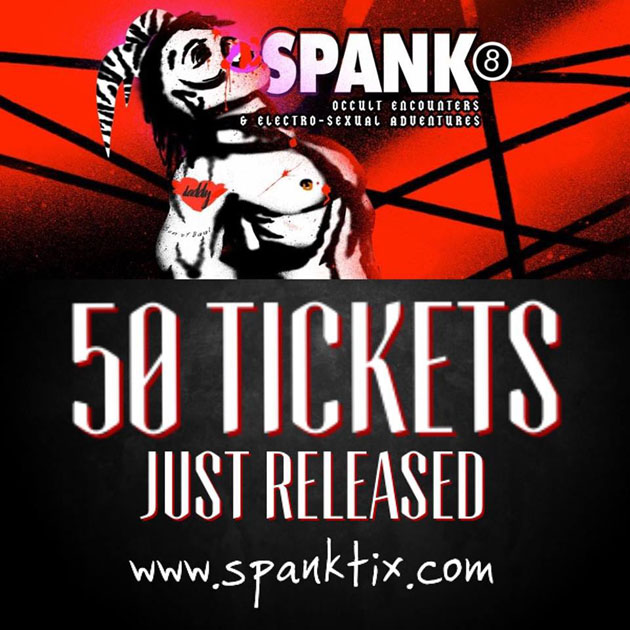 Ticket update : For the many, MANY people who have been asking about tickets to the SPANK 8 party this Saturday, GOOD NEWS! We did indeed keep back a small number of tickets which are now available to those naughty people who didn't start looking for tickets until the last second, or who maybe only heard about the party for the first time late in the game. We don't want anyone to miss out, but they are seriously going like lightning, so grab them ASAP if you were hoping to come out and be part of the magic this weekend!
★Sin City Fetish Night & Backdoor PRESENT –> the closest thing to partying in Berlin that you will find in Vancouver! ★
★ We only do this party once every three months so don't even THINK about missing it, darlings! ★
All in store tickets are SOLD OUT. All Tier 1 tickets are SOLD OUT. Less than 50 Tier 2 tickets remain!
BUY TICKETS / RSVP ON FACEBOOK / RSVP ON FETLIFE
2+ ROOMS OF DJs & DANCING / 2 VIBES
15+ DJs / DANCERS / HOSTS
LARGE KINK PLAY ROOM
OODLES OF SEXY SYNTH & NAUGHTY NOOKS TO EXPLORE
ALL ELECTRONICA, ALL NIGHT
NO DRESS CODE IN MAIN AREAS
FETISH DRESS CODE IN KINK PLAY ROOM
COME DRESSED HOWEVER YOU LIKE TO PARTY HARD
KINKY OUTFITS HIGHLY ENCOURAGED BUT NOT MANDATORY
GLBTQ / STRAIGHT / DRAG / CROSS-DRESS FRIENDLY
NO PHOTOS PERMITTED INSIDE THE VENUE
SO YOU CAN GET WILD OFF THE GRID ……
Tickets :
Tier 1 – $20 / Tier 2 – $25 / More at the door (IF available)
Click to find out ALL the dirty party details!
Read More →