XXX-Mas 2019 Gallery (Photo Booth)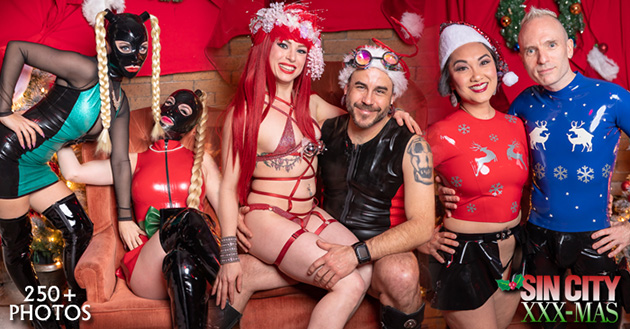 We're thrilled to finally release the gallery from the photo booth at our XXX-Mas way back in 2019! This was one of the last parties we held at Central Studios, the kink-owned and -operated venue we had opened and poured all our energy into, only to have it shut down in March by the pandemic quarantine, and then lost when the building was sold. We have nothing but happy memories of the parties there however, and it fills our hearts with joy to see these photos with so many smiling Sinners, reminding us of the magic we all create when we get together, and reminding us that these times will come again! This gallery in particular really highlights what a melting pot of wonderful humans we have at Sin City – all kinds of age groups, body shapes and sizes, all coming together for a night of mischief and perversion.
Our annual XXX-Mas party is always one of our favourites! Many thanks to Jonny Ray Studios for being our photo booth host for the evening!
Note that you can use the left and right arrow keys on your keyboard for fast scrolling through the gallery once you are in the image pop-up display browser window!
---