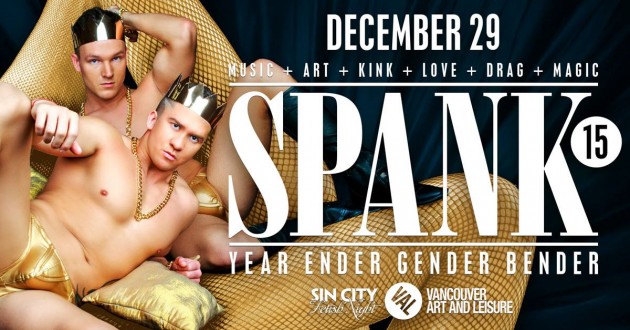 When : Saturday December 29 / Doors 10 PM
Where : Vancouver Art & Leisure Center / 101 West 6th Ave
Close out the last Saturday of the year at SPANK, a pan-sexual warehouse party which is the closest thing you'll find to partying in Berlin in Vancouver! Read on for more info!
MUSIC – ART – KINK – LOVE – DRAG SHOWS – MAGIC & MORE
Proudly presented by Restricted Entertainment, Vancouver Art and Leisure and Sin City Fetish Night.
GET TICKETS RSVP ON FACEBOOK RSVP ON FETLIFE
---
• MULTIPLE AREAS OF EXXXPLORATION
• 15+ DJs / DANCERS / HOSTS
• KINK PLAYROOMS / SPANKING BENCHES
• OODLES OF SEXY SYNTH, NAUGHTY NOOKS & ART INSTALLATIONS
• ALL ELECTRONICA, ALL NIGHT
• NO DRESS CODE IN MAIN AREAS
• FETISH DRESS CODE IN KINK PLAY ROOM
• COME DRESSED HOWEVER YOU LIKE TO PARTY HARD
• KINKY OUTFITS HIGHLY ENCOURAGED BUT NOT MANDATORY
• LGBTQ+ / STRAIGHT / DRAG / CROSS-DRESS FRIENDLY
• NO PHOTOS PERMITTED INSIDE THE VENUE
• SO YOU CAN GET WILD OFF THE GRID ……
Click to find out ALL the dirty party details!
Read More →