Scarlet Harlots Fetish Ball (168 Photos)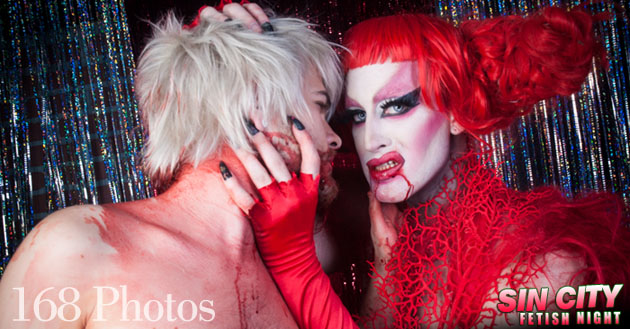 Red is the colour of passion, lust, love, and also one of the official colours of SIN. Check out this gallery from the photo booth at our 2015 Scarlet Harlots Fetish Ball at Sin City …. featuring absolutely AMAZING red-themed kink outfits from our high-spirited attendees, but also what we love to see the most : a wide array of people of every age, gender & sexual orientation dropping their inhibitions and cutting loose. SIN CITY is a melting pot of many subcultures and different corners of many communities coming together to enjoy a mutual interest in hanging out at a kinky, counter-culture crossroads which is also a safe place where they can truly be their true selves without fear.
Extra thanks to our wonderful performers for the night – Burgundy Brixx & Valynne Vile from Vancouver, and shibari master Kasumi Hourai , all the way from Japan! Huge thank yous also go out to knottyrope and Kink Underground for helping facilitate Kasumi coming to Sin City, and OF COURSE thank you to our wonderful photographers from Deadly Photography for hosting the photo booth!
Photos by Deadly Photography. Want a high rez copy of one of the photos you are in, or want to check out more of their work? Visit their Facebook Page and drop them a line!