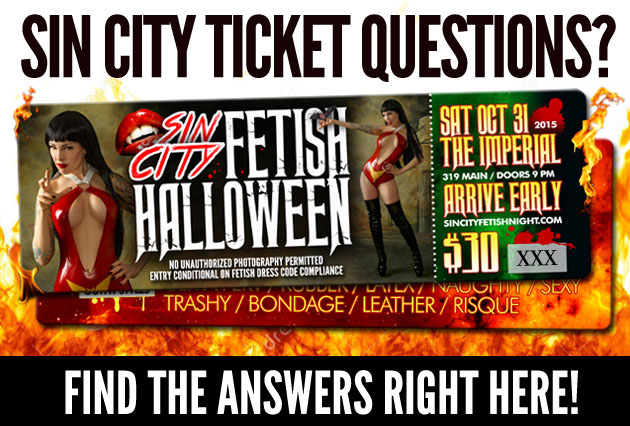 SIN CITY FETISH HALLOWEEN has been sold out of advance tickets for weeks, and excitement is at FEVER levels this year! We're also getting a ton of questions regarding tickets – here's a list of answers to the most common ones! ALSO PLEASE NOTE – while Sin City Halloween tickets have sold out, there are still tickets available (at only $20!) for our Friday night GLAMOUR TRASH HALLOWEEN party! You can find info on that party here!
---
"CAN I STILL GET ADVANCE TICKETS TO SIN HALLOWEEN?"
No! All advance tickets were sold out as of October 10. This event sells out well in advance EVERY year!
"I AM LOOKING FOR PEOPLE SELLING / BUYING ADVANCE TICKETS. WHERE CAN I LOOK?"
You can try the Sin City Facebook Group, Page and event listing. Or the Sin City Fetlife Group. There are always people whose plans change at the last second and may be looking to sell tickets, but there are ALWAYS far more people looking to buy than sell and this is a long shot indeed!
"HOW DO I MAKE SURE I GET ADVANCE TICKETS NEXT TIME?"
Sin City Fetish Halloween sells out in about two weeks EVERY year. About 50% of them go during the pre-sale period, where they are available exclusively to our Newsletter subscribers. We highly suggest going to the website and signing up for the Newsletter, as this gives you first access to tickets to all our biggest events! (Hot tip – Fetish NYE tickets are coming soon after Halloween, and those will sell out quickly as well!) Sign up for the Newsletter here : www.sincityfetishnight.com
"WILL THERE STILL BE TICKETS AT THE DOOR?"
Absolutely! We always keep back a large portion of tickets for sale at the door. Approximately 75+ tickets will go on sale at 9 PM day of the party, strictly first come, first serve, no holds. Tickets will only be issued to attendees who are PRESENT at time of purchase., and are not transferable.
"I HAVE AN ADVANCE TICKET – WHEN SHOULD I GET THERE?"
Remember that this is a SOLD OUT event and everyone getting there has an advance ticket just like you, so if you show up at 'peak arrival time' between 10:15 and midnight, you will be arriving at the same time as literally hundreds of other ticket holders. This may result in a short line wait as everyone is welcomed inside. We have spent months preparing for this event and you will not want to miss a second of it – we highly suggest all patrons think about ARRIVING EARLY! Advance tickets GUARANTEE entry until midnight, after that, it's front of the line admission!
"I AM TRYING FOR ONE OF THE AT-THE-DOOR TICKETS. WHEN SHOULD I GET THERE?"
Unfortunately we have no way of knowing if 5, 50 or 500 people will be arriving at the door looking for on-the-day tickets, and we also can't predict if people will be there at 7, 8, 9, or 10 PM. There certainly will be people lining up before doors open to try and get tickets right at 9 PM – how many is anyone's guess. The best advice we can offer is to make sure and arrive early!
"WHAT I.D. OR INFORMATION DO I NEED TO PICK UP A TICKET I BOUGHT ONLINE?"
You will simply need to present your ID and the credit card # you used to purchase the ticket, and it will be issued to you at the door.
"HOW DO I TRANSFER A TICKET I BOUGHT ONLINE TO ANOTHER PERSON?"
For ticket pick up, if the person picking up the ticket is not the one who purchased the ticket, they will need to bring a copy of the ticket purchaser's I.D. and credit card number. Note that this is the same information the original ticket purchaser would have had to provide to pick up the ticket as well!
---
ANY FURTHER QUESTIONS THAT AREN'T COVERED IN THE ONLINE INFORMATION?
Drop an email to : pandemonium@netrover.com
I do my best to get a personal reply out to everyone who writes in, but please bear in mind that inquiries which come in the final 48 hours before the event may not be able to get a reply since everyone involved with the event is out driving trucks, picking up equipment & decorations, and working their tails off for some very long hours making the magic happen!
SPOOKY KISSES TO EVERYONE! CAN'T WAIT TO SEE WHAT YOU HAVE SCARED UP! SEE YOU AT SIN HALLOWEEN IN JUST A SHORT WHILE!
xoxoxox
Isaac T (Producer)
Read More →