Over the years, Sin City has earned a number of awards and accolades, ranking it among the top club events in the city overall, all while remaining firmly rooted in its fetish and alternative roots!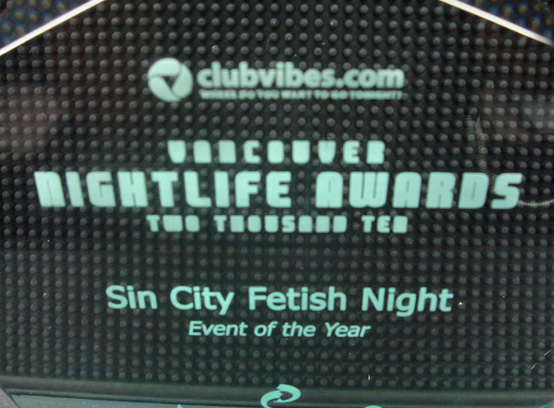 "#1 EVENT OF THE YEAR"
– Vancouver Nightlife Awards (2010)
"ONE OF THOSE RARE EVENTS WHERE LITERALLY ANYTHING GOES"
– Abort Magazine
"CONSISTENTLY RATED ONE OF VANCOUVER'S TOP ALTERNATIVE EVENTS"
– Xtra West
"BEST PLACE TO DANCE TOPLESS"
– Terminal City
"DJ PANDEMONIUM #1 BEST LOCAL VANCOUVER DJ"
– Westender Best Of The City (2008)
"MOST RADICAL PLACE TO GET SOME"
– Terminal City
"DJ PANDEMONIUM THREE-TIME #2 DJ IN THE CITY"
– Georgia Straight / Westender
---
"Letting it all hang out at Sin City"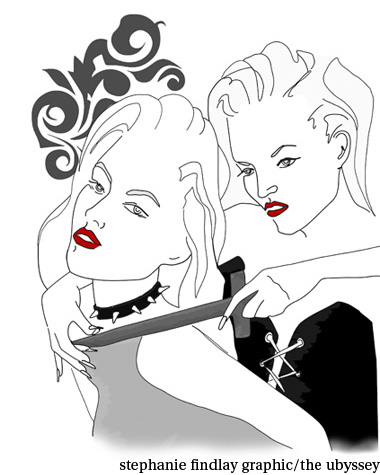 A PERSONAL VENTURE INTO THE WORLD OF FETISH PARTIES
BY RAEVEN GEIST-DESCHAMPS
CULTURE WRITER
Tuesday, November 18th, 2008
Sin City is well known for throwing sexually expressive parties for the different spheres of Vancouver's fetish scene. I come from a place where fetish parties are usually kept under wraps, and I would await that one weekend in August for a glorious three-day blowout of vinyl glamour and subculture stardom. The idea of such events being a weekly occurrence was eye opening to me. I was curious, wanting to compare my normal bar visitations with this experience.
Step 1: Finding the wear
The friend who had invited me to the event graciously accommodated me with a number of articles, namely a short, low-cut pleather dress with strings tying it up on the side and a pair of handcuffs. She wore a low-cut corseted dress with knee-high, five-inch platform boots with thick metal clasps on the side. We skulked into a cab to avoid 20 minutes of public transportation.
The rules for these parties dictate that if you do not follow the main theme, you must be dressed up in your particular fetish, wearing kinky body paint or, if you're a man, a low-slung leather thong.
Step 2: Checking out the scene
The venue was decorated with a pirate theme and was as dark and rank as a bar. However, given the amount of exposed flesh in the place, people were very respectful. They seemed to be observing a set of tacit agreements in a highly secure environment. They placed the sexuality at a distance. It revelled in the superficiality of being an observer as much as it loved to touch and flog.
Instead of my arms being randomly groped, as they tend to be when I go to bars and clubs, there was an appreciative verbal undercurrent—"very nice," as my friend walks by. Older couples were observed from the upper level without interacting.
The pressure of actually going home with someone was not the principal purpose at the surface of every interaction. Essentially, it was the opposite of a Pit night, where, as one of my friends once said, "instead of fishing, it's kind of like shooting a gun at a barrel full of fish and digging up the remnants."
The variety of persuasions at a fetish party are oddly comforting and safe, although the amount of sadomasochism occurring in the dungeon might make an ordinary party-goer a bit uncomfortable—if the man flaunting his ability to deep throat 13 inches hadn't done so already.
Step 3: Tackling the dungeon
The dungeon is the supreme specimen of exhibition. There are dungeon masters who ensure that no one gets fully naked, but inside there are people flogging each other, putting gentle electrodes on the inside of thighs to experience pleasure and pain under someone else's grip. You can get tied up to a rack, if you so desire, while knowing that a safe power game between playmates is occurring.
I thought I would be a disinterested spectator in this room, until my friend told me that she would go and be "knifed" so that I might learn what this type of sexual play is about.
She rested on a table with her hands attached above her head. The dungeon master took out his knives and started running the blade along her skin without cutting her; it seemed more like a caress. While I watched, a man beside me talked about the Albany Exchange, which outlines the rules of dominant and subordinate play, and organizations that take the dungeon to a whole new level—with Saran Wrap, among other things.
The fetish party was highly organized and showed tremendous respect for all sexual preferences. As a participant or observer, you can participate as actively or passively as you feel comfortable. Or, if you prefer, dance a little and watch your friend hit on attractive men wearing plastic corsets.
It's exhibitionism and voyeurism set loose.