Sin City Fetish Night events occur 1-2 monthly at various alternating venues, currently most commonly at the Electric Owl and The Red Room. Please be sure to check the individual listings for each event for venue location and information, as they do often change from one venue to the next!
PLEASE NOTE - Our most well known and long term venue Club 23 West is temporarily closed for repairs until further notice! Club 23 will re-open but it may take some time and we will certainly be moving back to our longest-running home venue as soon as we are able, and will give everyone lots of notice.
---
Club 23 West Contact Info — outdated, but here as a placeholder for when it re-opens!
Club 23 West, 23 West Cordova, Vancouver B.C., V6B 1C8
(604) 200-2923 / club23@shaw.ca
---
Lost & Found
Please direct any Lost & Found concerns to the event venue in question directly via an email or phone call, or drop by the venue in person on one of the nights they are open. The event promotions staff from Sin City are not responsible for or involved with any items patrons may have left behind or lost at a previous event!
Hopefully the venue staff can help you retrieve your items if they indeed were still there during cleanup after one of the events!
---
About our currently temporarily closed home venue, Club 23 West …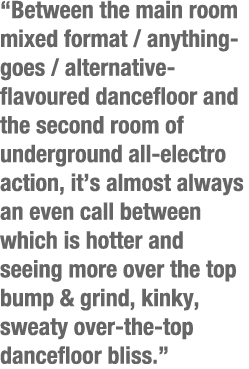 Located in the heart of Gastown, one of the oldest and most historic areas of Vancouver, Club 23 West hosts some of Vancouver's most underground and hottest alternative club nights, notably ORGANIX psytrance Fridays, the alternative / goth / industrial scene cornerstone Sanctuary on the first and third Saturdays of the month, and of course the notorious Sin City Fetish Night on the second and last Saturdays of every month. Additionally, on months with five Saturdays instead of four, the fourth Saturday of the month is home to GALAXION : Vancouver's Best 80's Party.
A laid back atmosphere and vibe as much like a house party as a club night give Club 23 West a comfortable atmosphere, added to by the legendary outdoor back patio overlooking Blood Alley. Spacious, heated and private but with a public view, it's a favorite spot for many.
In addition to the patio, main floor lounge area, main room dance floor complete with dance cages and stage, 23 West has many TVs displaying custom club visuals, a pool table, and a second room downstairs which is transformed into the all-electronica second room of DJs & dancing at Sin City, known as De:Basement.
The venue has many levels, nooks, crannies and areas to explore. Far from being a place where you can park yourself in one spot and catch all the action without needing to move since the view is the same from everywhere else in the club, it's totally the opposite…if you don't move around from time to time, honey, you are going to miss out on the action going on somewhere else in one of the other areas! This leads to a highly dynamic atmosphere, but it also does mean that the venue is unfortunately not wheelchair-friendly, since most of the different levels are separated by a short flight of stairs.
Club 23 West has also made a serious long-term personal commitment and partnership with Sin City, designating a full room as a stand-alone permanently-installed dungeon play room only used on Sin City nights.
For a more thorough description and tour of our dungeon, please visit the walkthrough here.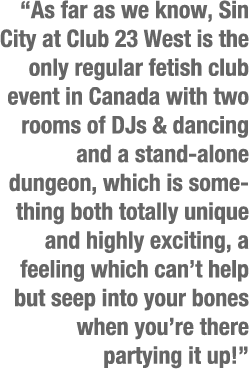 With the extended family of venue owners, club staff, bartenders, security, porters, servers, promoters and DJs for the various nights all ranging from gay to straight to everything in between, Club 23 West has both a welcome-home atmosphere and a melting pot mixed crowd alternative club vibe unlike almost any other in the city. It is thought by many to be the last truly alternative club in the city, since the vast majority of the Vancouver nightlife is mired in top 40, tourists, high prices, million-dollar nightclubs, hordes of bar stars and the dreaded same ol' same ol'. Thankfully for everyone who loves both putting on and going to events at Club 23 West, the owners and operators are as much concerned with supporting the alternative communities they love as they are with the realities of paying them bills, which allows everyone involved both as staff and attendees to take risks, do things a little differently and really push the envelope with the full support of the venue…which is what makes events there so much fun!
"See you there, SINNERS!"
---