Sin City Fetish Night – Club 23 West Closing Party (Photos)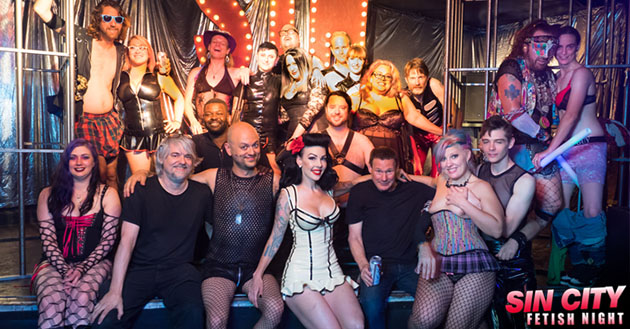 Here's the gallery from the last fetish party ever at Sin City's original venue where it all began, Club 23 West, now known as The Hindenburg for it's very last iteration. Though we had moved away from the club already and exploring other venues, this is where it all began way back in May of 2001. This was home base for the fetish scene for well over a decade, and the closest thing to a kinky 'Cheers' bar in Vancouver, where you always knew all your friends would be, and you would leave with even more friends every time you showed up. Sin City was twice a month for most of it, and we always said we'd come back for one last party when the final closing date was announced, before the doors were locked forever and new owners began the slow process of getting the building ready for demolition and gentrification.
This was a smaller gathering, with some people there who had attended the very first party 18 years prior, many past staff coming by to join us, and was both a goodbye and a reunion party all at the same, sharing many fond memories from the last two decades. Many many thanks to all the attendees who came through the doors over all those years, and all the many staff and volunteers, all of whom came together to create a space where people could express their kinky side in an atmosphere of appreciation, joy and respect, all while having a killer time dancing, socializing and of course, playing in the Dungeon!
But all good things must come to an end … as they say, when one door closes, another opens. This Saturday September 22, we have our first Sin City party at Celebrities Underground, a NEW event space literally underground, beneath the main Celebrities Nightclub. More info on that event here, but for now, enjoy these bittersweet photos from the last Sin City party ever at 23 West!
All photos by Frankie Panky – if you would like a high-rez digital file or a printed glossy, please visit Frankie at his Facebook Page and send him a message!
Note that you can use the left and right arrow keys on your keyboard for fast scrolling through the gallery once you are in the image pop-up display browser window!
---