REMINDER : Plain baggy clown suits are not fetish wear!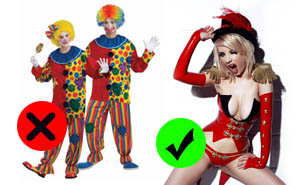 A reminder that for the upcoming Carnival Of Kink party, plain baggy clown suits do not cut it for kink attire and will not pass the fetish dress code. Sin City is a fetish party first and though the theme is super fun and highly anticipated by a tremendous amount of people, it is a carnival party second! All outfits must be kinky or sexy in some way to pass the fetish dress code! Outfits such as 'just clown makeup' and an out of the bag Halloween type clown outfit will NOT pass fetish dress code.
CARNIVAL OF KINK EVENT DETAILS HERE
The carnival theme is a super easy one to mesh with fetish, but if you are at all unsure, we suggest adding carnival accessories to a fetish outfit rather than starting your planning based on a carnival themed outfit which may or not pass the dress code. KEEP IT KINKY! This is one of our most colourful, madcap, out of control themed fetish parties of the year and you absolutely do not want to miss it because of a lack of attention to your attire!
---
And just to really drive it home … it bears repeating one more time :
YOU WILL NOT BE PERMITTED ENTRY IF YOU ARE WEARING A NON-FETISH THEMED CHEEZEY OR OUT OF THE BAG CLOWN SUIT.
If you need suggestions of where to shop for fetish appropriate attire, check out our local shopping guide here on the Sin City website!

---
You can also check out photo galleries from past year's parties here :
2014 / 2013 / 2012 (PART 1) / 2012 (Part 2)
---