Medical Fetishwear Discounts at Eye Kandee Lingerie & Salient Seven Latex!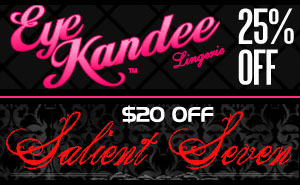 Two local shops have stepped up as sponsors for the 2013 Fetish Hospital party at Sin City. If you're looking for new medical themed fetish wear, we highly encourage you to check out their goods!
25% OFF MEDICAL FETISH WEAR AT : EYE KANDEE LINGERIE!
Eye Kandee lingerie is located at 1685 Davie St, right next to Bosley's Pet Food. They have a wide variety of cute & sexy lingerie outfits, as well as a number of already-affordable Fetish Nurse ensembles. All you have to do is pop by the store, check into Eye Kandee on either Yelp or Facebook, and mention 'Sin City' or 'Fetish Hospital' and they'll give you 25% off your medical fetish wear purchase!
Check out more about Eye Kandee at their website here.
Eye Kandee is also donating his & hers prizes to the prize packs for the best outfit winners at the event!
$20 off all medical fetish latex wear at : Salient Seven
Salient Seven is a latex clothing and cyberlox wig designer from Edmonton, AB – check out their online store here.
Just enter SIN_CITY at checkout for the discount! Local pick up is also available – production time is about a day per garment so order asap if you want anything. Salient Seven will also be donating prizes which two lucky best dressed winners of the night will take home with them!