Blvd22 : How much fun was THAT?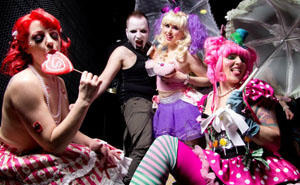 HOW. MUCH. FUN was THAT?
The Sin City Sex & Candy party invading Blvd22 as a new venue for the first time on March 16 was a smashing success!
A HUGE thank you to the staff at Blvd22 for being so welcoming to our crowd of sexy Sinners, and being willing to let us customize the room and tweak their operating policies a bit to make it all work in the best way possible for our attendee's needs. They were a dream to work with and we give them my personal thanks! Not to mention giving us $3 and $4 drink specials on draft beer & vodka highballs … wowzers! Super generous!
The party was hopping right from the doors opening and by 10 PM the venue was nice and full, people felt comfortable right away, everyone LOVED the fully front and center Dungeon right in the middle of the room, the photo area couldn't be more pimped out, the dancefloor and stage dancing were completely over the top crazy, the cushy couches & seating benches everywhere were a big hit, and everything ran completely smoothly with virtually no waits to get in or lineups, save for the end-of-the-night rush on the coat check when people were leaving en masse!
Speaking of HOT, how crazy were everyone's candy-coated-fetish outfits? The Sinners of Vancouver never cease to amaze with their kinky creativity … the crowd was fantastic, friendly, fetishy and partying HARD … and super fun to be a part of 😉
Sin is booked until mid-April right now, but it's safe to say that Blvd22 was a big hit with all the Sinners and it's only a matter of time before we're back there again!