Discount pass, photo winner & more for SEX & CANDY!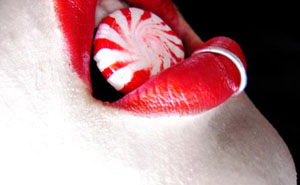 Here are all the juicy details you're looking for regarding tonight's SEX & CANDY party at Blvd22! If you haven't already, please click on 'going' or 'RSVP' at any of the various event listing for the party out there!
Event listings :
Directions & Parking :
Blvd22 is located at 750 Pacific Blvd, in the Plaza Of Nations. There are only three business in there – the casino, the HUGE club Gossip, and Blvd22, which is right next to it. You can't miss it! There is a dedicated cab stand which will let you out just steps away from the club, and is available for anyone leaving at any point in the night. How huge of a treat is it to have cabs waiting for you when you leave? Other transit options include the Stadium Skytrain station, which is just 2 or 3 blocks away, and the HUGE parking lot for people wishing to carpool or drive, which again lets you out just steps from the front door of the club!
please arrive early!
We are ULTRA stoked to debut this venue for our crowd of sexy Sinners to invade, party and get their kink on, but this is one of the smaller venues we've been at and we are expecting a capacity crowd, so we highly encourage people to arrive early to minimize wait times in line!
Post-A-Photo contest winner : :Christina Lacyfet!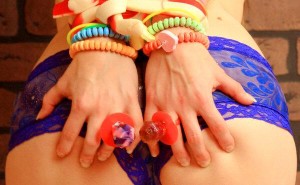 This event may have set a record for most number of entries and ultra sexy images shared in the Post-A-Photo contest! Clearly the theme has struck a major chord with people! But there can only be one winner! Christina wins front of the line priority entry and complimentary cover for herself and a friend for her amazingly inspirational fetish candy photo share! Thank you to everyone who entered the contest!
Discount pass!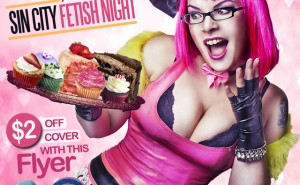 As always, Sin City offers a discount pass worth $2 off entry, meaning $10 cover instead of $12! NO other fetish event even comes close to delivering so much while keeping the cover so reasonable! Or, just show up before 10 PM to take advantage of the $9 early bird rate, no discount flyer needed!
Click the discount pass image thumbnail to bring it up fullscreen, and please have ready to show the door person when paying cover! One image use per attendee maximum.