August 18 : Wild Kingdom Fetish Ball

When : Saturday August 18, 9pm-2am
Where : The Waldorf, 1489 East Hastings
Tickets : $15 before 10 PM, $20 after
BUY TICKETS / RSVP FACEBOOK / RSVP FETLIFE
COME EARLY so as not to miss any of the action!
ANIMAL FETISH, ANIMAL PRINT, SEX KITTEN, BEARS, PONIES, PUPPIES, FANGS, FUR, CLAWS – HIGHLY ENCOURAGED, BUT NOT MANDATORY!
Strict fetish dress code
Themed outfits an added bonus for fun & creativity!
Tiki themed venue, perfect for the Wild Kingdom theme!
Camera-free zone / no unauthorized photos allowed
The most notorious dancefloor in the city!
DJ Pandemonium, Evilyn13 & R-Lex
Custom built dance cages
Suspension & bondage play furniture options
---
Check out the photo galleries from previous year's Wild Kingdom parties here:
---
STRICT FETISH DRESS CODE
A reminder that all outfits, themed or not, must be styled kinky or fetish to gain entry to the event as per the fetish dress code. Unlike other events which lower or drop their fetish dress codes for some events, Sin City's fetish code is the same at every party, regardless of theme, and has been the same since our very first event back in 2001. Our mission to keep it kinky, creative and consistent from one event to the next! Track suits? Plain athletic wear? Plain suits? Plain t-shirts? You will never see these at any Sin City event, ever. We promise to keep it kinky!
THEMED OUTFITS ARE AN ADDED BONUS FOR FUN & CREATIVITY – ALL FETISH OUTFITS OF ANY KIND ARE ALWAYS WELCOME AT EVERY EVENT!
Of course any fetish outfit or costume is awesome, but there are major bonus points for matching the Wild Kingdom theme!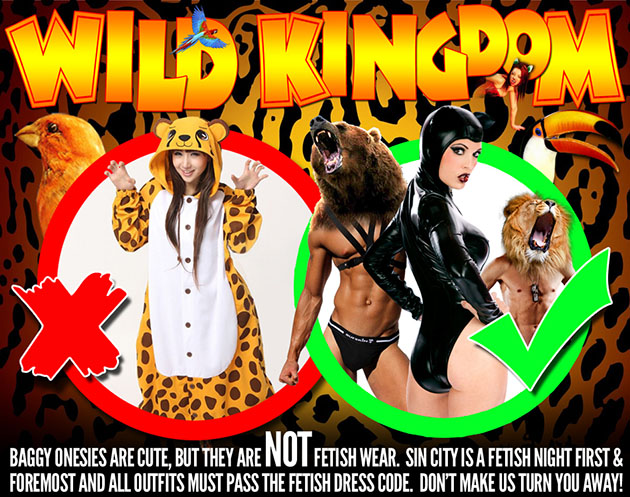 ---
WILD KINGDOM THEME DECOR
NO UNAUTHORIZED PHOTOS ALLOWED
As always, Sin maintains a strict no cameras policy, preserving the atmosphere of mutual respect and safety! You can go as crazy and kinky with your outfits as your imagination will let you, and what happens at Sin City … stays at Sin City!
---
PLUS OF COURSE THE SIN CITY DUNGEON!
The Sin City dungeon is one of the hottest spots of every Sin event! Come and indulge your voyeuristic tendencies, or let out the exhibitionist in you and get wild on one of our kinky play stations, all under the watchful eye of the Vancouver Dungeon Team.
PHOTO GALLERY FOR INSPIRATION :
Looking for ideas or what to expect? Browse through this gallery of eye candy for outfit inspiration, also loaded with party photos from past events!