Dec 28 | SPANK #20 | Year Ender Gender Bender
Presented by Vancouver Art & Leisure and Sin City Fetish Night. The closest thing to partying in Berlin that you will find in Vancouver!
When : Saturday December 28 / Doors 9 PM
Where : Central Studios / 856 Seymour
GET TICKETS / RSVP ON FACEBOOK / RSVP ON FETLIFE
---
• 12+ DJs / DANCERS / HOSTS
• KINK PLAYROOMS / SPANKING BENCHES
• OODLES OF SEXY SYNTH, NAUGHTY NOOKS & ART
• ALL ELECTRONICA, ALL NIGHT
• NO DRESS CODE IN MAIN AREAS
• FETISH DRESS CODE IN COUPLES KINK PLAY ROOM
• COME DRESSED HOWEVER YOU LIKE TO PARTY HARD
• KINKY OUTFITS HIGHLY ENCOURAGED BUT NOT MANDATORY
• LGBTQ+ / STRAIGHT / DRAG / CROSS-DRESS FRIENDLY
• NO PHOTOS PERMITTED INSIDE THE VENUE
• SO YOU CAN GET WILD OFF THE GRID ……
---
ABOUT SPANK :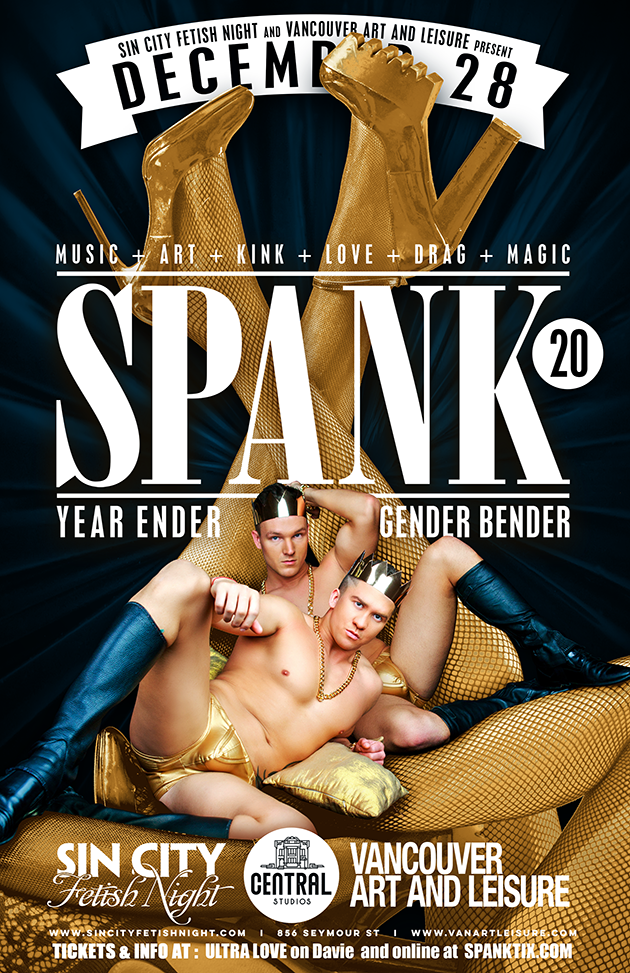 Close out the last Saturday of the year at SPANK, an underground pan-sexual party loaded with all the music, bass, art & magic you can handle! All electronic lose-your-mind-to-the-beat music, all night. A massive coalition of music, art & kink afficianados, attendees & DJs from all corners of the underground scenes of the city, united for one night of sweat, fun, pleasure & pain. LGBTQ+, straight, and everything in between welcome, if you want to play, we welcome you to drop your inhibitions and come get freaky with us in the giant SPANK playground! This is our 20th edition and we have a great night full of surprises in store!
Spread the word, invite friends, share this event, and BRACE YOURSELVES SISTERS & BROTHERS, because this party is set to destroy your inhibitions, feet, hearts and minds, all in the best way possible!
LOVE DANCING TO ELECTRONIC MUSIC AT UNIQUE UNDERGROUND SPACES? THIS EVENT IS -DEFINITELY- FOR YOU!!
Even before getting into all the kinky extras involved in this event, the main area all by itself is a sweaty all-electronic dance-a-thon featuring a dream lineup of Vancouver's hottest underground electronic DJs from a huge cross section of Vancouver's most unique events.
NEVER BEEN TO A FETISH NIGHT BEFORE?
This party is PERFECT for first timers or for regulars to being friends who have been interested but haven't yet made the plunge.
REGULAR AT FETISH EVENTS?
SPANK brings a whole new vibe and crazy party atmosphere that you will love. The fetish wear-only Play Lounge takes the naughtiness to a whole new level.
ALL ACCESS, NO DRESS CODE, CASUAL, & FETISH ATTIRE ONLY ZONES …
SPANK is divided into areas with a crazy sexy selection of naughty vibes going on. The all access main room has no dress code and is a straight up electronic dance party of Dionysian proportion, complete with lighting and art installations, performers, killer DJ lineups and much much more. Enter the throng of hundreds of pervy partiers, dance your pants off (literally, if you wish) and lose your mind. If you want to come casual, there is a HUGE party waiting for you!
The Play Lounges are FETISH ATTIRE ONLY, and COUPLES or THRUPLES ONLY. No unaccompanied singles, sorry! It is a playground that is truly off the grid. Wear as crazy (or non-existant) of a fetish outfit as you wish and get set for naughty times beyond belief!
---
Dungeon play gear provided by Sin City and Black & Blue Dungeon Furniture. Padded cuddle zones & beds, spanking benches, and more …
>>>>>>> DJ LINE UP <<<<<<<<<
• PANDEMONIUM
• EVILYN13
• TAFFI LOUIS
• ANTONIA JANE & MORE
>>>>>>>DRAG PERFORMERS, FETISH & KINK ZONE HOSTS <<<<<<<<<
• SAMANTHA MACK
• BERLIN
• PM
• HONEY
• KARE BEAR
• MJ & MORE
>>>>>>>HUNKY GO GO-S<<<<<<<<<
• ANUAR
• COLIN & MORE
---
PHOTO GALLERY FROM SPANK'S ORIGINAL LAUNCH PARTY!
Perve these sexy photos way back from our first event, shot by our good friends and official photographers Roman from Dark Edge Media, Patrick from DVPIx International and Damien from Deadly Photography!
---
A FEW WORDS ABOUT KINK PLAY
The ENTIRE event is a kink-positive space so feel free to get your kink on with a willing partner wherever the mood takes you. No judgments, no barriers, just fun. BUT there are a few guidelines to keep in mind!
#1 Rule : Absolutely NO UNINVITED INAPPROPRIATE TOUCHING. Look, but don't touch!
Do not invade the space of anyone engaged in kink play. Feel free to ask anyone anything, but be respectful, and make sure to give or take NO as an answer gracefully. Kink = consent! If anyone is crossing a line or not being respectful, please bring it up immediately with staff security, who will handle it anonymously and quickly.
---
THIS PARTY IS FOR EVERYONE WHO LIKES IT WILD, NAUGHTY, AND A LITTLE BIT CRAZY!
COME ON OUT and be part of a crossover mindfuck of a party where we escalate and redefine what is possible at electronic dance parties and kink events alike. SPANK brings a whole new vibe and crazy party atmosphere that you will love, and the anything goes sex positive play spaces take the naughtiness to a whole new level. This party is PERFECT for first timers or for regulars to bring friends who have been interested but haven't yet made the plunge.
---
SUGGESTED & ENCOURAGED PARTY OUTFITS :
– juicy jocks / glamourous twinks
– bitchy & beautfiful diva drag queens & kings
– lipstick lesbians / butch dykes
– cross dressers of every glorious description
– new wave / 80's goth / punk / mod / new romantic
– 90's raver / electric circus / MuchMusic wannabes
– fashion plates / thrift shoppers / couture / DIY fashion
– burner / steampunk / desert warrior / kaleidoscope kid
– art freaks & creative minds who just D.G.A.F. and want to partayyyyyy
– come as dressed down or as dressed up as you want but be prepared to START GLAMOUROUS and END TRASHY
---
SUGGESTED FETISH ATTIRE :
Harnesses, leather, rubber, perverted fetish fantasy, glitterslut, genderfuck, drag diva, ponies, puppies, fetish goth, fetish cyber, medical fetish, corsets, waist cinchers, chains, chaps, fishnets, body stockings, fancy lingerie, sexy jocks … note that jeans & topless will NOT get you entry to the Lust Lounge, but jeans & harness is AWESOME, PERMITTED & HOT. No effort = no entry! Be sexy and dress yourself up. Make us and everyone want to worship you! If you have any further questions about the dress code, please check out the VERY full and thorough listing right here on the Sin City website.
---
SAFETY
– Health Initiative for Men (HIM)
– Keep your mind and body safe – http://dancesafe.org/
– 19+ event
– No uninvited inappropriate touching or play. FIRST get invited, THEN get inappropriate!
– No means no. Feel free to ask, but if it's a no, please move on! If you didn't specifically get a YES, it's a NO!
– Give people space! If anyone is engaged in naughty play, do not interfere with their hotness unless all parties involved specifically and verbally worked it out ahead of time!