June 22 : PASSION PORTAL : Enchanted Forest Party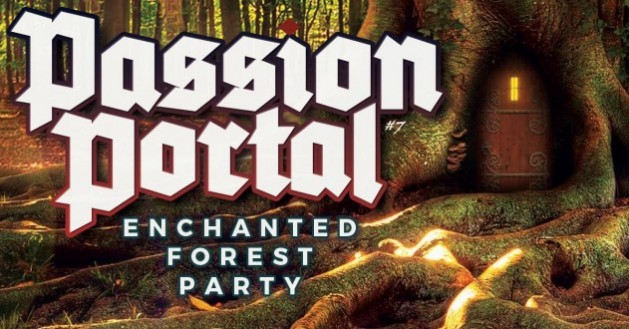 When : Saturday June 22, 9pm-2am + afterparty TBA
Where : The Waldorf, 319 East Hastings
Tickets : $20 early bird, $25 advance, $30 door
JOIN US for a multi-room party and total venue takeover of the WALDORF for our summer edition of Passion Portal, which is also our Lucky #7 party! All the bass & exploding community vibes you can handle, plus as an added bonus – outdoor stage for music appreciation under the open sky until dusk, complete with FIRE SHOWS!
---
Co-produced by Restricted Entertainment, Sin City Fetish Night & Kosmic Kitty.
Get set to jump into the PASSION PORTAL, a multi-room, enchanted forest theme party, full of sensual & electric dance vibes galore, showcasing 20+ local DJs & producers, with live art & forest decor installations, circus, magic and dance stage performances, along with special and unusual party services to ignite inspiration within our many wonderful and overlapping communities!
Please invite friends, share the event, and help spread the word – a very cool new event is on the scene, putting roots deep into the ground and starting to grow!
---
Want to know what the vibe is like at the party? Have a peek at this awesome video!
PASSION PORTAL – Party Preview from Restricted Entertainment on Vimeo.
---
PLEASE NOTE – THIS IS NOT A STRICTLY FETISH EVENT!
Passion Portal is not a specifically fetish event, but similar to Burning Man, there is a sensual and welcoming vibe of creative self-expression, and many people from the fetish and kink scenes attend, in 'public friendly' fetish attire, as cameras are fully loaded and photos are encouraged! Casual wear is 100% fine!
COME EARLY so as not to miss any of the action!
---
What to expect once you enter through the Passion Portal?
– 3+ areas of DJs, dancing & more, all esoteric electronica, all night
– main room : deep bass, trap, electro, dubstep, G house
– 2nd room : dark & funky underground house / techno / EDM
– chill room : laid back vibes, vendors, live art & thai massage areas
– 20+ DJs, performers & artists
– custom built dance cages
– unique, full production, enchanted forest art installations
– hula hoop, magic, FIRE & pole dance shows
– music and dance performance acts for mature adult partiers
A diverse array of music, stage & art perfomers, including :
/// MUSIC CURATED BY ///
Pandemonium
Evilyn13
More TBA
// MC //
Obe G
/// AERIAL, CIRCUS & FLOW DANCE PERFORMANCES ///
/// VENDORS ///
/// LIVE PAINTER & ARTIST SHOWCASE ///
// ON SITE FANTASY BODYPAINTER //
/// ROVING PARTY PHOTOGRAPHER ///
// PASSION PORTAL MASSAGE TEMPLE ON SITE //
Thanks to Dan Beavington and team
---
Enchanted Forest theme outfits highly encouraged, but are by no means required!
You are more than welcome to wear whatever comfortable manner of attire makes you feel most at home!
---
Our mantra :
To build community and to bond it using play, including music, art, performance & dance. Our goal is to present a classy noctural social gathering, drawing in mature partiers that aren't there just to get intoxicated, but yet – to connect with others, to leave feeling inspired, and to cultivate deeper mindfulness.
We look forward to seeing you on the other side of the Portal!
---