Nov 17 : PASSION PORTAL : Enchanted Forest Party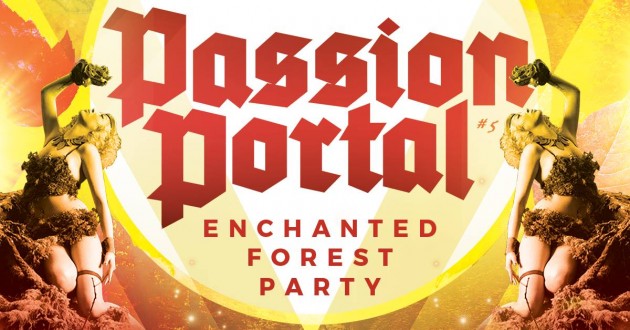 When : Saturday November 17, 9pm-2am
Where : The Waldorf, 1489 East Hastings
Tickets : $20 Early Bird, $25 Advance, $30 Door
---
Want to know what the vibe is like at the party? Have a peek at this awesome video!
PASSION PORTAL – Party Preview from Restricted Entertainment on Vimeo.
---
Co-produced by Restricted Entertainment, Sin City Fetish Night & Kosmic Kitty.
Get set to jump into the PASSION PORTAL, a multi-room, enchanted forest theme party, full of sensual & electric dance vibes galore, showcasing 20+ local DJs & producers, with live art & forest decor installations, circus, magic and dance stage performances, along with special and unusual party services to ignite inspiration within our many wonderful and overlapping communities!
---
PLEASE NOTE – THIS IS NOT A STRICTLY FETISH EVENT!
Passion Portal is not a specifically fetish event, but similar to Burning Man, there is a sensual and welcoming vibe of creative self-expression, and many people from the fetish and kink scenes attend, in 'public friendly' fetish attire, as cameras are fully loaded and photos are encouraged! Casual wear is 100% fine!
COME EARLY so as not to miss any of the action!
---
After four packed parties since launching, we are happy to announce that Passion Portal #5, celebrating the transformative aspect of autumn, the changing of the seasons, and underground bass music galore, will be held once again as a 3+ room party at the Waldorf!
Please invite friends, share the event, and help spread the word – a very cool new event is on the scene, putting roots deep into the ground and starting to grow!
---
What to expect once you enter through the Passion Portal?
– 3+ rooms of DJs, dancing & more, all esoteric electronica, all night
– main room : deep bass, trap, electro, dubstep, G house
– 2nd room : dark & funky underground house / techno / EDM
– 3rd room : chill out vibes, live art & thai massage areas
– 20+ DJs, performers & artists
– custom built dance cages
– unique, full production, enchanted forest art installations
– hula hoop, magic & pole dance shows
– music and dance performance acts for mature adult partiers
– outdoor smoking & social area
A diverse array of music, stage & art perfomers, including :
/// MUSIC CURATED BY ///
Downstairs Tabu Room :
Average-Gypsy
Numatic x Frigid
Application
SearaMann
Upstairs Tiki Room :
Pandemonium
Evilyn13
BP Mackie
// MC //
Obe G
// BEATBOX //
Gismo Andetta Gasmo
/// STAGE, POLE DANCE & HULA SHOWS ///
Subscura
Kosmic Kitty
SolaraKat
Mat the Human
Nahla Nightbloom
JennaR8
Alegria
/// VENDORS ///
Dropping Form Designs
Moonlit Princess
Radiant Life Hoops
Phoenix Alchemy Tonics
/// LIVE PAINTER & ARTIST SHOWCASE ///
Aleena Vanderburg
// LIVE FANTASY BODYPAINTER //
Iris Fai
/// ROVING PARTY PHOTOGRAPHER ///
Audrey Alexandrescu
// PASSION PORTAL MASSAGE TEMPLE ON SITE //
---
Enchanted Forest theme outfits highly encouraged, but are by no means required!
You are more than welcome to wear whatever comfortable manner of attire makes you feel most at home!
---
Our mantra :
To build community and to bond it using play, including music, art, performance & dance. Our goal is to present a classy noctural social gathering, drawing in mature partiers that aren't there just to get intoxicated, but yet – to connect with others, to leave feeling inspired, and to cultivate deeper mindfulness.
We look forward to seeing you on the other side of the Portal!
---