May 18 – 18 Year Anniversary Sextravaganza!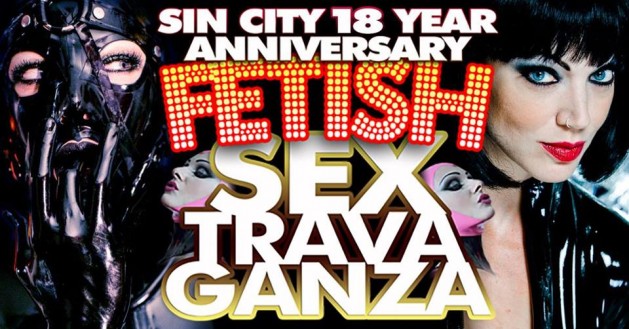 When : Saturday May 18, 9pm-2am
Where : The Imperial, 319 Main Street
BUY TICKETS / RSVP FACEBOOK / RSVP FETLIFE
EIGHTEEN YEARS OF FETISH EVENTS. Established in May 2001, Sin City is Vancouver's longest-running, ground-breaking, bar-raising, award-winning, and most prolific fetish night!
Every year, our annual Fetish Sextravaganza is a sold-out, packed to the rafters night of mischief and mayhem. For many, the anniversary party in summer is their favourite party of the whole year, as it is the biggest party with the highest representation of partiers directly from the fetish community, has the highest concentration of wildly creative fetish outfits, and is always a guaranteed sold-out party with JUST the right amount of people! And for this party we are thrilled to return to one of our favourite venues, THE IMPERIAL, an absolutely gorgeous renovated movie theater, perfectly suited for a multi-room fetish playground.
CHECK OUT THE HIGHLIGHT VIDEOS FROM PREVIOUS ANNIVERSARY PARTIES
Sin City Anniversary Fetish Ball – Promo Video from Restricted Entertainment on Vimeo.
---
Limited # of early bird tickets starting at just $20 online only.
---
We are THRILLED to announce our headline performers for our 18 year Sin City Anniversary party :
JEAN BARDOT —– (USA)
CHERRY ONTOP —- (LUST, Sweet Soul Burlesque)
---
THE THREE D's : DANCING / DJs / DUNGEON PLAY GEAR
FETISH PERFORMANCES / DECORATIONS / VISUALS / VENDORS
ONE UNFORGETTABLE PARTY
Lush club decorations & fetish visuals by :
RESTRICTED ENTERTAINMENT
Glamour Photo Booth On Site
Dancefloor domination by DJs :
PANDEMONIUM
R-LEX
EVILYN13
SP. GUEST JIMI LaMORT (Toronto / Northbound Leather / Malhavoc)
Strict Fetish Dress Code
Huge Theater Screen Size Fetish Visuals
Front & Center Play Dungeon featuring :
SUSPENSIONS, SHIBARI & ROPEPLAY
VIOLET WAND & ELECTRICAL PLAY
BONDAGE, SPANKINGS & FLOGGINGS GALORE
SUBMISSION, ROLE PLAY & FOOT WORSHIP
---
Awards & Media Recognition :
"EVENT OF THE YEAR" – Vancouver Nightlife Awards
"ONE OF THOSE RARE EVENTS WHERE LITERALLY ANYTHING GOES" – Abort Magazine
"CONSISTENTLY RATED ONE OF VANCOUVER'S TOP ALTERNATIVE EVENTS" – Xtra West
"BEST PLACE TO DANCE TOPLESS" – Terminal City
"MOST RADICAL PLACE TO GET SOME" – Terminal City
"TOP 100 THINGS IN VANCOUVER TO SEE & DO BEFORE YOU DIE" – Daily Hive
▄▄▄▄▄▄▄▄▄▄▄▄▄▄▄▄▄▄▄▄▄▄▄▄▄▄▄▄▄▄
MAP :