April 11 – KINKY CARNIVAL

When : Saturday April 11, 9pm-3am
Where : Central Studios, 856 Seymour St
RSVP ON FETLIFE / RSVP ON FACEBOOK
ADVANCE TICKETS HIGHLY RECOMMENDED
TICKET RELEASE INFO COMING SOON
The CARNIVAL OF KINK is EASILY one of the most colourful parties that Sin City throws each year, and also one of the BIGGEST! Many people list this event as their all-time favourite theme of the year! Strict fetish dress code, prizes for best carnival & circus outfits, rope, kink & BDSM play areas, sexy drag & burlesque stage shows, DJs & dancing and more!
ROCK OUT to DJs, dancing & non-stop kinky partying. PERVE OUT on the custom kink visuals installations. CHILL OUT in the lounge spaces. INDULGE YOUR WILD SIDE in our various play areas, the suspension & rope play Kink Corral, or in our full size Kink Play Dungeon. These are just some of the many offerings Sin City has in store for you at the CARNIVAL OF KINK!
---
Singles, couples, straight, LGBTQ+, cross-dressers, regulars and newbies are all welcome …
Sin City is a safe and welcoming pervy party & play space for everyone, with a great reputation earned over 17 consecutive years and over 300 fun & flirty events!
ABOUT SIN CITY …..
► Sin City is the ongoing event that taught local fetish party enthusiasts to expect more, MUCH MORE than just the same ol' same ol' from one party to the next! All Sin parties are positively loaded with extra elements which add creativity and inspiration and help take things to the next level. Sin City Fetish Night is Vancouver's longest running fetish night and the premiere destination for those looking for the perfect combination of HIGH ENERGY, HIGH SPIRITS, FETISH GLAMOUR and OFF THE GRID KINKY PARTYING.

---
NON-STOP DIRTY DANCING & BIG TOP PERVERSION
Club Classics / Dark Electronica / Industrial / Synthpop / Rock / Pop / 80's / Hip Hop / Mashups
DJs Pandemonium Vs. Evilyn13 Vs. R-Lex
DRAG, CARNIVAL & STAGE SHOWS
---
FETISH DRESS CODE
All attendees must meet the fetish dress code prior to entry. NO plain daywear is permitted, and all outfits must be sexy / pervy / kinky / risque in some way. The party starts before you leave the house, and every attendee at Sin City adds to the party in some way with their creative effort, making it an amosphere of collective community kinky sexiness. Trust us, the effort is worth it. Sin City is a home where people can take the masks off that they wear all week and transform themselves into their true pervy persona in safety, in an appreciative and fun environment. For a VERY full & thorough walkthrough of the dress code, click here!
SEXY CARNIVAL, CIRCUS, JESTER & HARLEQUIN OUTFITS HIGHLY ENCOURAGED!
But not required … any fetish outfit will do and be highly appreciated, but please do remember that in order to gain entry all outfits must be kinky in some way! Sass or sex it up, we want to see the fetishy freak in you – take the opportunity to show yourself off!
PLAIN BAGGY CLOWN OR JESTER COSTUMES WILL NOT PASS FETISH DRESS CODE!
Please note that Sin City is a fetish night FIRST and all outfits must pass the fetish dress code. If your outfit is circus or carnival themed but NOT presented in a fetish way, you will NOT be permitted entry. Plain baggy clown suits absolutely will not cut it. ALL outfits must be styled fetish / kinky / sexy in some way, no exceptions. We would much rather you have an outfit that is awesome on a fetish level but doesn't fit the theme so much, versus a great carnival theme costume which isn't very fetish.
PRIZES FOR BEST CARNIVAL / CIRCUS COSTUMES OF THE NIGHT!
Of course any fetish outfit or costume is awesome, but there are major bonus points for matching the carnival theme!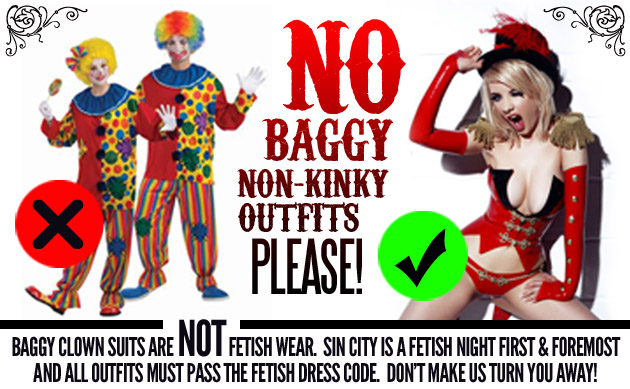 ---
KINKY PLAY AREAS
Sin City provides several play areas with different vibes for every level and comfort zone for play. There is a semi-private play area monitored by the Vancouver Dungeon Monitor Team, as well as satellite play areas more integrated into the main social & hangout areas of the venue. All spaces are stocked with sturdy, padded furniture lovingly constructed by our friends at Black & Blue Dungeon Furniture, and are places where we encourage you to get naughty with a consenting pervy play partner! Rope & suspension play area hosted by Rascal_21.
CODE OF CONDUCT / CONSENT
All attendees are expected to respect one another and party hard, but party safely. Poor behaviour of any kind is not tolerated and will result in ejection from the event and a possible ban from future events. Absolutely no unwanted, inappropriate or unasked for touching of any kind is permitted without prior, clear and verbal consent given. If you are unsure, ALWAYS ask FIRST! Only a clear and continued 'YES' indicates consent. And if someone is asking, there is never any shame in saying 'no thanks' and moving on. All attendees are expected to be aware of and graciously accept a 'NO' statement or vibe if one is given. If there are ever any issues (which are thankfully few and far between), our Sin City and venue staff are always at hand and accessible for you to bring any concerns to, which will be dealt with promptly, professionally and anonymously on your behalf.
✘ NO UNAUTHORIZED CAMERAS!
As always, Sin maintains a strict no unauthorized cameras policy, preserving the atmosphere of mutual respect and safety! We do have our own in-house photographers who are available for glamour shots, capturing the most fabulous outfits and energy of the party, but only with permission from willing subjects! You can go as crazy and kinky with your outfits as your imagination will let you, because if you want : what happens at Sin City … stays at Sin City!
---