VALENTINE'S TICKET UPDATE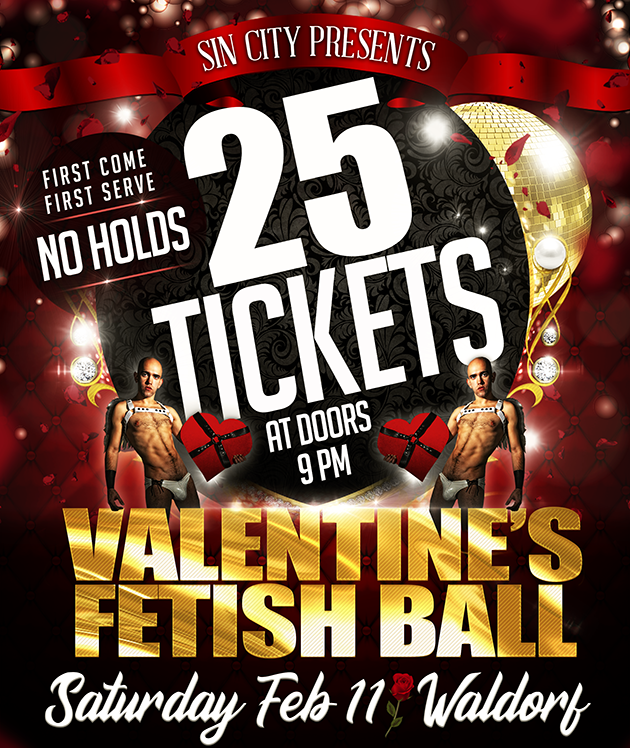 Thank you everyone for the crazy high levels of excitement and enthusiasm for the party this Saturday!
We are SOLD OUT of all advance tickets! There will be 25 tickets available for purchase at the door (cash only) right when we open at 9 PM at the Waldorf, first come, first serve, one per each customer, who must be present, no holds!
Some quick other notes regarding tickets :
* We can't predict how early or how many people will be coming looking for at the door tickets, so the only advice we can give is, be early!
* At the door ticket sales will not be available on site prior to 9 PM! Staff may be on site setting up the event earlier, but admissions and ticket sales will not begin until doors officially open.
* THERE IS NO WAIT LIST. We are receiving 10-20+ emails a day from people looking for tickets, far in excess of any tickets which may become available through refunds!
* REFUNDS – if your plans have changed or you come down sick, you can absolutely request a refund. You can log into Eventbrite using the email you used to purchase your tickets, locate your upcoming tickets, and send in a refund request through Eventbrite. Or, there should be a shortcut or link to do this in the confirmation email you received after purchasing your tickets. Do not send refund requests as personal emails to show staff or as direct messages through social media. Refund requests made through the ticketing service are usually granted quite quickly.
* ALL TICKET SALES ARE FINAL AS OF 9 PM FRIDAY NIGHT, 24 HOURS BEFORE THE EVENT STARTS
* Any tickets which are refunded will automatically show up as available on the Eventbrite ticket purchasing page, so it's worth checking back there occasionally, as small amounts of tickets may have become available, and you might get lucky!
* TICKET TRANSFERS – can be done by sending a screenshot of the ticket's QR code, along with a message of some kind that can be presented to door staff, clearly listing the original purchaser's name, authorizing by name the recipient to use the ticket. Please note that 3rd party ticket re-sales are never guaranteed or endorsed by the event organizers so BUYER BEWARE! There are many scammers out there, we do not recommend ever entering into any transactions with anyone you do not personally know.
* GET YOUR TICKETS EARLY TO SIN CITY EVENTS! Demand and excitement for our fetish parties are higher than ever and all our parties have high chances of selling out ahead of time. Our next event, Carnival Of Kink on Saturday March 18 at Hollywood Theatre, is already selling like crazy!
* JOIN THE NEWSLETTER! The absolute best way to stay in the loop for when tickets become available for events is to join the Newsletter! You can unsubscribe anytime. Sign up right –> HERE
THANK YOU EVERYONE FOR ALL THE LOVE! We can't wait to get kinky with you!