CALL FOR FETISH & EROTIC PHOTOGRAPHY & ART SHOW SUBMISSIONS!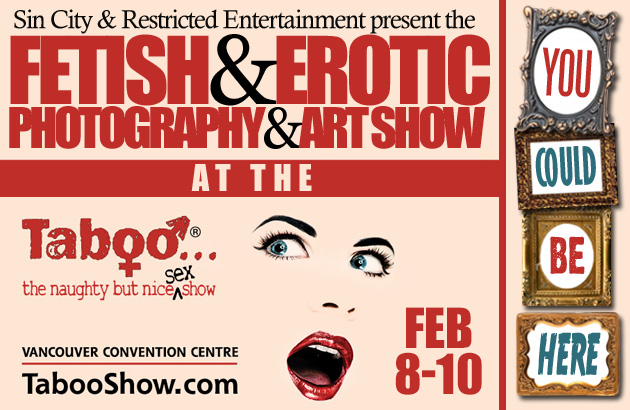 INTERESTED IN DISPLAYING YOUR ART OR PHOTOGRAPHY TO TENS OF THOUSANDS OF PEOPLE AT TABOO?
CONTACT US
---
Sin City & Restricted Entertainment are once again curating the fetish & erotic photography & art show at the upcoming Taboo Naughty But Nice Sex Show, held Feb 8-10 at the Vancouver Convention Center. Read more about the Taboo Show at their website here!
The art show will be held in the Dungeon area of the convention, with the art show portion taking up about one quarter of the Dungeon. Over 70+ feet of wall space will be adorned with the best of the best of our contributor applicants. Tens of thousands of attendees pack the show every year and all artists in the show will receive a huge amount of high-profile exposure.
This is a curated art show and not all applicants will be accepted due to space constraints. Not all applicants will be accepted. This is a high profile, professionally produced show and all applicants should be presenting completed works for professional consideration. Though we will try to respond to all applicants, we can only guarantee a response to applicants who are selected to be part of the show!
General notes about the show :
• runs Feb 8-10
• this show is 18+ only, x-rated material is fine
• no fees or charges to be part of the show
• all art is permitted and encouraged to be available for sale
• artist keeps 100% of all sales, no commission charged
• artists must be present to hang & remove their own art
• setup day is Friday Feb 8, show must be done and ready to go by 5 PM sharp
• tear down is Sunday Feb 10 at 6 PM (you may wrap early on Sunday if needed)
Technical & considerations :
• artists provide all hardware needed to hang off wire grid racking
• you must provide description tags with art name & prices for each piece
• it is recommended to provide a wire-rack hanging business card holder of some type for your business cards, no promotion elsewhere in the show is permitted
If you are interested in displaying work at the show :
Email Isaac Terpstra via the contact form below. Try to include links or photos to the work you are submitting for consideration, or at the very least, a website where we can see your work!