Fetish Models – Lacy Black
Birthday : October 19
Based out of : Edmonton, Alberta
Interests : designing latex, dancing and performing, industrial music and festivals, traveling, high heels, corsets, cats, spiders, old muscle cars and snowboarding.
Favourite Sin City event/s : Fetish Halloween, Military Fetish Ball, Rubberluv / Rubber Theme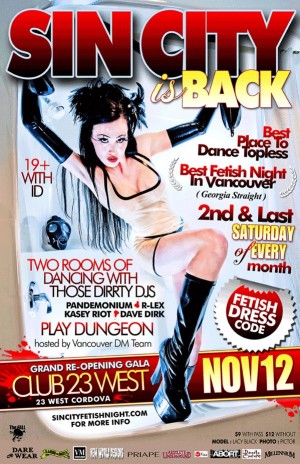 VISIT LACY'S WEBSITE!
Website : www.lacyblack.com
Model Mayhem : www.modelmayhem.com/LacyBlack
FB Fanpage : www.facebook.com/LacyBlack.FanPage
Twitter : www.twitter.com/#!/Lacy_Black
Pintrest : www.pinterest.com/lacy6black
Email: obsidian6angel@gmail.com
Lacy is one of our local Canadian models who has achieved international recognition through her expansive portfolio of works, specializing in Latex | Fetish | Glamour | Fashion | Alternative | & Underwater Modeling.
Featured publication appearances : Marquis Issue #55, Skin Two – Issue #63 – Pg 53, Heavy Rubber – Issue #31 – Pg 3, 74-81, Dark Beauty Magazine – Deluxe Issue #9 – Pg 152-159, Shoot Me Now Magazine – Vol. 1.11- Pg 30, Radiant Inc.: Where Perfection and Chaos Collide (Volume 1), Fetish Volume 1, Swim Volume 1, Sin City Fetish Nights flyer & poster artwork, Montreal Fetish Weekend, Northbound Leather, Conflict Graphic Novel, Hustler Taboo, Fixe Magazine, Beautiful Image Magazine, Absolute Underground Magazine. Lacy has appeared in the accompanying web publications for all the listed print appearances, and more!
To hire Lacy for a photo shoot : contact her at her website's booking page or through her at her Model Mayhem listing.