113 Photos From Sin City Fetish Night (March 2018)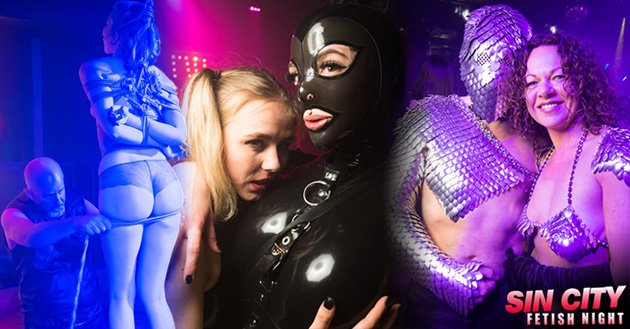 Once again we are over the moon at this incredible gallery of photos of our beautiful Sinner attendees, highlighting the wonderful cross section of pervy people who call Sin City a second home. This gallery also especially highlights our incredible venue at The Odyssey, the newly located and expanded kink play area, the energy of the dancefloor, the rope bondage performances on the main stage, and our hot as hell shower go go dancers Vieanna, Caelyx & Mr. James. We're just gonna go on record and say that the duo performance at the end of the night might just go down as the hottest shower show to date at Sin, and that's saying a LOT! Sploosh!
All photos by Frankie Panky – if you would like a high-rez digital file or a printed glossy, please visit Frankie at his Facebook Page and send him a message!
Note that you can use the left and right arrow keys on your keyboard for fast scrolling through the gallery once you are in the image pop-up display browser window!
---