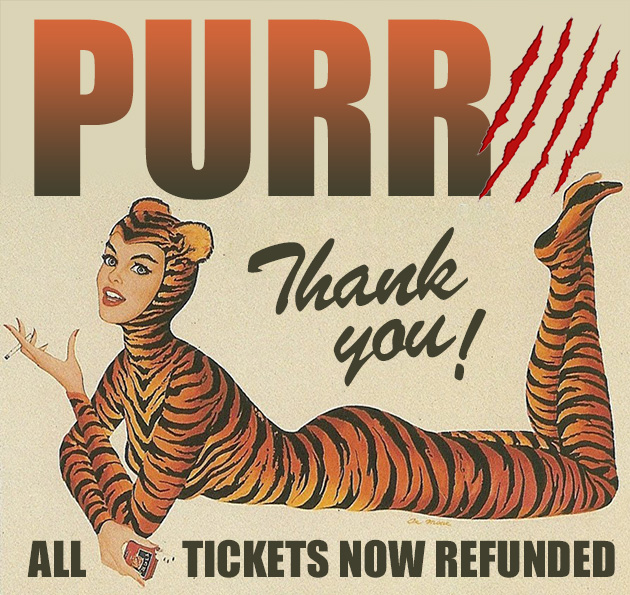 Oct 3 update : PURR this weekend is postponed, all tickets have now been refunded.
Hopefully we can lock down a new date for an event and have a new ticket release date before long!
---
Full Info :
Hello everyone! Thank you all for your excitement and enthusiasm for what we had hoped to be our first event back. When we booked it months ago, things were looking bright, new case counts were consistently very low, and we had easily moved into Phase 3 of the provincial re-opening plans, which gave us the ability to have larger personal gatherings and got us one step closer to Phase, which was due to possibly happen Sept 7. Phase 4 is where indoor dancing becomes permitted, masks become optional, capacity sizes for indoor gatherings are increased. As we know, we have not been able to move to Phase 4 yet due to persistent high numbers of new cases, due to a variety of factors.
With the introduction of the vaccine passport, requiring all attendees of indoor events to be vaccinated, there was hope that restrictions for indoor gatherings of vaccinated attendees would be lifted, but as of today, nothing has been announced by the provincial health authorities in this regard. We can only cross our fingers that this -will- happen by October 24, when the requirement to have all attendees be double vaccinated comes fully into effect.
This leaves us currently still in Phase 3, which means no dancing, masks required, and no mingling, events must be seated. Staging PURR as an outdoor event, or a seated, and/or masked event is not an option, therefore, we are sadly cancelled for this weekend. Hopefully we will have a new date before long, but venues are in very short supply, with weekends booked up until well into the New Year.
A gigantic thank you to everyone for balancing excitement with patience as we wind our way back to in-person events. It's a difficult and mentally taxing time riding the wave of changes and pulling everything together to be ready for events – all without knowing exactly when the rules may change or what they will change to, but we are getting there and we will be ready when it's green light time!
In the meantime, we highly encourage everyone to sign up to our direct email Newsletters and move away from relying on social media for news of events like PURR, Sin City Fetish Night, Passion Portal – Enchanted Forest Party, and all our family of Restricted Entertainment events. This is the absolutely best way to make sure you don't miss news of new events, and future dates for ticket releases!
Sign up for the Sin City Fetish Night newsletter right here at the website 😉
Sign up for the Passion Portal newsletter here —> https://mailchi.mp/628694f99443/passion-portal-newsletter-signup?fbclid=IwAR0hzI_EfI5H_l1wIbdboB6X6fq-a-zTY9g-sSX09vNEVREhyjmiMdPHZ1o
We send out notices for PURR to both newsletters, and you can easily unsubscribe at any time.
We love and miss all of you and can't wait to get sweaty with y'all on a dancefloor as soon as we can! It'll be Halloween before you know it!
xoxoxo and see you soon at another event down the road!
Isaac T / DJ Pandemonium
Kaitlind / Kosmic Kitty / Puss In Skates
Restricted Entertainment
---
Read More →