OCT 16 – UPDATE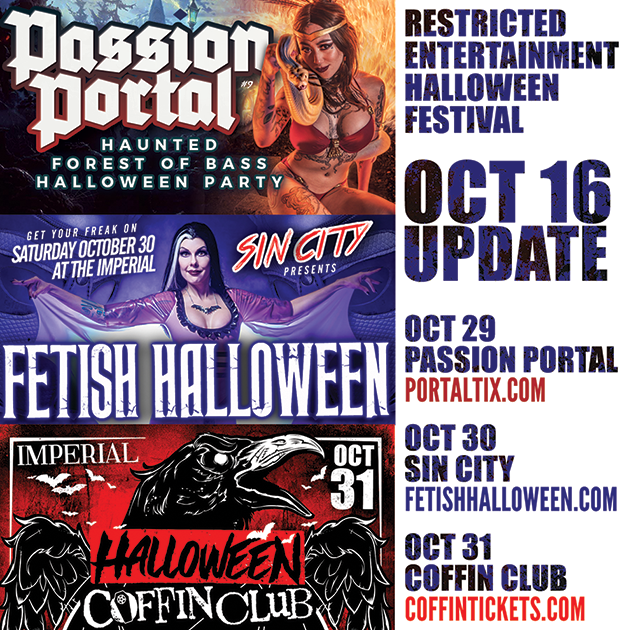 ---
UPDATE / OCT 16
Hello everyone! Thank you again for your continued patience and support for all our Sin City and Restricted Entertainment family of events! We've now hit the mid-month mark for October, and unfortunately there's not much new to report since our last update on Sept 23. Read on for all the full details and answers to the most common questions people are asking right now, but more than ANYTHING, we highly strongly encourage you to sign up to the direct email Newsletters for our main events, and move away from relying on social media to stay connected! You can always easily unsubscribe anytime!
---
GET FIRST CRACK AT TICKETS BY SUBSCRIBING TO THE NEWSLETTER!
In the event that we ARE able to release more tickets to any of the events, tickets will be announced and links sent out via the Newsletter direct email lists FIRST and stand a very high likelihood of selling out before being announced on Facebook or anywhere else!
Sign Up To The Sin City Fetish Night Newsletter Here :
https://mailchi.mp/sincityfetishnight/newsletter-signup
---
GENERAL OVERVIEW : STILL WAITING ON MORE INFORMATION FROM THE PUBLIC HEALTH AUTHORITY.
The current status of what is allowed for indoor events is no dancing, no mingling outside of the group you came with, seated pub / lounge / restaurant / cabaret stage show style events only. However, we are on the cusp of the full implementation of the 'Vaccine Passport' coming into full effect on October 24th. The entire purpose of this is to be able to lift some restrictions for indoor gatherings where 100% of the attendance is double vaccinated, and for such events to be able to function more normally. In general, the entire nightlife industry across the city has planned for the assumption events will be ON for Halloween weekend.
The reality is, we may be waiting right up until October 24 when the vaccine passport goes into full effect, to receive the full details of what will be permitted. How (and even if!) club-style events will be permitted to function entirely depends on the details of what restrictions will be lifted or left in place.
One would hope we would all be given some advance indication of what to expect so event organizers and attendees alike aren't left guessing and can make plans accordingly, but there are no guarantees, and there has been no news as of yet.
However, during a press briefing on Tuesday this past week, Dr. Bonnie Henry, the provincial health officer, said the province would make a decision by the end of the week regarding capacity and restriction changes for indoor events by the week, stating :
"Our intent was always, when the full vaccine card came into effect, that we would be able to go 100 per cent capacity and take away some of the other restrictions we have around some events, like dancing and remaining seated."
It is now Saturday Oct 16 and while no further information has been released on this topic, it -sounds- encouraging and we are hoping for good news and a green light in the near future.
You can read a full article about the press briefing mentioned here :
https://globalnews.ca/news/8260353/bc-covid-19-event-capacity-limits/
In the event of any new developments, we'll of course be releasing further updates!
---
POSSIBLE OUTCOMES / TICKET LEVELS
We have currently released tickets to 50% of the venue capacity, which are all completely sold out. Whether or not we can release more tickets and how / if the event can fully move forward is entirely dependent on news and further provincial instruction regarding the restrictions being left in place or removed with the implementation of the full vaccine passport coming into effect on Oct 24.
Here are the possible ways things can go :
1. Full green light, dancing allowed, 100% capacity allowed. In this case, more tickets will be released!
2. Partial green light, dancing allowed, reduced capacity. If this is the case, we may not be able to release any more tickets, but will still be able to go ahead with everyone who bought tickets already!
3. Partial green light, no dancing allowed, but full capacity and mingling allowed. This would be the most complicated option as we would still be able to gather but obviously many people would want to change plans if dancing was not permitted. In this case, refunds would be available to anyone who desired to change plans, and we would be developing the event in line with whatever instructions or permissions are given.
4. No change to restrictions, no dancing, no mingling. In this case, the event would be cancelled / postponed, and all tickets refunded. We are extremely optimistic that this will not be the case and that the health authority will encourage safe gatherings of 100% vaccinated party-goers by removing restrictions on those events.
---
TICKET WAIT LIST / REQUESTS FOR PERSONAL EMAILS OF TICKET AVAILABILITY
Unfortunately there is no way we can accommodate this outside of our Newsletter. Even before CoVid, our Halloween events are in extreme demand and always sell out. If and when more tickets become available, they will be available first come, first serve. We highly recommend people sign up to the Newsletters for the events they would like to follow for first access to tickets!
---
TAKE EXTREME CAUTION WHEN BUYING TICKETS FROM RE-SELLERS!
This applies to ALL events everywhere, not just here! During times of events with high demand such as Halloween and New Year's, there is always a proliferation of scammers.
Take extreme caution when considering buying from ticket re-sellers who say they have tickets they no longer need and promise to send tickets over after receiving a cash transfer in one form or another. The ONLY official ticket vendor for this event is AdmitOne.com . We are not able to endorse, verify or take responsibility for any tickets sold anywhere other than from our official ticket vendor AdmitOne.
In the event that the event is postponed and tickets need to be refunded, AdmitOne will send refunds out to the original ticket purchaser on file, who is then responsible for any refunds for tickets they re-sold to a third party.
Before buying tickets from any source, make sure to thoroughly check them and make sure you are comfortable that you will be able to get your money back from them should the event be postponed!
If there are any issues with any ticket re-sellers, make sure to report their account immediately anywhere associated with their activity – Facebook, PayPal etc!
---
REFUNDS / TICKET NAME CHANGES
Any changes to purchased tickets are handled by MRG, the company which owns and operates the venue for our Halloween events.
You can direct any inquiries for refunds or changes to purchased tickets to :
---
We know it's mentally exhausting dealing with the uncertainty surrounding events at this time – we feel this and are doing everything we can to get back to fully legal and as safe as possible large-scale in-person events as soon as humanly possible. Thank you for sticking with us through all the twists and turns as we work our way towards that giant dancefloor where we can be all together again!
Hopefully we'll have more news in a few days or later this week!
xoxo
Isaac T / DJ Pandemonium
Restricted Entertainment
Sin City Fetish Night
Vancouver Fetish Weekend
---