UPDATE COMING!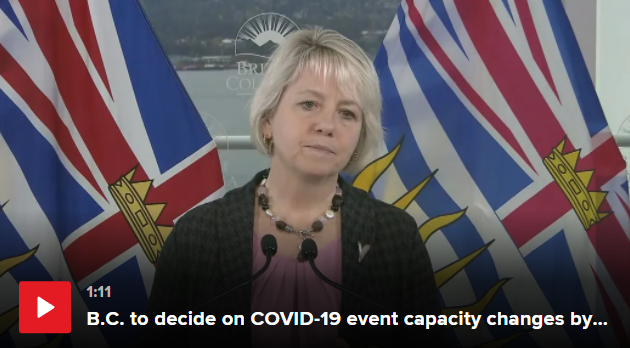 ---
Edit – So, no announcement was made on this today.
Perhaps the BC Health Authority meant something different when they said on Tuesday "We'll make an announcement on this by the end of the week"? Either way, we'll check in with an update of our own tomorrow / Saturday. Thanks for being patient, everyone!
---
Hello everyone! Just a quick message to let you know we will have another update tomorrow (Friday Oct 15), late afternoon.
There has been no change since our last update posted in the SIN CITY Fetish Halloween 2021 event listing, so we have nothing new to report as of yet. However! The provincial health authorities have stated they will be giving an update Friday specifically regarding activity and capacity restrictions for indoor events, which indoor venues can expect to come into effect on October 24, when the double vaccination requirement for indoor gatherings comes into full implementation.
Whether or not the events are able to proceed at full capacity and have more tickets released, or, whether we have to stay at 50% capacity tickets sold (which is where we are at right now) with no more tickets being released, or whether the event has to be postponed yet again, is all dependent on what restrictions (if any) are lifted by Halloween.
Please read this article from earlier this week for more information : https://globalnews.ca/news/8260353/bc-covid-19-event-capacity-limits/
The main parts of the article which are relevant to indoor nightclub-type events are listed below. While this doesn't give any full guarantee of anything, it does sound encouraging that, at the very least, we'll know by this weekend whether we can have dancing again by Halloween. Cross your fingers, toes and everything else!
---
B.C. TO DECIDE ON COVID-19 EVENT CAPACITY CHANGES BY END OF THIS WEEK
By Elizabeth McSheffrey ~ Global News
Posted October 12, 2021 1:15 pm
The province will decide by the end of this week whether it intends to change the capacity limits for organized events held during the COVID-19 pandemic.
British Columbia is one of the last provinces in Canada with guest number restrictions in place for events like weddings, hockey games, concerts, and theatre performances.
Those rules are now under review, said Dr. Bonnie Henry, as the deadline for requiring proof of double vaccination at events approaches.
"Our intent was always, when the full vaccine card came into effect, that we would be able to go 100 per cent capacity and take away some of the other restrictions we have around some events, like dancing and remaining seated," said Dr. Henry, the provincial health officer, in a Tuesday press briefing.
Beginning Oct. 24, provincial health orders mandate that event organizers must obtain vaccine card proof of double vaccination, and deny entry to those who can't produce it.
---
We know it's a frustrating and exhausting waiting game right now. Thank you everyone for being so patient while we all wait for more information that will allow us to make further decisions and plans!
xoxox
Isaac T / DJ Pandemonium
Restricted Entertainment
Sin City Fetish Night
Vancouver Fetish Weekend
---