XXX-MAS SIN CANCELLED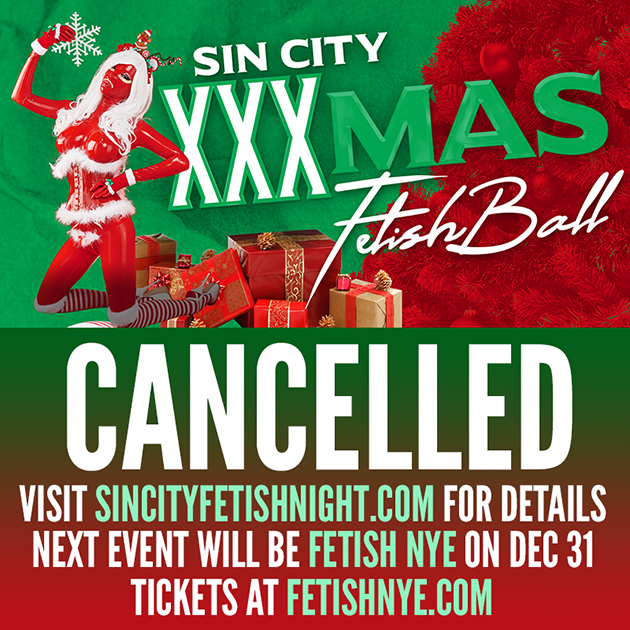 It is with great sadness we must announce that we've made the difficult but necessary decision to cancel our Sin City Fetish Night X-Mas Ball, originally planned to happen Saturday December 11 at the Waldorf.
When we booked the venue and event, we had hoped things would open up more by the date of the party, but with the remaining restrictions and CoVid considerations still in place, the Waldorf is still not able to open, as the layout of the venue is not conducive to social distancing or seated / tabled events, even with mingling allowed. We absolutely adore the space for fetish events under normal circumstances, but at this time, this is the responsible decision.
Vancouver is in extremely short supply of venues even under normal circumstances and there unfortunately isn't time or the availability to find an alternate venue which will work for an event before Christmas. However, we will be having an online event on the night of Saturday December 11, for fetish friends that want to tune in for a music livestream from the Sin City DJs & party crew, along with a group text chat & Zoom party!
The GOOD NEWS though is that we ARE charging forth with many upcoming events booked and confirmed at the Imperial Vancouver!
This space IS huge and wide open, and as we have seen at our Halloween and 20 Year Anniversary events, more than able to work as an environment where we CAN follow all the guidelines needed and still have an amazing night out with our fetish family in attendance, in the flesh, with everyone in their full glory!
Our next full on Sin City event is none other than our epic FETISH NYE MASQUERADE BALL on Friday, Dec 31!
Pre-sale tickets for NYE go on sale at noon TUESDAY, NOVEMBER 30!
To access these the pre-sale tickets, you will need a link and code, which goes out exclusively to our Newsletter subscribers!
Sign up to the Sin City Newsletter –> HERE
Find our more about the NYE party –> HERE
We also have a fetish friendly event in the works for Boxing Day, which we'll be posting more details about shortly as well!
Thank you to our incredible community of kinksters for your support, enthusiasm, excitement and patience as we navigate the twists, turns and many challenges bringing in the flesh events back to life!
xoxox
Isaac T / DJ Pandemonium
Restricted Entertainment
Sin City Fetish Night / Vancouver Fetish Weekend
---