BLOCK PARTY – THANK YOU!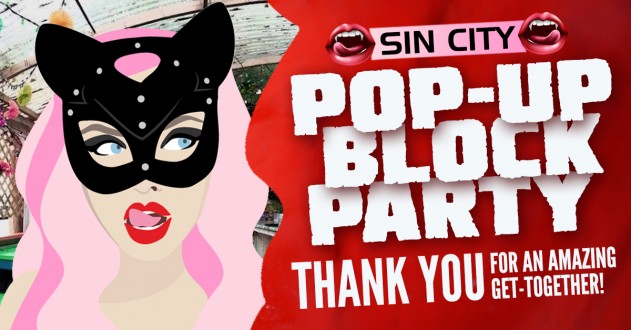 A huge and heartfelt THANK YOU from our whole team at Restricted Entertainment and Sin City Fetish Night to everyone who helped out with and attended our kinky Pop-Up Block Party!
After not seeing everyone for a year and a half, we knew we needed to put together a social re-connection event where people could get back out and start to expand their bubbles, but in a way that would feel relaxed and comfortable given all the extraordinary circumstances regulating how, when and where we can gather! We are absolutely thrilled at how well everything came together ❤
The weather and our location turned out frankly PERFECTLY for the event! The space was central but also semi-private and really felt like our own enclave where we could express ourselves out in the sunlight and open air. Gigantic thank you to The Narrow for working with us to create our space around the anchor point of their patio and back lot – and an even bigger thank you for all tasty slushy drinks and food served up to our thirsty, hungry Sinners! The staff were accommodating to us in every way and we are beyond thankful for all the extra touches they brought to our pop-up event.
Massive thank yous to Brian, Shea, and Marc, for helping out in the days leading up to the event, throwing fresh coats of paint on our pop-up production gear, helping fabricate a long table for the central gathering space, running a hundred feet of network cable so we could connect the DJs and the event to our online community and keep it accessible to those who were not able to attend in person! You wouldn't believe how much background work went into preparing the space for our gathering!
Big thank you to all the people who pitched in at the end to help pack up!
Huge thank yous to our DJ crew, reunited for the first time in a year with Kasey Riot joining myself (DJ Pandemonium) and Evilyn13 for a huge variety of dirty beats!
MASSIVE thank you to Dangerous Goods, who brought down and provided one of their gorgeous spanking benches for the party, and to Switch Kitchen for hosting the spanking area!
Extra thank you's to Nav and Pika, our front of house check-in and security staff, who came out on short notice and made everyone feel so comfortable and taken care of, right on arrival!
Thank you to everyone who tuned in and partied along remotely with us, connected via our Restricted Entertainment channel on Twitch! There were on average 200-300 people tuned in from all over the world, enjoying the DJs, music, vibe, and online chat!
But most of all THANK YOU to everyone who came out IN THE GLORIOUS FLESH to say hello and hang out!
We know we've all developed habits of avoiding groups of people for the last year and as the restrictions lift and this becomes safe and permitted again (under certain guidelines to follow health regulations of course!), it can cause some anxiety as we re-train our brains to feel it's OK! The amount of people never exceeded about 2/3 of the capacity of the space and there was always lots of room to spread out, and everyone was very comfortable keeping whatever distance they needed. To see everyone so happy to see each other, but also being so understanding and respectful of people's space and needs, is what our fetish community is all about.
MASSIVE THANK YOU TO EVERYONE WHO DRESSED UP KINKY! Leather, latex, harnesses and much more were on full display, meshed perfectly with people who chose to come casual, everyone hanging out together and having a great time. HOT DAMN WE ARE A SEXY BUNCH!
We loved seeing you all and can't wait to do it again!
We are crossing our fingers that we get another weekend before the summer is over where the weather will allow us to have another gathering!
In the meantime, this week we have another VERY exciting event announcement for one of our biggest events of the year.
Make sure you are signed up to the Sin City Newsletter to stay in touch!
Social media (and ESPECIALLY Facebook) -actively- throttles any content they determine to have any "sexual content". This applies to almost all fetish events. Facebook is quite frankly the WORST place to rely on for news of fetish events. The absolute best way to stay in touch with your kink community is through being subscribed directly to their Newsletters and emailouts, where we can all be our unfiltered selves.
We hope you all have a glow and a smile on as big as ours right now!
xoxoxo
Isaac T
Restricted Entertainment
Sin City Fetish Night
Vancouver Fetish Weekend