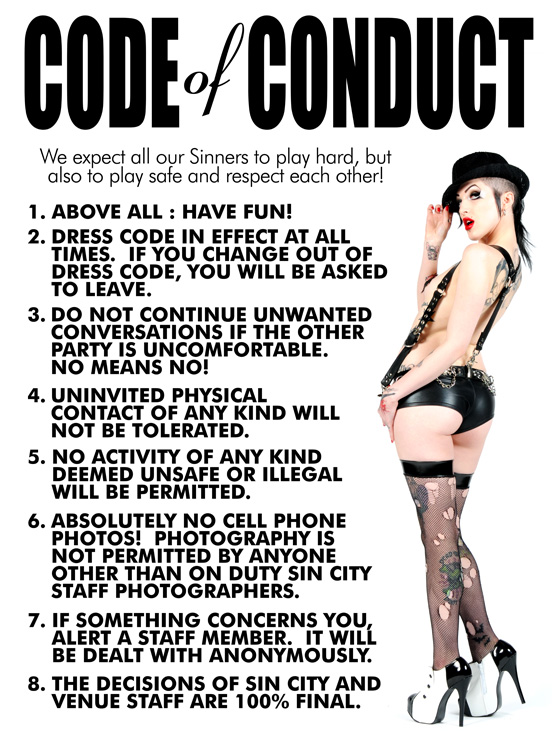 We expect all our Sinners to play hard, but also to play safe and respect each other! One of the things that makes Sin City such a fun party is the kinky 'anything goes' atmosphere, but that goes hand in hand with an air of mutual respect of other attendee's boundaries.
---
1. Above all else : have fun!
Cut loose, let out your inner exhibitionist / voyeur / hedonist! Whatever you want to be for the night, this is the place to let out your wild side!
---
2. Fetish dress code is in effect at all times. If you change out of dress code, you will be asked to leave.
While there is much, much, MUCH more to the party than just the sea of eye candy and fetish fashions, the fetish dress code remains one of the most important elements of each and every party and ensures that each and every person who comes to the event personally helps make it what it is. At Sin City you don't just go the party …. you ARE part of the party yourself!
---
3. Do not continue unwanted conversations if the other party appears uncomfortable with it. No means no!
Sin City is a great place to meet new people, but if someone isn't comfortable with your attention, please respect their space and their boundaries.
---
4. Uninvited inappropriate physical contact of any kind will not be tolerated.
Of course if you are invited, that's a whole different story! Naughty play is encouraged throughout the party – why not take your playmate to the dungeon and put on a sexy scene and show yourselves off?
---
5. No activity of any kind deemed unsafe or illegal will be permitted.
Among other things, this includes : drug use, direct lower genital contact or exposure thereof. While we like to push the boundaries of what is possible at the party right the edge of what is legal – we DO NOT cross that line. Sin City parties have been happening for over a decade and we have a very good standing with the Vancouver Police Department since they know from many visits that we play hard but we play by the rules.
---
6. Absolutely no cell phone photos! Photography is not permitted by anyone other than on duty Sin City staff photographers.
We like to consider Sin City a party that is OFF THE GRID. Many of our attendees are parents, lawyers, teachers, firemen, and are out for a night of partying where there is no danger of their night of fun appearing on Facebook or Twitter hours later. Everyone is expected to respect their fellow partier's anonymity! Now if you WANT to get a photo, we always provide a complimentary glamour photo booth where you can get photos and even have them printed out on the spot!
---
7. If something concerns you, alert a staff member. It will be dealt with anonymously.
---
8. The decisions of sin city and venue staff are 100% final.