FETISH NYE – Venue, Ticket & Arrival Details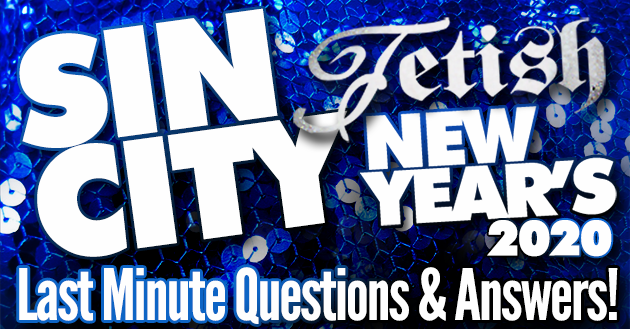 Keep reading for all the answers to the most common questions people might have about Sin City's Fetish NYE Masquerade. A reminder that entry is conditional on compliance with the fetish dress code. All outfits must be sexy / fetish / risqué / pervy in some way! No effort = no entry, no exceptions. No refunds for non-adequate outfits which do not pass dress code! Please note that having an advance ticket does -not- guarantee entry without compliance to the dress code.
"WHERE IS THE VENUE?"
Sin City Fetish NYE this year is held at the fabulous IMPERIAL CABARET at 319 Main Street. Doors 9 PM, party goes to 3 AM.
Performances at 10:45 PM, midnight countdown, international headliner performances at 1:30 AM, DJs, dancing, and good times with 400+ fetish friends from start to close!
"I DIDN'T GET TICKETS. ARE THERE TICKETS AT THE DOOR?"
There are a limited number of tickets available at the door, first come, first serve, available when the doors open at 9 PM!
"I BOUGHT TICKETS ONLINE – WHAT DOCUMENTATION DO I NEED TO BRING TO CLAIM THEM?"
It does help speed things up a bit if you can bring a printout of your confirmation email from your ticket purchase, or have it ready to show on your phone at the ticket desk, but we do have a listing of all online ticket purchases at the door. All you need to claim your tickets at the door are your ID and the credit card which matches the purchase.
"I WANT TO CHANGE THE NAME ON MY ONLINE TICKET TO SOMEONE ELSE BECAUSE I AM SELLING MY TICKET. HOW DO I DO IT?"
You can log in to the Eventbrite website using the email you used to purchase the ticket, and edit all the details of your ticket order, including the customer name. In this manner you can transfer your online ticket to a third party if your plans have changed and you wish to pass your ticket along to another person.
"WHAT TIME SHOULD I ARRIVE?"
We cannot stress this enough, COME EARLY! Cabs, transit and parking can all take much longer than expected on NYE, and the last thing you want is to arrive late, be stuck in a lineup at peak arrival time, and miss any of the party, which is packed with fun times right from 9 PM!
Every person arriving has a ticket, just like you, and it is first come, first serve, for entry at the door. We HIGHLY recommend showing up early to avoid line waits! Many people come down to the area early and have dinner nearby – and then head into the venue right at doors opening at 9 PM. If you wish to arrive at 'peak time' between 10-11 PM, be prepared for waits to get in, as several hundred people will be arriving at the exact same time and people can only get through the entry and coat check so fast. Once again, we cannot stress enough that the earlier you can arrive, the better. The party will be in full swing almost immediately!
"REMIND ME ABOUT THE DRESS CODE …"
Absolutely no street wear, casual wear or plain work clothes! Plain jeans, cargo pants, t-shirts and suits are not permitted. Lower genital nudity is not permitted. Suggested attire includes: vinyl, leather, PVC, tuxedo, full uniform, fantasy or period costume, armour, cross-dress, rubber, bondage, body paint, kilt, fancy ingerie, or any risque costume your kinky little mind can dream up … and please … not "just underwear!" No effort = no entry!
HIGHLY ENCOURAGED OUTFIT THEMES :
• glitz
• glamour
• upscale
• Vegas
• feathers
• tuxedo
• tailcoat
• top hats
• carnival
• freakshow
• ribbons
• masquerade
• rhinestones
• showgirls
• gothic lolita
• vintage
• flapper
• cabaret
• fancy lingerie
• boas
• sequins
NYE BONUS COLOUR THEMES : BLUE / SILVER / BLACK
See you soon! It's almost time to kiss 2019 goodbye at the wildest party in the city!