OCT 28 : GLAMOUR TRASH ZOMBIE PROM @ THE HINDENBURG

VISIT THE FACEBOOK LISTING / BUY TICKETS ONLINE
Hard copy tickets available at : Deadly Couture (in Gastown), JQ Clothing (on Commercial), and Ultra Love (on Davie).
Come and party at Sin City's previous home for Halloween, with no dress code and a great silly, spooky vibe open to all! This year we present the first ever Vancouver ZOMBIE PROM … a full-on two-room 90s-themed Halloween rager of a party!
---
Where : The Hindenburg AKA Club 23 West / 23 West Cordova
– Map provided at the end of this event listing!
– 9pm-3am / First 100 tickets online only $15 / $20 otherwise!
---
★ PRIZES FOR BEST COSTUMES OF THE NIGHT!
★ HIGHLY ENCOURAGED THEMES :
90s Pop Culture / Zombie / Undead / Glamour / Prom / Schoolboy / Schoolgirl / Cheerleader / Nerd / Jock / Teacher. But any and all Halloween outfits of any kind are wicked as well!
No costume? No problem! You're more than welcome to come casual and just party if you don't even want to deal with a costume! All are welcome to join in the madness!
---
★ FETISH AND FREAK FRIENDLY, BUT OPEN TO ALL! NO FETISH DRESS CODE.
Note that though basically all of the Sin City production team and DJs are involved with this party, it is NOT a fetish event and there is no fetish dress code. While fetish attire is very welcome, ALL styles of dress are welcome and encouraged!
---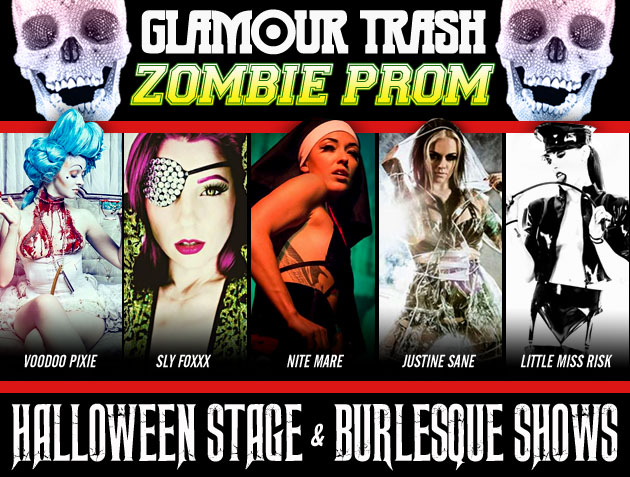 ★ GLAMOUROUS & TRASHY HALLOWEEN BURLESQUE STAGE & DRAG SHOWS BY :
– Little Miss Risk
– Justine Sane
– Nite Mare
– Voodoo Pixie
– Hosted by Sly Foxxx!
Shows at 10:15 & 11:30 SHARP, so don't be late!
---
★ LOSE-YOUR-MIND DANCE PARTY RIGHT TO 3 AM
★ 2 ROOMS / 2 VIBES TO CHOOSE FROM :
★ MAIN ROOM : 90s DANCE – 90s ALTERNATIVE – 90s POP – 90s HIP HOP FAVOURITES
★ BASEMENT : DIRTY HOUSE & UNDERGROUND TECHNO
– DJs Pandemonium, Evilyn13, Trilliam Gibson, Taffi Louis
+ special guest MYSTERIOUS D (Bootie Mashup, San Francisco)
---
★ HALLOWEEN COSTUME CONTEST WITH CASH PRIZES FOR BEST COSTUMES!2>

---

★ INSANE HALLOWEEN DECORATIONS BY RESTRICTED ENTERTAINMENT
Main Room : Zombie Apocalypse
Second Room : Bloodbath In The Basement
---
★ DRESS TO IMPRESS, OR COME CASUAL … IT'S ALL GOOD!
Glamour Trash Halloween is a party melting pot of all things social, colourful and crazy, loaded with freaky creative people of all stripes cutting loose in a no-holds-barred eclectic atmosphere … feel free to come casual, or dress up in one of our highly encouraged attire options :
– glitter / gold / sparkles / sequins
– ribbons / boas / rhinestones
– feathers / fishnets (boys AND girls!)
– ultra glamourous / classy
– rock & roll / trashy
– ultra goth, ultra cyber / sci-fi / rivet
– vintage
– outrageous / kinky
– 50's / rockabilly
– high couture freak
– 80's / New Wave
– crazy themes
– what the eff ever you feel like!
– HALLOWEEN
– anything goes, yo!
---
MAP :