Sin City Presents : The 2013 Taboo Fetish & Erotic Photography & Art Show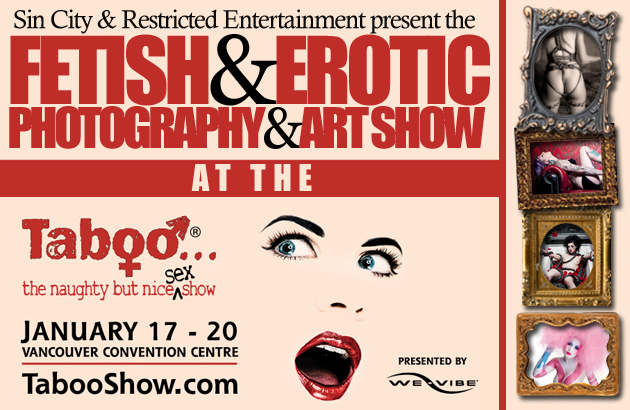 Sin City has a long history spearheading the production & presentation of the Dungeon area at the Taboo Everything To Do With Sex Naughty But Nice show, with the Dungeon at the Vancouver arm of the show eclipsing any other city for scale, community involvement and well, just sheer awesomeness!
This year it's being taken a step even further to keep the show exciting for new and returning attendees alike. Sin City is proud to be teaming up with local sex-forward groups Noir and MVK to present our biggest & best Dungeon yet, with more kinky play demonstrations, visuals & eye candy than ever.
For more information about the Taboo Everything To Do With Sex show, Jan17-20 at the Vancouver Convention Center, please visit their website here : http://www.canwestproductions.com/Taboo—Vancouver-Home
---
For the first time ever, Taboo will be featuring a full-scale Fetish Photography & Art Show in the Dungeon, curated and presented by Sin City!
We've got an amazing assortment of art to unveil, with all pieces available for purchase at affordable rates, so maybe think about taking home a slice of sexiness to kink up your walls!
---
2013 list of contributors :
Shimona Henry / Pin-Up Perfection Photography
http://www.shimonahenry.com/
Guy Paterson / Forbidden Light Studios
http://www.forbiddenlightstudios.ca/
Sandy Mandl
http://www.smbeauty.ca
Aaron White
https://www.facebook.com/AaronWhiteArt
Michael R. Barrick / Atratus
http://www.mbarrick.net/
Jennifer Little / Glitter Machine
http://www.glittermachine.ca/
Aaron Harrison / Harrison Arts
http://www.facebook.com/pages/Harrison-Arts
Frank Roberts / Frankie Panky Photography
http://www.frankiepanky.com/
Roman Seregin / Dark Edge Media
http://www.darkedgemedia.com
Raymond Shum / Tempest Photo
http://www.tempestphoto.com/
David Denofreo / Black Opal Images
http://www.blackopalimages.com/gallery
Patrick Parenteau /DVPix International
http://www.dvpix.ca/
Rusty Deluce
http://www.rustydeluce.com