Sin City Church of Sin August 11th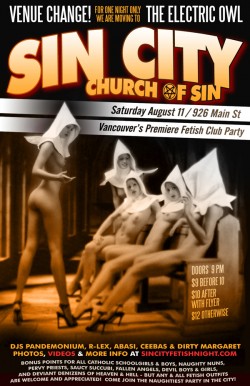 Due to circumstances beyond our control at our home venue, Sin City's CHURCH OF SIN Fetish Party this weekend is staging a rare total club takeover of another venue! This Saturday, for one night only we are moving to the Electric Owl on Main, right across the street from the Cobalt. Stage dancing? Main room dungeon? Great bar selection? Loads of ultra comfy booths to lounge in, or rock it on the dancefloor? The Owl's got it all and we're super stoked to take it over for the night!
Check out our photos of the Electric Owl on the Sin City Page on Facebook
CALLING ALL CATHOLIC SCHOOLGIRLS & BOYS, NAUGHTY NUNS, PERVY PRIESTS, SAUCY SUCCUBI, FALLEN ANGELS, DEVIL BOYS & GIRLS and DEVIANT DENIZENS OF HEAVEN & HELL! Due to popular demand from Sinners just BEGGING for this theme, comes the Sin City CHURCH OF SIN! At no other party is it more appropriate to deliver this simple command …. Get on your knees, Sinner, AND PLAY.
All Sin City events have a strict fetish dress code in effect at all times. Check out the full details. ANY sexy fetish outfit of ANY kind will fit in perfectly resulting in an ultra naughty atmosphere. Keep 'em creative, but above all, please remember to KEEP 'EM KINKY!
CHURCH OF SIN THEME OUTFITS HIGHLY ENCOURAGED, BUT NOT REQUIRED!
Any fetish outfit or costume is awesome, but there are major bonus points for matching the Church Of Sin theme!
PRIZES FOR BEST CHURCH OF SIN OUTFITS
NO UNAUTHORIZED CAMERAS / CELL PHONE CAMERAS / DIGICAMS
As always, Sin maintains a strict no cameras policy, preserving the atmosphere of mutual respect and safety! You can go as crazy and kinky with your outfits as your imagination will let you, and what happens at Sin City … stays at Sin City!
For those exhibitionists who want to show off their outfits or awesome selves for posterity, feel free to visit the photo booth and get a photo taken for the official web gallery or have a photo printed out on the spot!
CHURCH OF SIN THEME PHOTO BOOTH
PLAY DUNGEON HOSTED BY VANCOUVER DUNGEON TEAM
DJS PANDEMONIUM, R-LEX, ABASI, CEEBAS & DIRTY MARGARET
Delivering a lethal injection of electro / 80's / pop / industrial / rock / house & electronica!
CHURCH OF SIN FETISH DECORATIONS & VENDORS
NAUGHTY FLIXX & CULT VISUALS COURTESY OF BLACK DOG VIDEO
50/50 FETISH FUNDRAISER DRAW IN SUPPORT OF PACE
At this party, Restricted Entertainment's original 50/50 fetish fundraiser draw will be in support of PACE – donate, possibly win a couple of hundred dollars extra drinking money, get complimentary spankings from our sexy fetish fundraiser flogger boys & girls AND help raise $200+ in much-needed funds for a worthy local charity. PACE is a sex worker led and driven organization offering low-barrier programming, support and safe respite for survival sex workers in Vancouver. More info on PACE.
$9 EARLY BIRD BEFORE 9 PM
$10 AFTER 10 WITH PASS / $12 WITHOUT
---