SEPT 17 – SCARLET HARLOTS FETISH BALL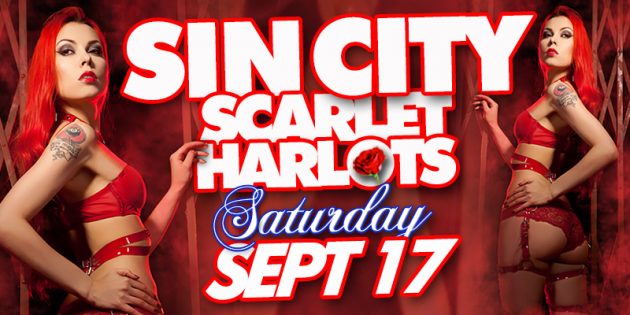 GET TICKETS / RSVP FACEBOOK / RSVP FETLIFE
---
SIN CITY PRESENTS
SCARLET HARLOTS FETISH BALL
SATURDAY SEPT 17
AT THE IMPERIAL
319 Main Street ~ Doors 9 PM
Join us for a 100% immersive kinky party, full of scandalous socializing, dirty dancing, and pervy playing, all in a renovated movie theater special events space! Proudly presented by Restricted Entertainment.
Please note this is the one and only LAST full Sin City party before Halloween, and one of only a handful of fetish parties we have left at the Imperial, before the venue gets torn in January and we lose it forever!
RED IS THE COLOUR OF SIN!
Red is ALSO the colour of passion, love, intensity, adrenaline, fierceness, and sexiness. It's also a SUPER easy theme to combine with a fetish look! You can do anything from as simple as taking any fetish outfit you like or already own and tying a red ribbon into your hair or on your wrist, or incorporating a red flower into your outfit, all the way through to putting together a full on head to toe red theme outfit!
Red themed outfits highly encouraged, but not required All fetish outfits of all styles are always welcome at all Sin City parties!
LGBTQ+ / Straight / Drag / Cross-Dress / Lifestyle / Ages 19-65+ / Newbies / Singles / All Body Types, Gender Identities, Expressions & Sexual Preferences All Most Welcome!
✚ $1 FROM EVERY TICKET DONATED TO CANCER RESEARCH CHARITY
✚ PRIZES FOR BEST RED THEMED OUTFITS OF THE NIGHT!
It's considered good luck to buy a redhead a drink at this event! As well, all redheads receive front of the line privilege for themselves and their date!
ELECTRIC DANCEFLOOR VIBES!
✚ SIN CITY RESIDENT DJS PANDEMONIUM, R-LEX, EVILYN13 & GUEST DJ DEADHEAD
Lighting up the dancefloor all night with a booty-shaking blend of EDM & house, with dashes of pop, rock, hip hop & industrial!
NO UNAUTHORIZED CAMERAS!
As always, Sin maintains a strict no unauthorized cameras policy, preserving the atmosphere of mutual respect and safety! We do have our own in-house photographers who are available for glamour shots, capturing the most fabulous outfits and energy of the party, but only with permission from willing subjects! You can go as crazy and kinky with your outfits as your imagination will let you, because if you want : what happens at Sin City … stays at Sin City!
KINK PLAY DUNGEON AREA …
Located on the upper mezzanine level, where you can watch the action of the main room party from above, is the kink play area, complete with lots of space to watch and socialize, a variety of padded bondage play furniture options, an xxx-tra long cuddle couch for dozens of people to relax and chill, all hosted by our resident play area monitors and consent captains. Come get your kink on, with a consenting partner, of course!
SPIN OF THE WHEEL OF SIN …
And win 5 minutes of delicious torture from one of our dominatrixes! Kink + carnival games = guaranteed fetish fun!
STRICT FETISH DRESS CODE!
Absolutely no streetwear or regular daywear! As always, we're always on the lookout for people to showcase their awesome outfits and ideas, and any fetish outfit as per the dress code will do and will be absolutely appreciated.
✚ NOT PERMITTED :
Plain jeans, cargo pants, briefs or boxers, t-shirts, suits or plain work wear. Absolutely no street or casual wear! Lower genital nudity is not permitted.
✚ HIGHLY ENCOURAGED ATTIRE:
Suggested attire includes but is certainly not limited to – vinyl, pvc, leather, rubber, bondage, straps, chaps, full-on goth, punk, cyber, tuxedo, tailcoats / fancy dress, military / full uniform, fantasy or period costume, armour, drag / cross-dress, body paint, fancy lingerie, kilt, or any other risque costume your perverted little mind can dream up …
Use your imagination to concoct a crazy outfit that highlights the naughty sexpot in you!