July 1 | PURR {VICTORIA PRIDE}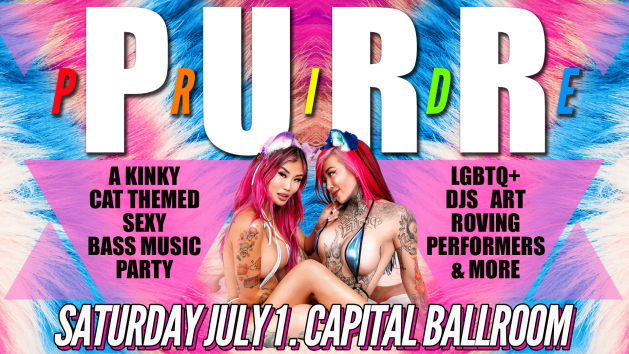 When : Saturday, July 1, 2023, 9pm-2am
Where : Capital Ballroom, Victoria, 858 Yates St
Tickets : $30-40 + service charges
It's been 3 long years but due to popular demand, PURR is returning to Victoria! And for Pride weekend nonetheless! Summon up a pack of fun friends and come frolic at a lighthearted & frisky cat-themed bass party, celebrating gender and sexual creativity & diversity. Something tells us that this is going to be nothing short of legendary!!
We couldn't be more excited to spice things up for all the Love Cats and Sex Kittens of Victoria!
---
PRESENTED WITH PRIDE BY
Restricted Entertainment, Sin City Fetish Night, Passion Portal, DJ Pandemonium & Kosmic Kitty!
---

Our playful PURR parties present an opportunity for cat-lovers, electronic music party lovers, kink party lovers, lifestylers and the LGBTQ+ communities to express themselves, get creative, intermingle and socialize in a safe, consent-based environment with sensual vibes and dirty basslines (awww yeaaah).
All rooms and areas are fully open to everyone, in all manner of attire.
No dress code. Come dressed up or casual, however you fell most comfortable, and get ready to PARTY!
Colourful, creative, celebratory and/or kinky wear highly encouraged, as well as of course CAT THEMED outfits always welcome but totes not required! But do get them kitty ears out if at all possible!
If you want to dress up extra kinky, rubber, cross dress, lingerie, and are nervous about doing so in a mixed crowd environment, in addition to security, we have our Consent Queen Team on hand to help curate a vibe where all interactions are safe, sane and consensual. If anyone at any time makes you feel uncomfortable, the staff are ready to step in and help out!
---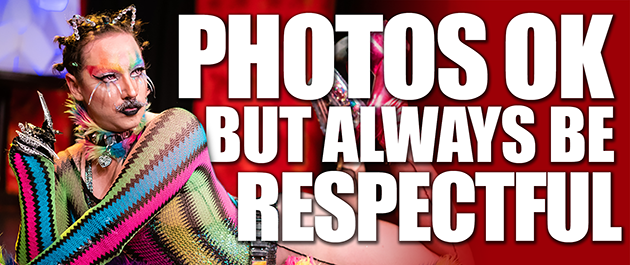 Taking photos and selfies is totally welcome at this party, but please be respectful of others and don't take close photos of anyone without making sure they are OK with it first!
---
♥ ♥ ♥ ♥ DJs ♥ ♥ ♥ ♥
PANDEMONIUM Vs. KOSMIC KITTY (Founders)
www.instagram.com/djPandemonium
www.instagram.com/Kosmickittyofficial
With opening support from queer locals
TRIIKSTR
BIISHOP
♥ ♥ Roving Performers ♥ ♥
LUNA YEN
SARA TONIN
DEZYRE
COSMIC HONEY
ALIXX LUST
ZANA NAIA
♥ ♥ ♥ ♥ Vendors ♥ ♥ ♥ ♥
BAELIEN BLING
www.instagram.com/baelien.bling
♥ ♥ ♥ ♥ Rope Art ♥ ♥ ♥ ♥
A FOX WITH ROPE
Providing safe shibari suspension to keen and curious guests
Have a peek at how epic PURR parties are, and get a sense of the vibe, at this video –>
♥️ EPIC stage visuals provided by INEO Studios
♥️ EPIC laser light shows
♥ EPIC purrlesque & stage purrformances
♥ Custom built dance cages & dance platforms on the dance floor
♥ 9′ tall dance pole for guests to play on
♥ BDSM & fetish furniture for your mischievous delight. Bring your floggers & play toys!
♥ Consent Queen Team on site to assure safety and comfort for all guests
Lots more surprises in store…
♥ ♥ ♥ ♥ COMMUNITY SUPPORT ♥ ♥ ♥ ♥
Whether you are attending or not, you can help grassroots alternative counter-culture events like this grow, simply by inviting friends, or posting a link to the event on your social media, along with a personal shout out! Thank you in advance to our extended family of art & music lovers out there for helping amplify the vibe!
♥ ♥ ♥ ♥ SAFETY ♥ ♥ ♥ ♥
All of our family of Restricted Entertainment events encourage self-expression through costume, art, music and dance, and expect mutual respect, and appreciation to be shared amongst attendees. We come together to lift each other UP and celebrate everyone's unique identity! Homophobia, transphobia, sexism, and any type of bigotry or aggressive conduct will not be tolerated.
♥ ♥ ♥ ♥ CONSENT ♥ ♥ ♥ ♥
The best events are ones where all attendees practice awareness and empathy for all their fellow humans! Please be aware of the effect your words and actions have on those around you, and always strive to conduct yourself in a way that adds to the feelings of fun, safety and security of those around you .