JULY 31 – PRIDE EDITION LIVESTREAM + ZOOM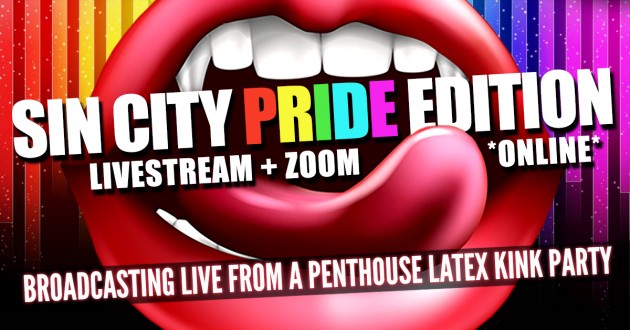 SATURDAY JULY 31 / 9pm-4am (PDT)
JOIN THE ZOOM PARTY / LAUNCH THE MUSIC LIVESTREAM / SEND IN A THANK-YOU TIP / FACEBOOK LISTING
Important Note – You will need a password for the Zoom party, which will be sent out 9 PM Saturday via the Newsletter, so make sure you are signed up before then! Or, you can pop into the livestream on Twitch and ask for it there!
---
Join us this Saturday night, as the Restricted Entertainment and Sin City Fetish Night crew will be hosting a special online PRIDE EDITION latex themed party, happening on both Twitch and Zoom, for everyone looking for somewhere to connect once the sun goes down! It's all free free free to participate!
We will be broadcasting from a sexy penthouse party in downtown Vancouver – read on for all the ways you can join the party online!
There are a tremendous amount of incredible events happening around the city celebrating LGBTQA+ culture, art, music, causes and performance, but there are still no late-night in-person events with dancing, as per current c19 health restrictions. We strive to help curate an online social space every weekend where people can connect and express themselves amongst like-minded friends.
We'd love it if you could join our virtual celebration ❤
---
+++ TWITCH / PUBLIC LIVESTREAM +++
We're broadcasting a fully live mix of fun & filthy electro, retro, disco, dirty pop, industrial, house, remixes and more, all from the madness of a private penthouse party! All the hosts will be dressed in latex, and there's always all kinds of sexy & silly shenanigans going on! You can either just tune in like a radio station or TV show and watch as a lurker, or you can join in the group chat with people from all over the world!
---
+++ ZOOM / SEMI-PRIVATE GROUP VIDEO PARTY +++
We're also running a totally free Zoom party where friends from all our various communities can drop in and connect! There is no dress code for this one, casual wear is totally fine, but kink / fetish / latex and Pride looks are highly encouraged!
---
Hosted by :
DJ Pandemonium

Evilyn13
https://www.instagram.com/evilyn13/
Rheanna FancyPants AKA SoftAsVulvet
https://www.instagram.com/softasvulvet/
BluntEngel666 AKA Flirty Curty
https://www.instagram.com/geminipythons/
Thomas HeSpanksHer
https://www.instagram.com/zombie.rot/
Jennifer HeSpanksHer
https://www.instagram.com/makeupjems/
+ many more 😉
---
NORMALLY happening monthly and on select holidays in downtown Vancouver, Sin City is Vancouver's longest-running, award winning, boundary-breaking and always amazing fetish party celebrating our local community! Featuring a high-energy dancefloor, kinky dungeon play galore and an electrifying atmosphere, Sin has been going strong for almost two decades, with 20 continuous years and 300+ events boasting a welcoming and inspiring atmosphere for both regulars and newcomers alike.
While we've all been biding our time and helping our community stay connected through online events, we are of course looking forward to re-launching in-person events over the coming weeks and months!
---