Oct 31 – GLAMOUR TRASH HALLOWEEN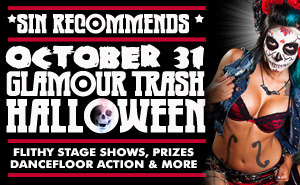 When : October 31 / 9pm-2am
Where : The Electric Owl, 928 Main
Cost : $15 at the door
This is not directly a Sin City event, but it is produced by Restricted Entertainment, the folks behind Sin City, and features many of the same promoters, DJs, attendees and general fun-loving, ultra-creative, super-freaky crowd! If you are looking for a party right on Halloween night, this is DEFINITELY the place to be!
RSVP at the Facebook event listing!
There is no fetish dress code and cameras are absolutely allowed at this event!
---
EQUAL PARTS GLAMOROUS AND TRASHY …. SEXY AND SAUCY …. ROCK & ROLL AND SCARY … GLAMOUR TRASH RETURNS FOR A ONE NIGHT ONLY HALLOWEEN DRESSED-TO-KILL EXTRAVAGANZA!
PRIZES FOR MOST GLAMOUROUS & MOST TRASHY HALLOWEEN OUTFITS!
Dress to impress, because we have complimentary drinks awarded throughout the party for most glamourous and trashiest outfits of the night!
GLAMOUROUS & TRASHY HALLOWEEN BURLESQUE STAGE & DRAG SHOWS BY :
Burgundy Brixx
Voracious V
Lola Frost
Mantra
The most glamorous, trashiest, gorgeous and bordering on bad taste burlesque stage shows ever.
Shows at 10:15 & 11:15 SHARP, so don't be late!
---
ELECTRO vs. ALTERNATIVE vs. ROCK vs. POP vs. HIP HOP vs. NEW WAVE DANCE PARTY WITH DJs:
Pandemonium
R-Lex
Evilyn13
---
DRESS TO IMPRESS, OR COME CASUAL … IT'S ALL GOOD!
Glamour Trash is a party melting pot of all things social, colourful and crazy, loaded with freaky creative people of all stripes cutting loose in a no-holds-barred eclectic atmosphere … feel free to come casual, or dress up in one of our highly encouraged attire options :
glitter / gold / sparkles / sequins
ribbons / boas / rhinestones
feathers / fishnets (boys AND girls!)
ultra glamourous / classy
rock & roll / trashy
vintage
outrageous / kinky
50's / rockabilly
high couture freak
80's / New Wave
crazy themes
what the eff ever you feel like!
HALLOWEEN
anything goes, yo!
Now we ask you — will you be the most glamourous one there, the most trashy, or just the most trashed??