Nov 11 : Sin City Military Fetish Ball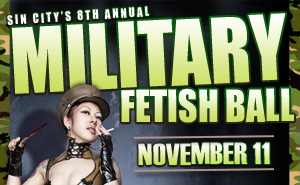 SIN CITY continues its long standing tradition of hosting amazing theme parties with the return of the unbelievably popular MILITARY FETISH BALL!
When : Long Weekend Sunday November 11
Where : The Electric Owl Social Club
Details : 9pm-3am / 928 Main Street
Cover : $9 early bird before 10 pm, $10 with flyer, $12 without
Check out the naughty promo video for the party!
While Halloween is always one of the most anticipated parties of the year, the Military Fetish Ball is one of our top 5 as well and will be here before you know it!
---
Strict fetish dress code as always, and though of course any fetish outfit you can dream up is great, we HIGHLY encourage sexy fetish military themed outfits for this event!
DANCEFLOOR DOMINATION WITH DJs Pandemonium & R-Lex
– stage, cage and main room dancing, plus the play dungeon!
– military theme decorations & visuals
– military theme photo area
– prizes for best military themed fetish outfits
– $9 early bird before 10 PM
– $10 after 10 PM with discount pass / $12 without
SEXY STAGE PERFORMANCE BY RIANNACONDA

---

MILITARY OUTFIT IDEAS :
– army / navy / air force
– soldier / cadet / officer / pilot / medic
– Canadian / American / world military uniforms
– historical military outfits
– military / stompy boots
– hats / helmets
– bullet belts / handcuffs / riding crops
– camouflage
– flags
– aviator shades / cigars
– 1910-1940's vintage —> HIGHLY ENCOURAGED
– classic pinup style —> HIGHLY ENCOURAGED
SUGGESTED SHOPPING LOCATIONS :
– Camouflage (downtown on Granville)
– Gorilla Surplus (Broadway, between Clark & Commercial)
– Priape (on Davie)
– Deadly Couture (downtown, on Cordova)
– New World Designs (downtown, on Cordova)
– Party Bazaar (4th Ave, between Cambie & Main)
* NOTE – CAMO / CARGO PANTS ALONE ARE -NOT- SUFFICIENT!
No effort = no entry … camo / cargo pants on their own do -not- constitute sufficient effort to pass the dress code. All you need is a little more! Accessorize it with dog tags, a hat, a military-related t-shirt, boots, shirt, coat, bullet belt, handcuffs … there's loads of options!