Dec 31 – Fetish NYE Masquerade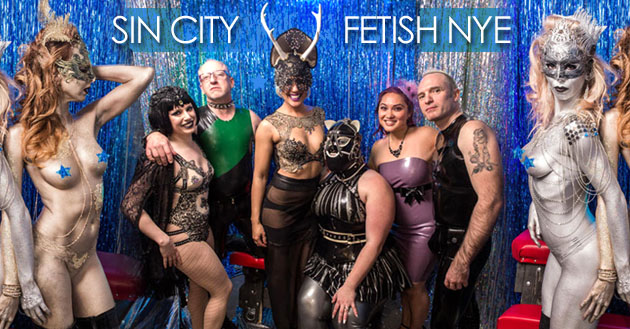 When : Friday, December 31, 2021, 9pm-3am
Where : The Imperial, 319 Main St
Tickets : $40 early bird, $45 General Admission, $50 Last Minute
For passwords and first access to tickets, which will go FAST, join our mailing list –> here
GET TICKETS / RSVP FACEBOOK / RSVP FETLIFE
---
High Energy | High Spirits | High Fashion | Intimate | Incredible …
It goes without saying that we are all ready to kiss this dumpster fire of a year GOODBYE! Join us once again for Sin City's epic New Year's Eve fetish party, held at the fabulous Imperial Nightclub in downtown Vancouver for only the second, and possibly last time! It is rare you see a kinky NYE party on this level and we would be overjoyed to have you join us … Sin City is the only NYE event which combines a fetish dress code with a full scale venue takeover party and socializer … come be part of the magic!
LGBTQ+ / QUEER / STRAIGHT / DRAG / X-DRESS / LIFESTYLERS / ALL BODY SHAPES & SIZES / ALL AGE GROUPS 19-65+ / ALL GENDER & SEXUAL IDENTITIES & PREFERENCES / SINGLES / NEWBIES WELCOME!
Masks, double vaccination and adherence to all current CoVid19 considerations and protocols required of all attendees, performers and staff. We will issue regular updates on our website should there be any changes to the province's Public Health Orders!
• 3 AREAS OVER 2 LEVELS
• MOVIE SCREEN SIZE NYE COUNTDOWN
• LASER SKY ENVIRONMENT BY STIMULATING EMISSIONS
• DIRTY DJs & PERVY PERFORMERS
• ULTRA GLITZ BURLESQUE, GO-GO & FETISH STAGE SHOWS
• SEXY CARNIVAL GAMES
• SASSY DOMINATRIX HOSTS
• KINKY PLAY AREAS WITH PADDED BONDAGE PLAY FURNITURE
• EPIC SOCIAL & KINK PLAY PARTY VIBES
• FETISH DRESS CODE | NO UNAUTHORIZED CAMERAS ALLOWED
• GLAMOUR PHOTO BOOTH
• BLACK LIGHT ICE PALACE DECOR
---
Event overview …
Hundreds of the naughtiest revellers in Vancouver assembling and waiting for that magic moment, and celebrating it for hours afterwards into the wee hours of the morning. One electric, high energy yet intimate atmosphere from start to finish. Sexy fetish visuals throughout, and an epic, over the top New Year's countdown where the party doesn't stop afterwards like most events – it just gets even CRAZIER. Vancouver's top alternative DJs keeping the music pulsing all night. Suspension & kink play area equipped with high quality bondage furniture – check out the naughty action or take part yourself!
Sin City Fetish Night is Vancouver's longest running fetish night and the premiere destination for those looking for the perfect blend of OFF THE GRID KINKY PARTYING.
Enter into a completely immersive kinky environment and join the New Year's revelry!
THIS is what fetish partying is all about!
---
GET YOUR FREAK ON WITH DJs :
• Pandemonium
• Evilyn13
• R-Lex
FETISH, DRAG, ROPE & BURLESQUE PERFORMANCES
• Melody Mangler
• La Maison Lust
• Electric Obsidian
FETISH NEW YEAR'S GLAMOUR PHOTO BOOTH
FETISH VISUALS / NYE CLUB DECOR / EPIC COUNTDOWN
COMPLIMENTARY CHAMPAGNE AT MIDNIGHT!
FETISH NEW YEAR'S GLAMOUR PHOTO BOOTH
---
"Top 100 Things To Do In Vancouver Before You Die"– Daily Hive
"#1 Best Fetish Night In Vancouver"
"Sin City's DJ Pandemonium Two-Time #2 DJ in Vancouver (2002 & 2004)"
"Best Place To Dance Topless" – Georgia Straight
"Most Radical Fetish Night in Vancouver"
"Most Modern Place To Get Some" – Terminal City
"One Of Those Rare Events Where Literally Anything Goes" – ABORT Magazine
"Consistently Rated One Of Vancouver's Top Alternative Events" – XTRA West
"DJ Pandemonium Best Local Vancouver DJ (2008)" – Westender
"Event Of The Year" – 2010 Vancouver Nightlife Awards
---
This event will sell out early, so make sure and grab tickets to avoid disappointment!
Every year, many Sinners miss out who wanted to go because they put off buying tickets until the last second, only to discover it was sold out! Don't make the same mistake – that's not the reason we want to spank you!
---
GIVE IN TO SIN!
And kiss the year goodbye at the wildest party in the city on New Year's Eve! We continue to be amazed and honoured at the unparalleled support and enthusiasm from our loyal attendees and fans. Thank you to each and every one of you who has stuck with us through the years and who truly make the party what it is!
ADULT PLAY DUNGEON AREA
Indulge the exhibitionist or voyeur in you in the sinfully delicious Sin City dungeon, decked out with sturdy and comfortable padded spanking benches!
▄▄▄▄▄▄▄▄▄▄▄▄▄▄▄▄▄▄▄▄▄▄▄▄▄▄▄▄▄▄
STRICT FETISH DRESS CODE – HIGHLY ENCOURAGED OUTFIT THEMES :
• glitz
• glamour
• upscale
• Vegas
• feathers
• tuxedo
• tailcoat
• top hats
• carnival
• freakshow
• ribbons
• sequins
• masquerade
• circus
• rhinestones
• showgirls
• gothic lolita
• vintage
• flapper
• cabaret
• fancy lingerie
• boas
NYE BONUS COLOUR THEMES : black / silver / blue
Please remember that all outfits, however classy, must still be styled FETISH, KINKY or SEXY in some way or you will be denied entry!
ENTRY CONDITIONAL ON DRESS CODE COMPLIANCE
Please note that having an advance ticket does -not- guarantee entry without compliance to the dress code!
▄▄▄▄▄▄▄▄▄▄▄▄▄▄▄▄▄▄▄▄▄▄▄▄▄▄▄▄▄▄
ADVANCE TICKETS DO NOT GUARANTEE INSTANT ENTRY!
This event will sell out quickly and though advance tickets guarantee a spot inside, they do NOT guarantee *instant* entry during peak arrival times! At a sold out party, every single other person arriving has an advance ticket just like you!! Please arrive early to avoid lineups!
SPACE IS LIMITED!
We strongly, strongly urge people to pick up tickets as early as possible since Sin City parties sell out quickly and space is limited! There will be -NO- re-stocking of tickets at advance locations and only a limited number available online or in person at the parties beforehand – once the advance tickets are gone, they're gone! DON'T WAIT TO THE LAST SECOND AND MISS OUT! We want all our sexy friends there!!!
AND REMEMBER … AFTER MIDNIGHT :
It's good luck to collect kisses … right to 3 AM! 😉