SAT NOV 9 – MILITARY FETISH BALL

GET TICKETS / RSVP on FACEBOOK / RSVP on FETLIFE
---
While Halloween is always one of the most anticipated parties of the year, the Military Fetish Ball is our absolute biggest non-holiday based fetish party of the year, and the absolute favourite event for many, many people. Everybody loves a man or woman in uniform! SIN CITY continues its long standing tradition of hosting amazing, kink-centered theme parties with the return of the unbelievably popular MILITARY FETISH BALL – now celebrating it's 15th annual edition!
When : Saturday November 9 / Doors 9 PM
Where : Central Studios / 865 Seymour
Tickets : $15 advance + s/c. THIS EVENT WILL SELL OUT!
---
Strict fetish dress code as always, and though of course any fetish outfit you can dream up is great, we HIGHLY encourage sexy fetish military themed outfits for this event! If you have any questions about the Sin City Fetish Dress Code, check out the full dress code listing here on the site, which is in effect at each and every event. Note that unlike other events, Sin City does not relax or drop the fetish dress code at any event, ever. Whether it is a theme-related or holiday-based event, Sin City is a fetish event first and foremost. If your attire is theme related but does not pass the fetish dress code, DO NOT expect to get in! Don't make us turn you away!
DJs : Pandemonium, R-Lex & Evilyn13
– stage, cage and main room dancing, plus the play dungeon!
– military theme decorations & visuals
– military theme photo area
– prizes for best military themed fetish outfits
MILITARY OUTFIT IDEAS :
– army / navy / air force
– soldier / cadet / officer / pilot / medic
– Canadian / American / world military uniforms
– historical military outfits
– military / stompy boots
– hats / helmets
– bullet belts / handcuffs / riding crops
– camouflage
– flags
– aviator shades / cigars
– 1910-1940's vintage —> HIGHLY ENCOURAGED
– classic pinup style —> HIGHLY ENCOURAGED
SUGGESTED SHOPPING LOCATIONS :
– Deadly Couture (downtown, on Cordova)
– Camouflage (downtown on Granville)
– Gorilla Surplus (Broadway, between Clark & Commercial)
---
MILITARY FETISH DECORATIONS / VISUALS / PHOTO BOOTH
Sin City goes the extra mile (and then some!) at all our themed events, always striving to help set the mood for sexy creativity and inspire our attendees to match our efforts with their own personal involvement in the night simply by partying hard, pushing their own personal envelope, and looking and playing at their finest! Make sure and step into the photo booth, or get a photo with one of our staff photographers, but remember that otherwise – there is NO UNAUTHORIZED PHOTOGRAPHY PERMITTED. No cameras, no cell phone photos, no selfies, no nothing. This party is OFF THE GRID and you will not appear in any photos, anywhere, unless you choose to, allowing for maximum naughty party times!
---
* NOTE – CAMO / CARGO PANTS ALONE ARE -NOT- SUFFICIENT!
No effort = no entry … camo / cargo pants on their own do -not- constitute sufficient effort to pass the dress code. Of all the themes that ever happen at fetish events, this is the one where (for once!) guys have just as many options for excellent fetish looks as girls. No excuses, make sure your outfit will pass the fetish dress code! If it looks too casual, plain, or like streetclothes, it probably won't pass. No effort, no entry, no exceptions. All outfits must have a kinky / sexy / pervy / naughty twist!
An EXCELLENT fist stop for military fetish outfits and fetish outfits in general is Deadly Couture, downtown in Gastown, just across the street from The Cambie Pub. They have a HUGE stock of options for men and women. Here's just some examples of some men's military fetish looks they have in stock :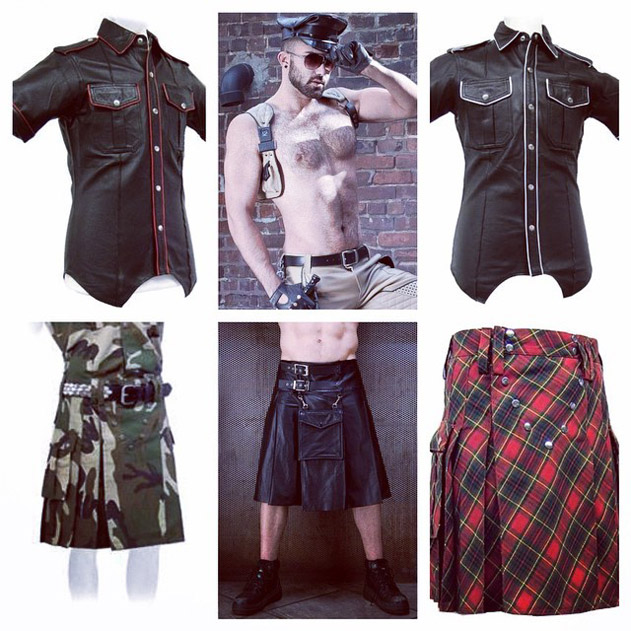 And some options for the ladies :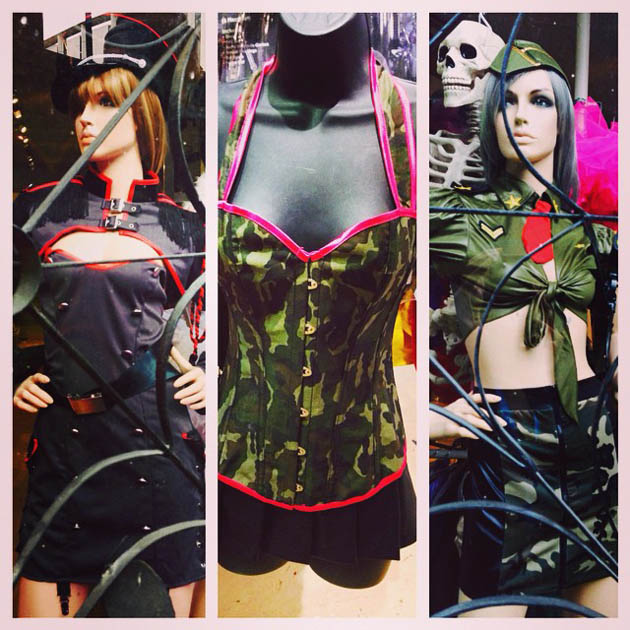 More ideas …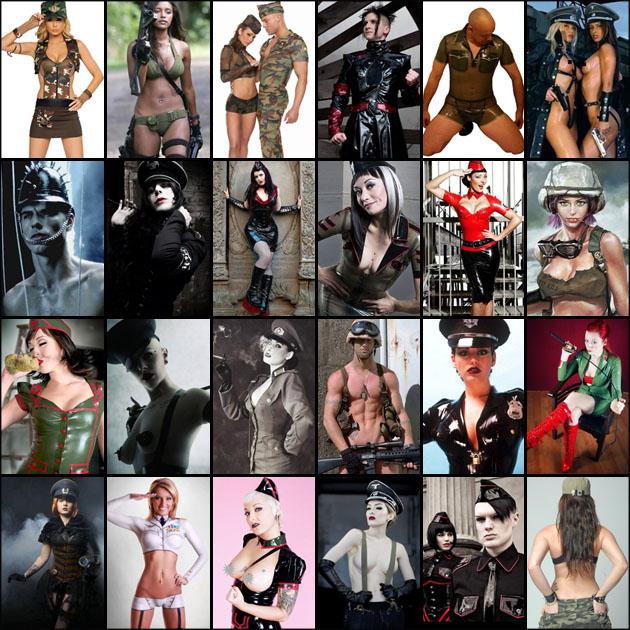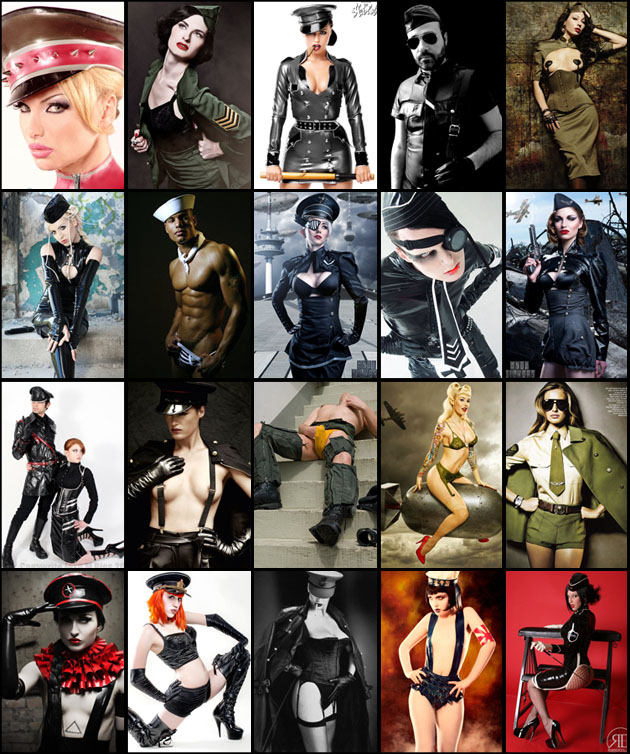 ---