MARCH 14 | KINKY CABARET Vs. WAREHOUSE PARTY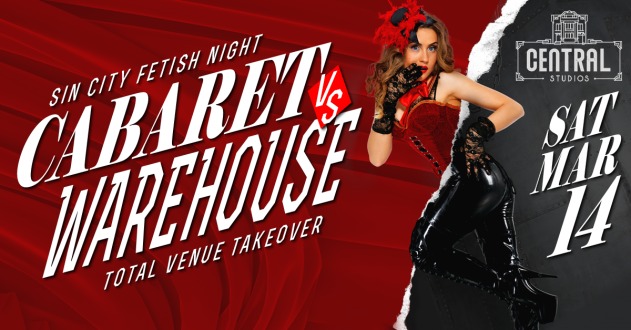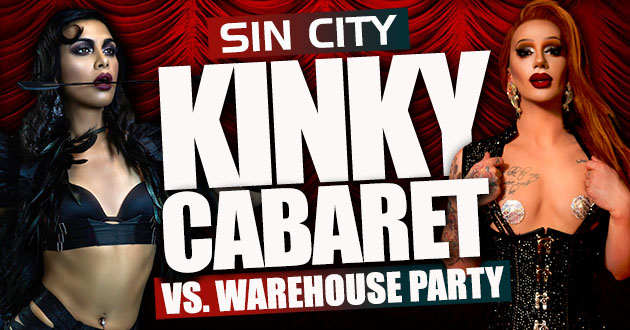 When : Saturday March 14, 9PM-3AM
Where : 856 Seymour St, Vancouver, BC
Admission : $17 advance, $20 last minute, $25 at door
Join us at Sin City's KINKY CABARET VS. WAREHOUSE PARTY, where we stage a complete venue takeover of Central Studios, Vancouver's new queer / arts / kink special event space right downtown across the street from the Orpheum on Seymour St! Two seperate floors, multiple rooms, multiple vibes and a party packed with all kinds of kinky installations to see, be a part of, and indulge in. Plus of course two completely different dancefloors and DJs to choose from! Dress up, dance, play, and explore!
Singles, couples, straight, LGBTQ+, cross-dressers, regulars and newbies are all welcome …
Sin City is a safe and welcoming pervy party & play space for everyone, with a great reputation earned over 18 consecutive years and hundreds of fun & flirty events! Sin City happens on the second Saturday of every month, plus holiday one-offs at larger venues!
Central Studios is our new private special events space, and home base for our monthly parties, right in the heart of downtown Vancouver, specifically servicing the queer, fetish and underground arts and music scenes of the city.
GET TICKETS / RSVP on FACEBOOK / RSVP on FETLIFE
Themes are ALWAYS just an added bonus and are never mandatory.
Any fetish outfit as per the full Sin City dress code will do, but CABARET VS WAREHOUSE theme is HIGHLY encouraged! We highly recommend any and all of the following :
red / black colour schemes
fancy lingerie / sexy burlesque / flapper looks
rubber / harness / straps
anything that makes you think sexy cabaret
anything that makes you think dark & dirty warehouse
use your imagination!
---
JUST SOME OF THE HIGHLIGHTS OF THE PARTY & VENUE …
– fetish dress code in effect, no streetwear, no exceptions
– SOP play room, couples or couples +1 only, no singles
– kinky Carnival games, hosted by sassy dominatrixes
– custom built dance cages and stages
– no photos allowed inside so you can dress wild
– staff photographer on site for those who -do- want photos
– immersive kink environment
– bar and coat check service
SIN CITY EMBRACES DIVERSITY & INCLUSIVITY
Sin City loves everybody, and no matter who you are, what age, orientation or body type you are, you will feel comfortable joining in our kinky crowd, which is a big extended family and community of like-minded kinksters!
FETISH DRESS CODE IN EFFECT
NOT PERMITTED :
Plain jeans, plain cargo pants, plain briefs or boxers, plain t-shirts, plain suits or plain work wear. Absolutely no street or casual wear! Lower bits must be covered with a minimum of a g-string or similar attire!
SUGGESTED ATTIRE :
Includes but is certainly not limited to – vinyl, pvc, leather, rubber, bondage, straps, chaps, fetish goth, cyber, military, fetish fantasy, medical, uniform, armour, drag / cross-dress, body paint, lingerie, kilt, puppy & pony play, glitterslut, genderfuck, or any other risque kinky creation your perverted little mind can dream up!
ONE LAST WORD ABOUT THE DRESS CODE …
Every attendee at Sin City adds to the party in some way with their creative effort, making it an amosphere of collective community kinky sexiness. The party starts before you leave the house! Trust us, the effort is worth it. Sin City is a home where people can take the masks off that they wear all week and transform themselves into their true pervy persona in safety, in an appreciative and fun environment. For full details on the dress code, please visit our website at : www.sincityfetishnight.com/house-rules/fetish-dress-code/
---
DANCE THE NIGHT AWAY WITH SIN CITY'S PERVY PARTY STARTER CREW :
We have a huge lineup of top kink dancefloor music selectors on deck, including :
► Pandemonium
► Taffi Louis
► R-Lex
► Carolina Campos
► Basscat
SEXY DRAG & BURLESQUE PERFORMANCES
► Madam Lola … (Vancouver)
► Scarlet Bobo … (Toronto)
► Guests TBA
KINKY PLAY AREAS
Sin City provides several play areas with different vibes for every level and comfort zone for play. There is a seperated play area monitored by the Vancouver DM Team, a rope & suspension play area hosted by Rascal_21, as well as satellite play areas more integrated into the main social & hangout areas of the venue. All spaces are stocked with sturdy, padded furniture lovingly constructed by our friends at Black & Blue Dungeon Furniture, and are places where we encourage you to get naughty with a consenting pervy play partner!
CODE OF CONDUCT / CONSENT
All attendees are expected to respect one another and party hard, but party safely. Poor behaviour of any kind is not tolerated and will result in ejection from the event and a possible ban from future events. Absolutely no unwanted, inappropriate or unasked for touching of any kind is permitted without prior, clear and verbal consent given. If you are unsure, ALWAYS ask FIRST! Only a clear and continued 'YES' indicates consent. And if someone is asking, there is never any shame in saying 'no thanks' and moving on. All attendees are expected to be aware of and graciously accept a 'NO' statement or vibe if one is given. If there are ever any issues (which are thankfully few and far between), our Sin City and venue staff are always at hand and accessible for you to bring any concerns to, which will be dealt with promptly, professionally and anonymously on your behalf.
PRESENTED WITH PRIDE BY RESTRICTED ENTERTAINMENT
Producers of quality community kink events for over 18 years, Restricted Entertainment is the team behind Sin City, Spank, Vancouver Fetish Weekend and many other events over the years.
---
NO UNAUTHORIZED PHOTOS ALLOWED
As always, Sin maintains a strict no cameras policy, preserving the atmosphere of mutual respect and safety! You can go as crazy and kinky with your outfits as your imagination will let you, and what happens at Sin City … stays at Sin City!
For those exhibitionists who want to show off their outfits or awesome selves for posterity, feel free to jump in front of our staff photographers on site and get a photo taken for the official web gallery!