JULY 28 – KINK CONFESSIONAL @ THE CHAPEL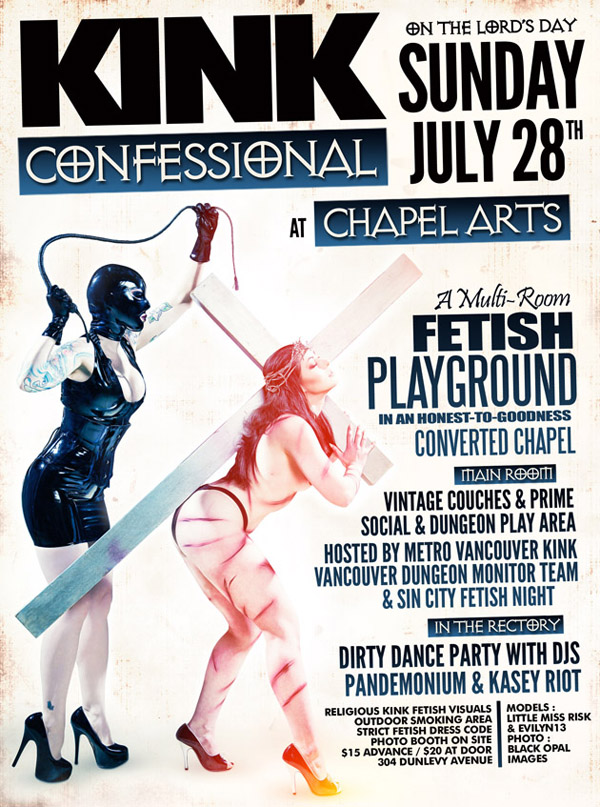 DAY THREE OF THE VANCOUVER FETISH WEEKEND
ADVANCE TICKETS & EARLY ARRIVAL HIGHLY RECOMMENDED
Buy tickets here!
A MULTI-ROOM FETISH PLAYGROUND IN A CONVERTED CHAPEL ….
2 Floors Of Dancing, Partying, Playing & Socializing / Multiple Rooms To Explore
Private Outdoor Smoking Area / Huge Dungeon & Play Area / Vintage Couches
For the final night of the Vancouver Fetish Weekend, come and recount your Sins and ADD EVEN MORE SCANDALOUS ONES at the Sunday Kink Confessional! This event most certainly has a dance floor and bar for those wanting to continue the full-tilt partying, but in addition to these offerings in the Rectory Of The Chapel, we are converting the MAIN room of the venue into a giant lounge and play space complete with vintage couches, cuddle areas, and our largest play area to date. This event is focused on socializing and connecting in the lounge area and in the dungeon.
Our host venue for the event is one of Vancouver's oldest and most historic venues and happens to be an honest-to-goodness converted chapel. At no other party is it more appropriate to deliver this simple command …. Get on your knees, Sinner, AND PLAY.
Chapel Arts
304 Dunlevy Ave Vancouver, BC V6A 3Y4
(604) 682-1611 : www.facebook.com/chapelartsvancouver
Next door to one of our host hotels, Hotel Patricia!
(map located at bottom of this event listing!)
OPTIONAL THEME : CHURCH OF SIN
For this party we highly encourage naughty "Church Of Sin" themed outfits but of course that is only an option for a fun kinky group theme, and any fetish outfit which passes the dress code will do. Suggested options include:
CATHOLIC SCHOOLGIRLS and BOYS
NAUGHTY NUNS and PERVY PRIESTS
SAUCY SUCCUBI and FALLEN ANGELS
DEVIL and DEMON BOYS and GIRLS
DEVIANT DENIZENS OF HEAVEN and HELL!
STRICT FETISH DRESS CODE IN EFFECT ALL NIGHT
No effort = no entry, no exceptions! For more information, please see the full dress code listing here.
---
GIVE IN TO SIN! HUGE MAIN ROOM DUNGEON PLAY SPACE
The focus of the main room of this party is sexy socializing and kinky play! We will be devoting the ENTIRE main room of the venue to a large play space with many pieces of bondage play furniture provided by Metro Vancouver Kink and Sin City Fetish Night, and presided over by the Vancouver Dungeon Monitor Team. Music in this room will be set at a volume appropriate for play and naughty interaction.
LUXURIOUS SEXY SOCIALIZING & VIEWING AREAS
We will be trucking in a selection of vintage couches to create a luxurious relaxing & viewing area. Recount all your Sins from the weekend … and maybe make some new ones!
UPSTAIRS DANCE PARTY WITH DJS PANDEMONIUM & KASEY RIOT
Delivering a lethal injection of filthy electro / 80's / pop / industrial / rock! While the ground floor is devoted to socializing and kinky play, the second floor has a full-on dance party raging with two of the fetish scene's top DJs getting you hot and sweaty!
---
ABSOLUTELY NO UNAUTHORIZED CAMERAS – GLAMOUR PHOTO BOOTH ON SITE
We will have a glamour fetish photo booth available on site as well as roving photographers to capture the party in action with willing subjects, but otherwise, no photography is permitted. This party is OFF THE GRID to enable attendees to fully express themselves. As well, complimentary "NO PHOTO" buttons will be available at the front door for those wishing to fully remain anonymous all night.
RELIGIOUS KINK VISUALS
FETISH ART SHOW BY BLACK OPAL IMAGES
---
MAP :