JULY 13 – ULTRA BLACK FETISH BALL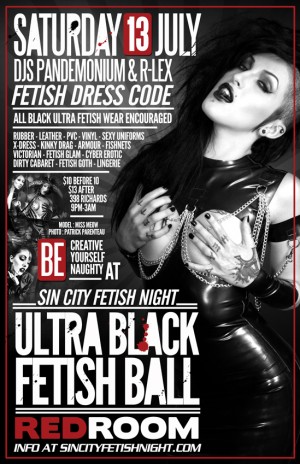 When : Saturday July 13 / 9PM-3AM
Where : The Red Room
398 Richards St
Looking for directions or parking information? Visit the venue's website here. Also make sure to check out and say hi at the mirror event listings on :
FACEBOOK
FETLIFE
Looking for help on where to source out your ultra sexy fetish outfit? We have a huge resource right here on the Sin City website complete with local shop suggestions, reviews, store details and photo galleries!
LOCAL SHOPPING GUIDE
While we encourage all manner of creative, naughty & suggestive fetish dress, for this party we highly encourage all attendees to take part in the ULTRA BLACK ULTRA FETISH THEME. Dress your best in kinky inky basic black!
Suggestions for outfits :
rubber – leather – pvc – vinyl – sexy uniforms
x-dress – kinky drag – armour – fishnets
victorian – fetish glam – cyber erotic
dirty cabaret – fetish goth – lingerie
▄▄▄▄▄▄▄▄▄▄▄▄▄▄▄▄▄▄▄▄▄▄▄▄▄▄▄▄▄▄▄▄▄▄▄▄▄▄▄▄▄▄▄▄▄▄▄▄▄▄▄▄
Fetish Dress Code strictly enforced!
Dance party with DJs Pandemonium & R-Lex
Naughty dance cages & dirty stage dancing action
Main room play dungeon hosted by Vancouver DM Team
Fetish decorations / visuals / vendors
Complimentary fetish glamour photo booth
50/50 charity draw in support of PACE
No cameras / no minors / adults only!
▄▄▄▄▄▄▄▄▄▄▄▄▄▄▄▄▄▄▄▄▄▄▄▄▄▄▄▄▄▄▄▄▄▄▄▄▄▄▄▄▄▄▄▄▄▄▄▄▄▄▄▄
STRICT FETISH DRESS CODE
All Sin City events have a strict fetish dress code in effect at all times. Check out the full details on our website here.
ANY sexy fetish outfit of ANY kind will fit in perfectly resulting in an ultra naughty atmosphere. Keep 'em creative, but above all, please remember to KEEP 'EM KINKY!
✘ NO UNAUTHORIZED CAMERAS / CELL PHONE CAMERAS / DIGICAMS
As always, Sin maintains a strict no cameras policy, preserving the atmosphere of mutual respect and safety! You can go as crazy and kinky with your outfits as your imagination will let you, and what happens at Sin City … stays at Sin City!
For those exhibitionists who want to show off their outfits or awesome selves for posterity, feel free to visit the photo booth and get a photo taken for the official web gallery or have a photo printed out on the spot!
DANCE PARTY HOSTED BY DJS PANDEMONIUM & R-LEX
Delivering a lethal injection of electro / 80's / pop / industrial / rock!
NAUGHTY FLIXX & KINKY CULT VISUALS
50/50 FETISH FUNDRAISER DRAW IN SUPPORT OF PACE
At this party, Sin City's original 50/50 fetish fundraiser draw will be in support of PACE – donate, possibly win a couple of hundred dollars extra drinking money, get complimentary spankings from our sexy fetish fundraiser flogger boys & girls AND help raise $200+ in much-needed funds for a worthy local charity. PACE is a sex worker led and driven organization offering low-barrier programming, support and safe respite for survival sex workers in Vancouver. More info on PACE here : http://www.pace-society.org/
$10 EARLY BIRD RATE BEFORE 10 PM / $13 AFTERWARDS
---