FRIDAY NOV 15 – RUBBER CLUB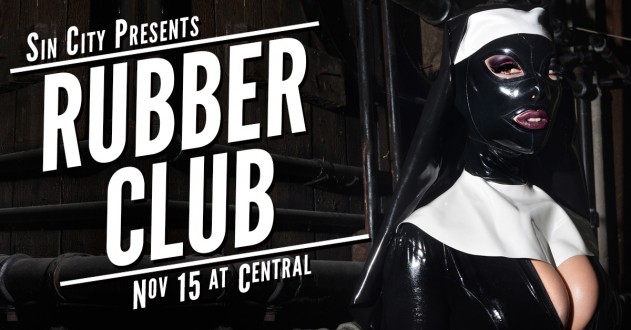 Date : Friday Nov 15, 9pm-3am
Location : Central Studios, 856 Glamour
Tickets : $15 advance, $15 before 10 PM, $20 after
GET TICKETS / RSVP on FACEBOOK / RSVP on FETLIFE
Come on out to a new kind of party all about the love of RUBBER and ALL THINGS SHINY, where we celebrate everyone's collective sexiness in a house party environment based on consent, respect, and of course, filth and glamour! DJs, dancing and socializing with like minded pervy friends, kinky play areas and much more!
The rules – you must visibly be wearing at least one item of rubber or latex clothing to attend. No rubber, no entry. That's it! Anything else goes! Can be anything from a rubber armband to full head to toe rubber. All levels of rubber appreciation from beginner to advanced are welcome! G-string minimum attire please, keep those lower bits covered unless playing in the play room!
Private event, advance tickets required.
Presented by Sin City Fetish Night, Restricted Entertainment & Art and Leisure.
Held at Central Studios, Vancouver's new private club catering to the fetish / kink / alternative / queer / arts communities, right in the heart of the city at 856 Seymour.
LGBTQ / drag / cross-dress / gay / straight / singles / couples / lifestyle / newbies / all body shapes and sizes / all ages (19+) / all gender preferences and sexual identities most welcome!
Some of the goodies on site :
– DJs playing all dirty electronica all night
– juicy high grade PK sound system
– bar and coat check
– couples (or couples +1) monitored SOP kink play room
– sensual red lighting throughout
– padded spanking benches
– custom built dance platforms and cages
– complimentary latex shine
– no cameras allowed inside
If you have any questions, feel free to email Isaac T at :
isaacterpstra@gmail.com