APRIL 23 – FAREWELL TO 23 WEST PARTY!

LAST PARTY AT 23 WEST : April 23
15 YEAR ANNIVERSARY AT THE IMPERIAL : May 14
GRAND OPENING PARTY AT 8×6 : May 21
Hardcopy tickets available at Deadly Couture. Online ticket link coming soon! $15 advance, $20 door. This event will sell out in advance so be sure to grab your tickets ASAP!
IT'S TRUE! AFTER 15 YEARS, SIN CITY FETISH NIGHT IS MOVING TO A NEW HOME VENUE! JOIN US ONE LAST TIME TO SAY GOODBYE TO OUR BELOVED HOME VENUE OF A DECADE AND A HALF!
BUY TICKETS / RSVP ON FACEBOOK / RSVP ON FETLIFE
---
2001-2016. The end of an era!
Whether you're a long time regular or just came once or twice back in the day, come and celebrate with us as we say our final goodbye to our beloved home venue of 15 solid years, Club 23 West, now known as the Hindenburg, before moving to Club 8×6. Words cannot adequately describe what this partnership of event and venue means to literally several generations of fetish club-goers – 'Sin City at Club 23 West' are literally six words which became synonymous with fetish in Vancouver since it's inception in 2001, and helped bring Vancouver's vibrant kink scene to the international stage.
This party will be filled with memories, more than a few tears, and of course the electric vibes and over-the-top naughty partying from beginning to end that Sin City is known for!
---
One hell of a party!
2 rooms of DJs & dirty dancing with :
PANDEMONIUM
EVILYN13
R-LEX
ABASI
KASEY RIOT
Full size dungeon playoom hosted by :
VANCOUVER DM TEAM
Kink Corral Rope & Suspension Play Area hosted by :
ZORKLUNN
RASCAL
Fetish glamour photo booth on site hosted by :
DEADLY PHOTOGRAPHY
Multi-screen immersive fetish visuals & atmosphere by :
RESTRICTED ENTERTAINMENT
---
STRICT FETISH DRESS CODE!
No effort = no entry. No refunds, no exceptions!
✘ NOT PERMITTED:
Plain jeans, cargo pants, briefs or boxers, t-shirts, suits and work clothes. Absolutely no street or casual wear! Lower genital nudity is not permitted.
✔ HIGHLY ENCOURAGED ATTIRE:
Suggested attire includes but is certainly not limited to – vinyl, pvc, leather, rubber, bondage, straps, chaps, full-on fetish-goth, fetish-punk, cyber-fetish, full tuxedo, tailcoats / fancy dress, military / full uniform, fantasy or period costume, armour, drag / cross-dress, body paint, fancy lingerie, kilt, or any other risque costume your perverted little mind can dream up …

✘ NO UNAUTHORIZED CAMERAS!
As always, Sin maintains a strict no unauthorized cameras policy, preserving the atmosphere of mutual respect and safety! We do have our own in-house photographers who are available for glamour shots, capturing the most fabulous outfits and energy of the party, but only with permission from willing subjects! You can go as crazy and kinky with your outfits as your imagination will let you, because if you want : what happens at Sin City … stays at Sin City!
---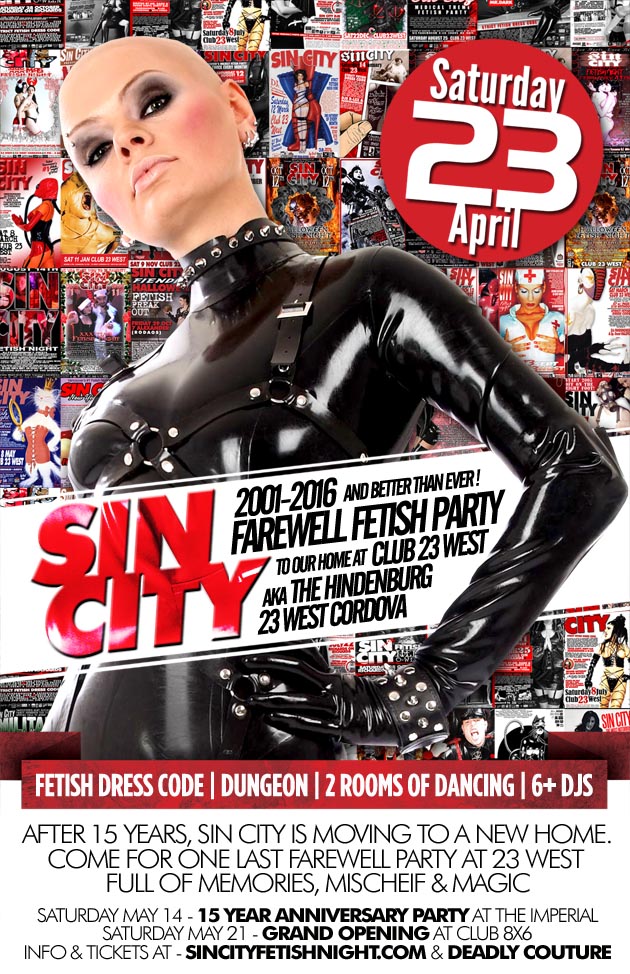 ---