AUG 14 – ONLINE DUNGEON & DANCE PARTY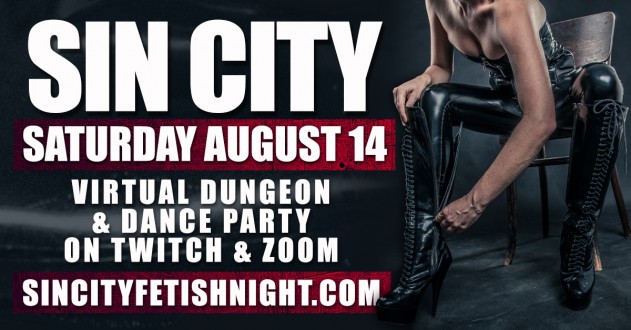 When : This Saturday August 14, 9pm-4am
Where : Online, on Twitch & Zoom (Links below.)
We're all about giving our friends and family in the fetish, alternative, lifestyle and LGBTQ+ community options for ways they can connect! Join us this Saturday night for an ONLINE fetish party, broadcast on Twitch & Zoom! This is actually our LAST online Sin City event being broadcast from our Restricted Entertainment studio in the West End, before we move to East Van and rebuild our HQ there!
DRESS UP – CHAT – GROUP VIDEO – OR JUST TUNE IN AND WATCH – ONLINE!
TUNE INTO THE LIVESTREAM / JOIN THE ZOOM PARTY / RSVP FACEBOOK / RSVP FETLIFE / SEND A THANK YOU TIP
In-person events are coming back slowly and we hope to see you at our online and smaller events as we warm up to full size in the flesh events once again, which will be here before you know it! We miss you all like crazy!
---
LIVESTREAM INFO :
Tune in and be entertained by our party crew on Twitch, and join in the group chat with friends from all around the world, at : https://www.twitch.tv/restrictedentertainment
Expect all the party hosts dressed up in latex and kink attire, loads of filthy conversation and even filthier DJ sets and music, and general sexy silliness!
---
ZOOM INFO :
Get dressed up fetish and join us in the semi-private party on Zoom where we can all see each other in all our kinky glory at : https://us02web.zoom.us/j/85620201285
While the Zoom party is FREE to join, please note that you will need a password! The password is mailed out to the Sin City Newsletter / VFW list at 4 PM and 9 PM on Saturday!
Sign up for the Newsletter right here on the Sin City website.
Or, just pop into the Livestream on Twitch and ask for the password there!
---
Hosted by :
PANDEMONIUM
EVILYN13
SOFTASVULVET
BLUNTENGEL66
THOMAS & JENNIFER HESPANKSHER
& FRIENDS
---
START PARTYING EVEN EARLIER WITH THE CIRQUE DE BOUDOIR CREW!
We're rolling the Sin City party happening in Vancouver together with the Cirque De Boudoir party happening in Montreal! The DJs for the two parties will be playing in two different Twitch streams, but the Zoom party for everyone at both is rolled into one big virtual kink playroom uniting all our Canadian friends plus the rest of the world beyond! We always have lots of fun people joining in!
The Zoom actually starts at 4 PM Montreal time / 7 PM Vancouver time, hosted at first by Cirque De Boudoir, with the Sin crew joining in once we start on our end! People are free to join in any time once it starts!