AREA 51 – Kinky Military Vs Aliens Warehouse Party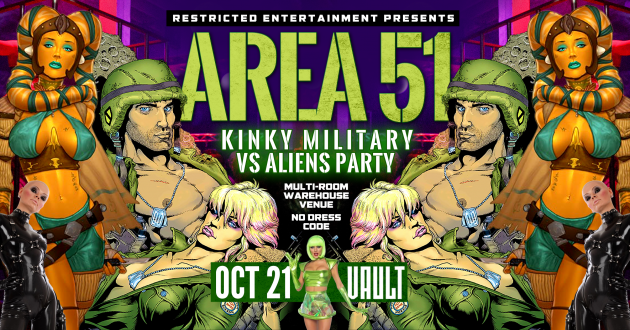 Saturday October 21
AREA 51 – Kinky Military Vs Aliens Vs Sci-Fi Warehouse Party
At Vault / 247 East 1st / 10pm-4am
Tickets $25-40 + service charges
GET TICKETS / RSVP FACEBOOK / RSVP FETLIFE
JUST ANNOUNCED!
Restricted Entertainment invites you to join your Burner, lifestyle, festival & fetish friends at this FULLY DIALLED OUT 500+ CAPACITY WAREHOUSE VENUE loaded with DJs, multiple dancefloors, kink playrooms, stage shows and much more! There is no dress code for this event so casual wear is welcome, but themed and kinky outfits are highly encouraged!
OUR SIN CITY HALLOWEEN PARTY ON THE 28TH IS SOLD OUT ….
So we have added this no dress code / sex-positive pre-Halloween play & dance party the Saturday before which just might be even bigger! Note that the rules for this event are a little different than our regular parties so please read the following carefully …. and start getting excited! We're also implementing a coloured wristband system for the first time, to indicate play interest levels and facilitate connections! Please invite your open-minded and fun-loving kinky party friends!
👽 AREA 51 THEME : MILITARY INVESTIGATING A UFO LANDING FROM THE PLANET VENUS
So, hot military & uniformed looks, scientists, lab coats, doctors & nurses, mutants, aliens, raver, glow in the dark, metallic, anything science fiction, plus of course any and all fetish looks including lingerie, rubber, harnesses etc!
👽 IT'S MORE FUN IF YOU DRESS UP!
There is no dress code, so come however you feel comfortable, but we highly encourage you to only come in plainclothes if you absolutely can't find a single fun & sexy thing to add to your outfit! Need new options for outfits? We recommend a visit to the amazing store DEADLY COUTURE on Venables, or JQ CLOTHING on Commercial!
👽 5 AREAS
👽 2 ROOMS OF DJs & DANCING
👽 COUPLES KINK PLAY ROOM / DARKROOM
👽 PRIVATE OUTDOOR CHILL & SMOKING AREA
👽 FULL BAR & COAT CHECK SERVICES
👽 JUICY FUNKTION ONE DANCEFLOOR SOUND SYSTEMS
This is the closest thing to kinky partying in Berlin that you'll find in Vancouver … and it's in an underground multi-room special event space which used to be an actual BANK! To access some of the rooms you'll literally have to go through the vault doors!
👽 MUSIC BY DJs
MADAM LOLA
PANDEMONIUM
EVILYN13
AUDACITY
DEADHEAD
MORE TBA
Main Room – EDM, Bass House, Nu-Disco, Tech House, Techno
Second Room – Sexxxay House Vibes All The Way Baby!
👽 SEXY SCI FI, STAGE & POLE DANCE SHOWS BY
KOSMIC KITTY
FELIX VOLATILE
DADDY LONG LEGZ
COCO$
MORE TBA
👽 KINKY CARNIVAL GAMES HOSTED BY SWITCH KITCHEN
Try your luck on the Spin Of Sin! The rules are simple, spin the wheel, and "win" 5 minutes of delicious torture from one of our sassy dommes or dominatrix hosts! This is always one of THE most popular areas of all our parties, with lineups to get in, and crowds of people watching the action!
👽 SOP & KINK PLAYROOM
If you have a consenting partner and need a space for some shared sexy times, this venue has our largest SOP play area to date, fully kitted out with padded play furniture, several large couches, a communal play table, a carefully curated red light district ambiance, and consent team monitors on site. Please note that NO SINGLES ARE PERMITTED IN THIS ROOM, access is for couples or couples +1 only. You are always personally responsible and accountable for yourself and your partners at all times, and respectful and consenting behaviour is expected at all times! R.A.C.K. rules in effect, meaning you are aware that all play comes with some element of risk.
👽 NO PHOTOS!
In order for all guests to feel as comfortable as possible expressing their wild side through kinky dress up, play, dance and socializing – taking of photos is expressly forbidden anywhere in the venue, and while of course you may need to use your cell phones to co-ordinate with friends inside the venue, use of cell phones is strongly discouraged in general. If you must use a cell phone, please step away to a less populated area, and face away from other attendees.
👽 THIS IS A PAN-SEXUAL PARTY! ALL ARE WELCOME!
Restricted Entertainment gatherings are pan-sexual love affairs with an anything goes vibe, where all are welcome! Expect a big mix of gay, straight, trans, cis, bi, bi-curious, queer, cross-dress, drag, femme, masc, non-binary, younger, older, and all kinds of wonderful human creatures of all sizes and colours vibing together! We do not tolerate discrimination or poor party behaviour of any kind, so do not under any circumstances come if you are not prepared to enter with an open and accepting heart and mind!
👽 COMMUNITY SUPPORT
Please help spread the word, invite friends, share this event! Word of mouth and personal affirmation to and from people you trust are the absolute best ways for parties like this to come together!
👽 LOVE DANCING TO ELECTRONIC MUSIC AT UNIQUE UNDERGROUND SPACES? THIS EVENT IS -DEFINITELY- FOR YOU!!!
Even before getting into all the kinky extras involved in this event, the two rooms of DJs and dancefloor all by themselves are a sweaty all-electronic dance-a-thon featuring a dream lineup of Vancouver's hottest underground electronic DJs from a big cross section of Vancouver's most unique events.
---
👽 CONSENT SIGNAL WRISTBAND SYSTEM IN EFFECT!
All attendees will be asked to choose a colour preference when checking in to the party, which reflects their play interest level, and commitment to keeping interactions consensual at all times. This is a great way to affirm with yourself what your comfort level is while preparing for the party, as well as on an ongoing basis. You can always switch out your wristband for another colour at any time as your interest level may change as the night progresses! For consistency and to avoid confusion, we are keeping the colours consistent to what people have experienced at other events in the queer, fetish & lifestyle community.
Let people know how you're feeling with the flick of a wrist!
GREEN : Feeling horny / Maybe looking to hook up, but only if we click / I don't mind people approaching me.
YELLOW : Feeling flirty / Possibility for intimacy after interacting, but only with those with whom I initiate contact / Please do not approach me otherwise!
BLUE : Open to conversation, making connections & maybe watching scenes / Not looking to play or flirt with anyone otherwise / Non-sexual interactions only please!
RED : Not looking to play, flirt or interact with anyone other than with my already selected partners / Don't ask or approach with sexual intentions.
👽 PLEASE NOTE :
Regardless of what anyone's wristband colour may be, social and sexual connections are never guaranteed and should never be expected or pursued if an enthusiastic and ongoing yes is not given. If someone is not interested, move on, and do not continue to pester, leer or attempt to coerce. Problematic individuals will be reported to the security or Consent Team and escorted off the property. Restricted Entertainment does not tolerate "creeps", predatory, aggressive or non-consensual behaviour of any kind.
---
👽 A FEW LAST WORDS ABOUT KINK PLAY & CONSENT …
The ENTIRE event is a kink-positive space so feel free to get your kink on with a willing partner. No judgments, no barriers, just fun. BUT there are a few guidelines to keep in mind!
Rule #1 : Absolutely NO UNINVITED INAPPROPRIATE TOUCHING. Look, but don't touch without consent, ever!
Rule #2 : Missed it the first time? ABSOLUTELY NO UNINVITED TOUCHING. Creeps will get kicked the F out!!
Rule #3 : Clean up before and after yourself when playing, and in general!
Rule #4 : Do not interrupt (vocally or otherwise) or invade the space of anyone engaged in kink play. Or for any reason anytime really, unless you have been given permission.
Feel free to ask anyone anything, but be respectful, and make sure to give or take NO as an answer gracefully.
Rule #5 : No means no! If someone tells you NO, hear it, and move on.
Rule #6 : Only a continued yes is yes!
Rule #7 : Do not argue with any venue staff, their decisions are final.
If anyone is crossing a line or not being respectful, please bring it up immediately with staff security, who are there to help keep everyone safe and the vibe right!
---
👽 SAFETY
Keep your mind and body safe – please pace any alcohol or substance intake, make sure to hydrate, take breaks, come with friends, check in with and keep an eye on each other!
Make sure you have a safe way planned to get home, whether with a friend, designated driver, Uber, or otherwise!