APRIL 13 – CARNIVAL OF KINK!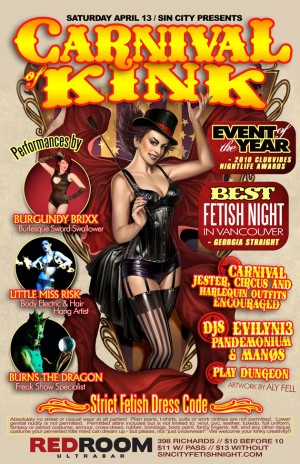 When : Saturday April 13 / 9PM-3AM
Where : The Red Room / 398 Richards St
Looking for directions or parking information? Visit the venue's website here. Also make sure to check out and say hi at the mirror event listings on :
FACEBOOK
FETLIFE
Looking for help on where to source out your ultra sexy fetish outfit? We have a huge resource right here on the Sin City website complete with local shop suggestions, reviews, store details and photo galleries!
LOCAL SHOPPING GUIDE
Check out the photo galleries from last year's Carnival Of Kink parties here :
---
★ STRICT FETISH DRESS CODE!
The full guidelines for our fetish dress code, including do's, don'ts, outfit suggestions & common questions, can be found on our website here.
★ SEXY CARNIVAL, CIRCUS, JESTER & HARLEQUIN OUTFITS HIGHLY ENCOURAGED!
But not required … any fetish outfit will do and be highly appreciated, but please do remember that in order to gain entry all outfits must be kinky in some way! Sass or sex it up, we want to see the fetishy freak in you – take the opportunity to show yourself off!
★ PRIZES FOR BEST CARNIVAL / CIRCUS COSTUMES OF THE NIGHT!
Of course any fetish outfit or costume is awesome, but there are major bonus points for matching the carnival theme!
---
★ CIRCUS, CARNIVAL, FETISH & BURLESQUE STAGE SHOWS BY :
Burgundy Brixx (Burlesque Sword Swallower)
Little Miss Risk (Body Electric & Hair Hang Artist)
Burns The Dragon (Freak Show Specialist)
★ CARNIVAL THEME DECORATIONS & VISUALS
★ CARNIVAL PHOTO BOOTH HOSTED BY ATRATUS
For those exhibitionists who want to show off their outfits or awesome selves for posterity, feel free to visit the photo booth and get a photo taken for the official web gallery or have a photo printed out on the spot.
★ DANCEFLOOR, CAGE & STAGE DANCING, PLUS THE ADULT PLAY DUNGEON!
In addition to multiple areas of dirty dancing to choose from, there's also the play dungeon where you can even further indulge the voyeur or exhibitionist in you!
★ MAIN ROOM w/ DJs PANDEMONIUM, EVILYN13 & MANOS
Light up the dancefloor all night with a big top booty-shaking blend of electro / 80's / pop / industrial / rock!
★ 50/50 DRAW – HALF THE POT TO THE WINNER, HALF TO CHARITY!
Plus any donation $10 or over receives a free spanking from our ultra sexy fund raiser flogger girls or boys, from a tickle to a beating, just how you like it. Give a little, get a little! At this party, all our charity proceeds will be going to The Underwear Affair, which benefits the BC Cancer Foundation! Please note that while we highly support this worthy cause, our affiliation with the Underwear Affair as a charity recipient does not mean that plain boxers or underwear will be considered acceptable fetish wear, nor will such outfits gain you entry to the Carnival Of Kink! All outfits, including underwear, must be styled either fetish or kinky! Boys – need some sexy undies? Head on over to Priape on Davie! And ladies, you have absolutely no excuse for any underwear that is lacking in the sexy department!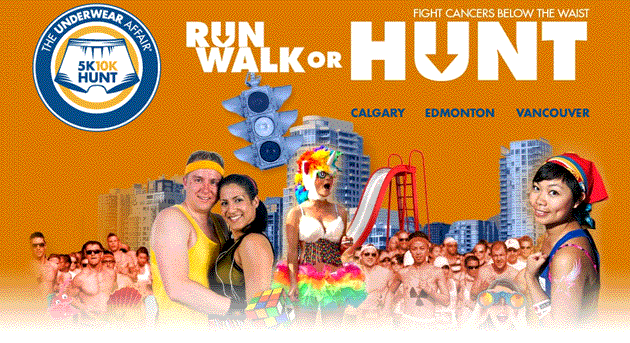 ★ NO UNAUTHORIZED CAMERAS!
As always, Sin maintains a strict no unauthorized cameras policy, preserving the atmosphere of mutual respect and safety! We do have our own in-house photographers who are available for glamour shots, capturing the most fabulous outfits and energy of the party, but only with permission from willing subjects! You can go as crazy and kinky with your outfits as your imagination will let you, because if you want : what happens at Sin City … stays at Sin City!
★ $10 EARLY BIRD BEFORE 10 PM
★ $11 AFTER 10 PM WITH DISCOUNT PASS / $13 WITHOUT
★ EARLY ARRIVAL HIGHLY RECOMMENDED
Tickets are sold at the door only, first come, first serve! Everyone will get in, but this party is going to be a smokin' busy one and we HIGHLY encourage people to show up earlier rather than later in order to minimize any line waits which may occur at peak arrival times!!
---
Still looking for costume ideas?
If you are looking for costume ideas, Party Bazaar (now moved to Main & Terminal, by Science World Skytrain Station) always has a load of costumes in stock, and carnival masks galore. Priape on Davie also has a great selection of leather carnival masks which are quite affordable at around $40 each!! As well, Dressew on Hastings downtown is always PACKED with accessories and fabrics which can help give your outfit a little extra carnival KICK.
For a full list of Sin City's suggested fetish shopping destinations, complete with addresses, phone numbers, store hours, photos and reviews, visit our local fetish shopping section of the website here!
PLEASE NOTE : ALL OUTFITS MUST BE KINKY!
Sin City is first and foremost a fetish event, and though this party is fetish carnival themed, this does NOT mean that carnival outfits which are not kinky or fetish-appropriate will get you pass the fetish dress code and into the raging, sexy party inside.
We HIGHLY encourage taking a fetish outfit and accessorizing it to make it carnival themed, rather than renting or buying a non-kinky carnival outfit of some type! KEEP IT KINKY!
---