VANCOUVER FETISH WEEKEND | JULY 27-28-29-30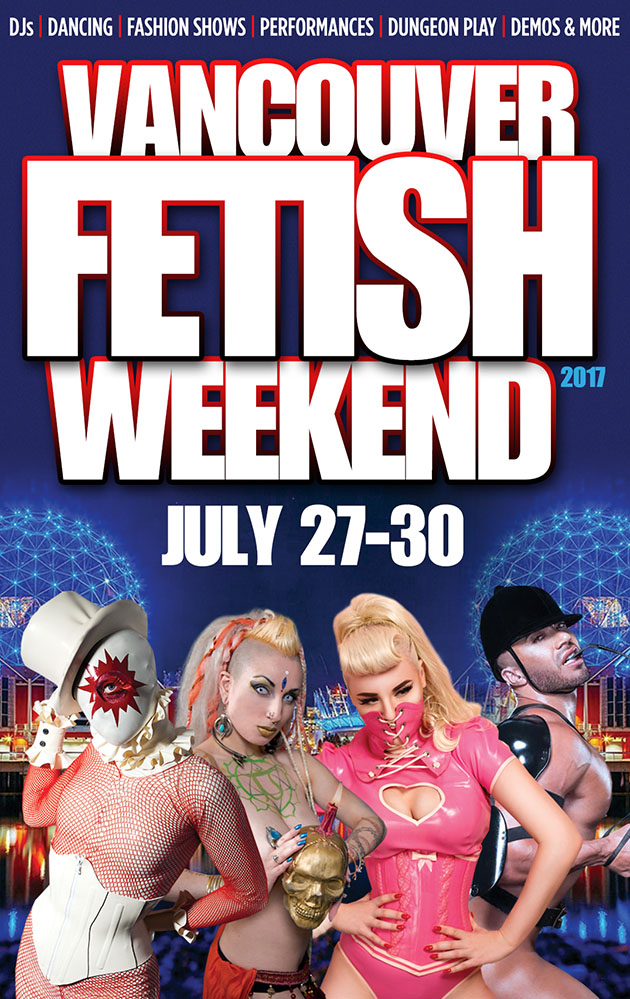 BUY TICKETS ONLINE
VFW 2017 : JULY 27-28-29-30 : 6 PARTIES : 4 DAYS & NIGHTS
12+ INTERNATIONAL FETISH, DRAG & BURLESQUE PERFORMERS
10+ DJs : 750+ ATTENDEES : ONE UNFORGETTABLE WEEKEND
Meet, party, and play with hundreds of local and global fetish enthusiasts from all over the world as the international community of fetish partiers, performers, models, designers, artists and photographers descends on Vancouver at a truly world-class weekend of unforgettable fun, exotic & erotic events!
Keep scrolling for ticket, event, performer information and more!
FULL VFW WEBSITE / RSVP on FACEBOOK / RSVP on FETLIFE
---
VANCOUVER : Known as one of the most naturally beautiful cities in the world, Vancouver is also known for having an incredibly strong kinky community. Whether you're a local or a traveller, we invite you to book the time off and make Vancouver your fetish holiday from July 27-30!
HISTORY : The first four Vancouver Fetish Weekends attracted over 750 attendees each and had an incredible vibe, with many international attendees bringing home reports that this was the new 'DO NOT MISS' weekend on the fetish traveller's scene. 2017 is set to see the party explode to even higher levels … and we have many exciting details to share, so make sure and check back often!
---
Tickets also available in store at Deadly Couture, Little Sister's, and JQ CLothing!
---
QUESTIONS?
Shoot an email to : isaacterpstra@gmail.com
---
(See the website for full information on all events!)
Thursday July 27 – Pre-Party
Kinky Cocktails Meet & Greet
Lux Lounge
1180 Howe St, Vancouver, BC V6Z 1R2
9PM-2AM
Free / No Dress Code / Early ticket & weekend pass pick-up available!
Friday July 28 – Opening Night
Carnival Of Kink
Imperial Vancouver
319 Main St, Vancouver, BC V6A 2S9
9PM-2AM
$30 advance / $30 VIP / more at the door
Fetish Carnival & Kinky Circus themes highly encouraged, but any and all fetish/kink themes are welcome!
Saturday July 29 – The Main Event!
5 Year Anniversary Fetish Ball
Harbour Event Center
750 Pacific Blvd, Vancouver, BC V6Z 2R8
9PM-3AM
$40 advance regular, $45 VIP, more at the door
July 29/30 (late Saturday) – Official Afterparty
Red Light District Dance & Play Party
Secret location given out to ticket holders only
(Downtown special event studio space)
2-7AM
$20 advance, only 200 tickets available, more at the door (IF available!)
Sunday July 30 – The World-Famous VIP Fetish Cruise
Boards at 5PM sharp, leaves 6PM with or without you, docks 9PM
Departs from Dock B at the Plaza Of Nations, 750 Pacific Blvd
Available only to full weekend pass holders!
Sunday July 30 – Closing Party
Wet & Wild Bondage Ball
The Odyssey
686 West Hastings, Vancouver, BC, V6B 1P1, (604) 408-8802
9PM-3AM
$20 advance, $25 at the door
---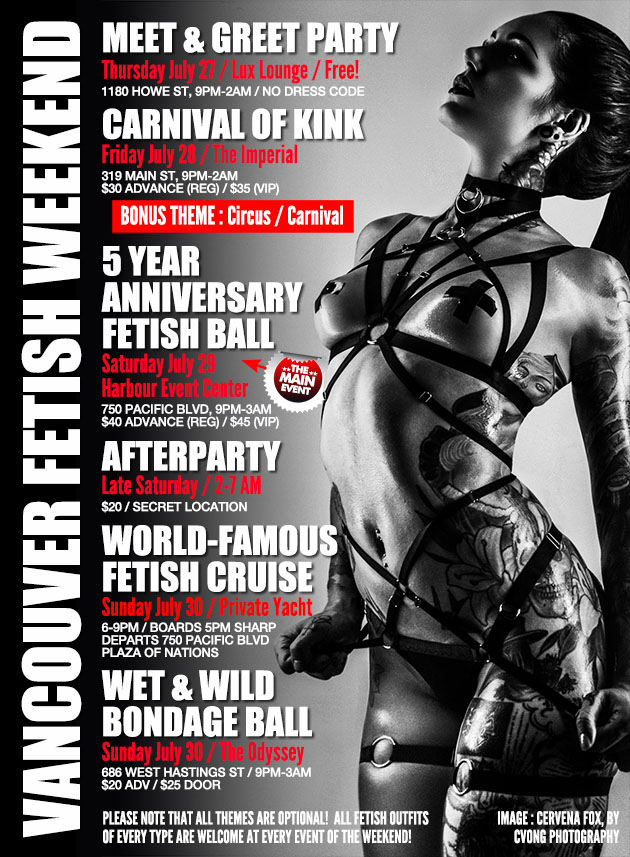 ---
MAIN STAGE ATTRACTIONS :
Hosted by :
SAMANTHA MACK & KIPPERSLY SNOWFLAKE
Headline performers :
MARNIE SCARLET … (Torture Garden, London, UK)
CERVENA FOX … (London)
MODE ARTKITEK … (Montreal)
NATASHA NEBULA … (Montreal)
CARAVAN OF CREEPS
THE LOST GIRLS
VIXEN VON FLEX
JUNGLE KAT
SPOOKSY DeLUNE
RIANNACONDA
KOSMIC KITTY
MR. JAMES
HOLY SCAR
BIG ROBBIE
ANUAR
FLAVIO
VERTIGO ROPE
Full scale fetish fashion shows by :
PIPPA LATEX … (Toronto)
NICOLE ROSE DESIGN … (Vancouver)
BEAUTY BY IMPAIRMENT … (Vancouver)
HARNESS YOUR HARPY … (Vancouver)
Dirty DJs :
PANDEMONIUM
ABASI & CEEBAS
KASEY RIOT
EVILYN13
DAVIDE
KC KILLJOY
SEAN REVERON
Dungeon & kinky play spaces presented by :
SIN CITY FETISH NIGHT
BLACK & BLUE DUNGEON EQUIPMENT
METRO VANCOUVER KINK
VANCOUVER DUNGEON MONITOR TEAM
CLUB EDEN
KINK FETISH NIGHT
RASCAL _21
Presented & produced by :
RESTRICTED ENTERTAINMENT
---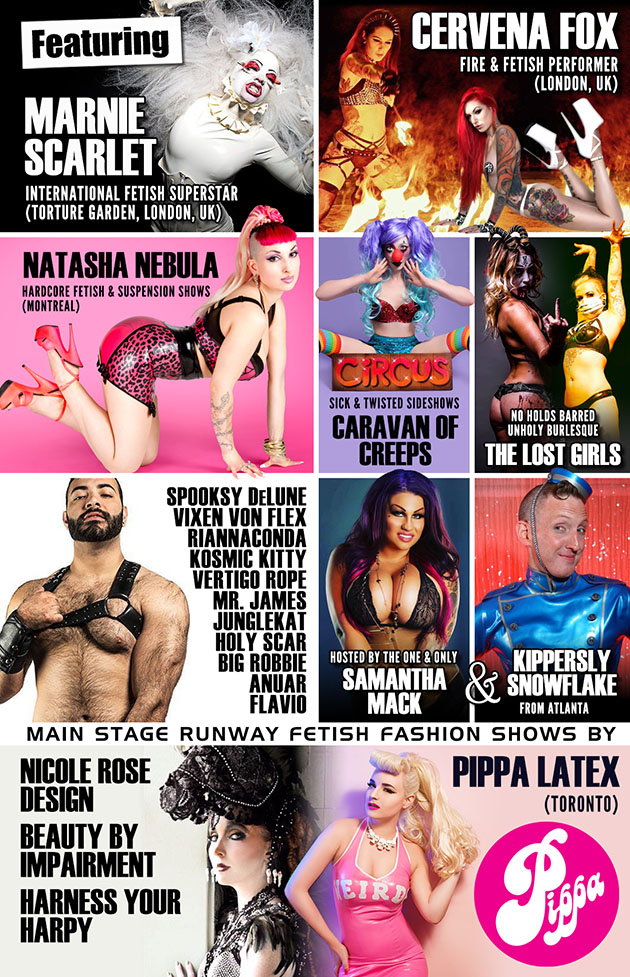 ---
THE THREE D's : DANCING / DJs / DUNGEON PLAY GEAR
FETISH PERFORMANCES / FASHION SHOWS / DEMOS
ONE UNFORGETTABLE WEEKEND OF PERVY PARTY PERFECTION
DRESS CODE STRICTLY ENFORCED AT ALL EVENTS
"EVENT OF THE YEAR" – Vancouver Nightlife Awards (2010)
"ONE OF THOSE RARE EVENTS WHERE LITERALLY ANYTHING GOES" – Abort Magazine
"CONSISTENTLY RATED ONE OF VANCOUVER'S TOP ALTERNATIVE EVENTS" – Xtra West
"BEST PLACE TO DANCE TOPLESS" – Terminal City
"DJ PANDEMONIUM BEST LOCAL DJ" – Westender Best Of The City (2008)
---
FETISH DRESS CODE ENFORCED AT ALL EVENTS!
The Vancouver Fetish Weekend is a place to TRANSFORM YOURSELF and let out your inner creativity. It is a place to break down personal limitations, showcase and celebrate your personal sexuality, imagination and diversity. We highly encourage people to indulge in their most over-the-top outfit creations, including all the following options and more :
RUBBER / LEATHER / LATEX / PVC / BODY PAINT / FULL FETISH-GOTH, CYBER-FETISH AND FETISH COSPLAY / UNIFORM / CORSETS / LINGERIE / ARMOUR / DRAG / CROSS-DRESS / BARE AS YOU DARE (bottom bits covered though please!)
Outfits do not have to be expensive – with some creativity, low-cost but ultra sexy fetish outfits can be made from materials such as plastic wrap, or altered second hand / thrift store costumes & uniforms.
A good rule of thumb is – if you could wear it to a 'normal' vanilla club or out on the street and not attract any attention, it probably won't pass the fetish dress code and you WILL be denied entry. No effort = no entry, no exceptions!
For more information, see the full dress code listing here!
---