XXX-Mas : Discount Passes, Contest Winners, Charities & Guest DJs OH MY!
As we gear up for tonight's naughty insanity at the XXX-Mas Party at the Electric Owl, we have three important last minute Christmas announcements for all you kinky Sinners!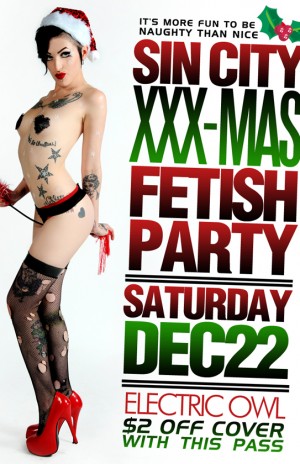 1. Here's the discount pass!
You can either print it out and have it ready to show on paper, or on your smartphone, for $2 off cover, making it $10 instead of $12 anytime after 10 PM. Or, take advantage of the $9 early bird rate before 10 PM, no discount flyer necessary!
(Click the discount pass just to the right to view it full screen!)
2. Ultra Dirty Photo Contest Action – check out the winning picture!
Tonight's Post-A-Photo contest for the Sin City XXX-Mas Party at the Electric Owl is : DARREN THURSTON!
Darren wins VIP entry for two – that's complimentary cover & front of the line admission – for posting THIS completely over the top photo of naughty Xmas madness!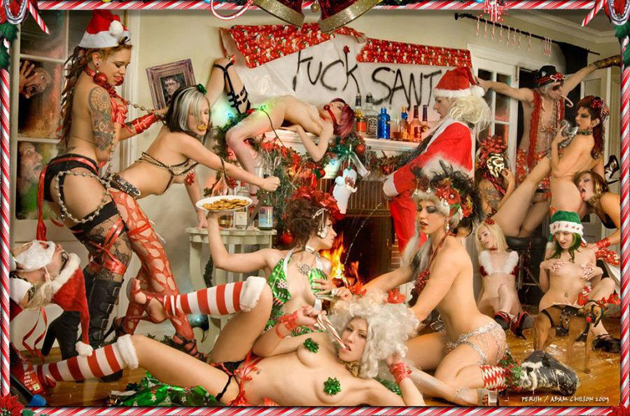 3. Tonight's charity of choice is : Beauty Night!
As always, Sin City's naughty 50/50 fetish fundraiser team will be collecting donations and entries, with the 50/50 draw at 1:30 AM divvying up half the proceeds to the draw winner and the other half to charity! Our goal is to raise $200 for tonight's charity of choice : Beauty Night.
Beauty Night is a local Vancouver charity, and every year they stage their 12 Days of Xmas Campaign. What happens is : fashion Designer, Nancy Perreault designs a stocking. Community members sew and decorate them. Then, dressed as Santa's Helpers, they collect donations to fill the stockings and help deliver them to women and youth in shelters, 1st and 2nd stage housing, drop in centres and hospitals. From December 12-24th, volunteers dressed as elves deliver stockings and Christmas cheer, and we'll do what we can to help show that our kinky crowd likes to give back to the local community!
You can read more about Beauty Night here at their website.
4. Surprise guest DJs tonight : Abasi & Glyn!
We always like to add a little something extra to the party! Abasi & Glyn, much-loved Sin City De:Basement residents, will be coming in to warm us up for a very special 9-10:30 opening set of electronica bump & grind bawdy, boogie madness! Don't be late and miss it – this crew always gets the room hyped at record speed with their infectious positive energy!
SEE YOU TONIGHT, SINNERS!