NYE – Last Minute Questions, Answers & Recommendations!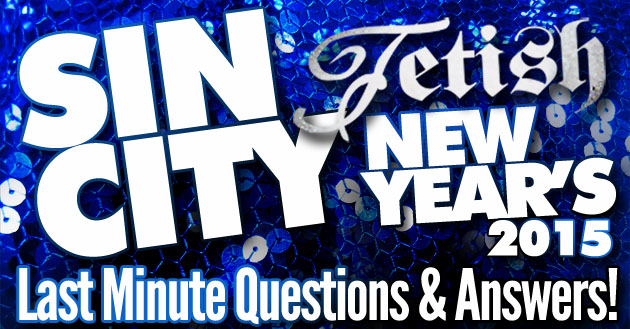 We're into the home stretch before Sin City New Year's, and we have had a TON of questions coming in! Here's our own top recommendations to ensure the smoothest running and most fun night possible, as well as the answers to all the top questions we've been getting!
WILL THERE BE TICKETS AT THE DOOR?
YES! We are sold out of advance tickets, but we have kept back 25 tickets to release at the door. They are $30 each and are first come, first serve, no holds. If you are there right at 9 PM, you should be good!
WHEN SHOULD I ARRIVE? WILL THERE BE A LINEUP?
We cannot stress this enough – PLEASE ARRIVE EARLY!! This is the single busiest event day of the year, attendance and arrivals peak earlier than any other night and for longer, so please please please SHOW UP EARLY. Every event in the city (including ours!) is expecting 200+ attendees or more to show up basically simultaneously between 10 and 11 PM. No matter how fast the staff hurry people in, this is when waits for cabs and to get in after arriving will be the longest. Do yourself a favour and ARRIVE EARLY!
I MIGHT PARTY-HOP AND COME LATER IN THE EVENING, CAN I GET A DISCOUNT?
YES! Sin City offers a party hopper late night discount! If you arrive after 12:30, it's only $15 cover to get in!
MY PLANS CHANGED, CAN I SELL/GIVE MY TICKET TO SOMEONE ELSE?
Tickets are non-refundable, but there is a way we can issue your tickets to a third party person for pickup if you can't make it any more and want to give or sell them to someone else. If you send them a photocopy or scan of your Driver's License and the credit card you use to purchase the tickets, and these can be presented at the will call, we can issue your tickets to your third party pickup person without you needing to be there.
WHEN ARE THE STAGE SHOWS?
10:15 and 11:15 – don't be late!
ARE THERE STILL TICKETS TO THE AFTERPARTY?
Yes! There's just a few left but you can pick them up at Sin City tonight, if you want to attend the Sleepless In Vancouver after party at Club 8×6, which runs 3-7AM!
---
And now, that's all she wrote for last minute details!
It's time to make yourselves fabulous and join us down at the Hindenburg, AKA CLub 23 West, for our homecoming New Year's Eve party! Get ready, lovers! We can't wait to ring in the New Year with you!
xoxoxox
Sin City HQ